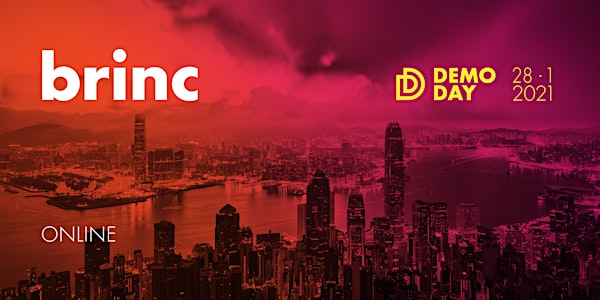 Brinc Greater Bay Area Investor Demo Day
Meet Brinc's newest portfolio teams through their Online Demo Day on Thursday, January 28th
About this event
Join us here: https://hopin.com/events/brinc-greater-bay-area-investor-demo-day-january-28th-2021-0118252c-7f73-42c9-92b1-28509ee4af49
Please join us virtually at Brinc's Investor Demo Day that will showcase our latest batch of startups that have gone through our Greater Bay Area accelerator programs. Demo Day is the culmination of our 3-month accelerator program, where our portfolio startups will pitch their business and demonstrate their growth achieved in the program with the support of our mentors and staff.
Learn more about pioneering technologies and products in AgriTech, MedTech, Robotics, Energy, Alternative Protein, and more. Startups presenting:
You can sign up directly onto the platform via this link: https://hopin.com/events/brinc-greater-bay-area-investor-demo-day-january-28th-2021-0118252c-7f73-42c9-92b1-28509ee4af49
Hardware & IoT Program:
Nonna Technologies patented IoT-based platform is composed of specialized monitoring capabilities connected to a proprietary data and analytics platform designed to detect early changes in a health status or a chronic health condition, where early intervention will prevent more expensive upstream care such as an avoidable hospitalization or ED visit.
Rebolet provides an all-in-one reselling service for e-commerce returns and overstock. They are helping e-commerce to be more profitable and sustainable by processing, analysing, and reselling returns and overstock through their SaaS Platform.
Sensegrass is a soil intelligence platform that helps companies and farmers reduce excessive resource use through real time soil health analysis (NPK) using a patented NPK sensor and Artificial Intelligence Agronomist. This helps companies grow higher, healthier, and faster, with better resource utilization, achieving a 38% fertilizer and water improvement, with an average of a 22% yield improvement.
Food Technology Program:
CellX is a cellular agriculture startup based in China. They are working to revolutionize the traditional meat industry by creating clean meat products using tissue engineering and 3D bioprinting technologies.
Haofood is making tasty and healthy plant-based chicken chop that is well designed for fried chicken. Haofood is the first company in the world that uses peanut protein as its key ingredient.
Harmony is an MIT-based FoodTech company providing the next generation of baby formulas, which contains human breast milk proteins as the base instead of cow's milk. Their formulas are dairy-free, allergy-free, environmentally friendly, and impact the whole baby food industry by changing the main structure of current baby products.
KYF produces plant-based, frozen healthier fast-food alternatives for kids aged 9-17. Their business model puts marketing and a strong brand first, and they are the first in the market to create plant-based products speaking directly to a tech native generation.
More Foods is dedicated to eliminating the use of animals in our food system by creating novel food products, the first being a plant-based beef strip. Rather than using traditional plant-based ingredients such as pea and soy, their products are yeast-based and highly texturized.
New Singularity is a biotech company that uses mycelium fermentation as its main technology for plant-based seafood. Our mission is to help reduce overfishing around the world.
Raging Pig are producers of healthy and sustainable plant-based meat for generation WHY, driving the change our world needed yesterday. Merging FoodTech, activism, and lifestyle to become an obvious part of pop culture, they have rolled out their first product - a vegan bacon seasoning to the market.
Rainfed Foods is an alternative dairy startup created to address climate change and animal welfare issues in the traditional dairy industry. Starting with millet-based milk, they are creating products that are indistinguishable from dairy in taste, quality, and nutrition. Their mission is to redefine the future of dairy by using the most sustainable future food crops, such as millets.
Sova Health is a precision nutrition platform that personalizes individual needs nutrition based on AI-driven blood analysis. They simplify healthy eating through a combination of cutting-edge biomarker diagnostics and evidence-based recommendations leading to safe and measurable results.
Logistics Program:
Buytasker makes it possible to manage customers, communications, apps, shipments, and customs filing using one interoperable UI platform and developer API. It's designed so all the world's supply chain systems can work together on a single network platform.
LiberaTrade is revolutionizing emerging market consumer goods supply chains, by predicting demand and driving continuous optimization of upstream logistics to grow sales while reducing operating expenses by more than 10%. The Liberatrade platform makes Supply Chain AI accessible for all retail enterprises in Asia by combining data-driven products for revenue growth, inventory optimization, and access to supplier financing through SaaS.
Australia CleanTech Program:
Space Industries are developing the Lunar Resource Extraction Vehicle (LREV) to produce 3He on the moon using new and novel mining methods that have a comparative impact as footsteps on beach sand.
Wildfire Energy is developing highly efficient small-scale waste-to-energy technology, to help cities to eliminate landfills and to produce hydrogen.