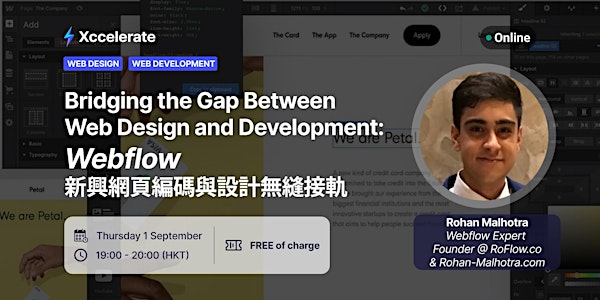 Bridging the Gap Between Web Design and Development: Webflow 新興網頁編碼與設計無縫接軌
Are you bi curious? 你嘅取向可以共存嗎?
About this event
If you are unable to join this event but would like to receive Webflow related talks and trial classes. Please sign up anyway, we will keep you in the loop for future events. 如果你無法參加此活動,但希望收到Webflow相關嘅講座同試堂。 請註冊,我哋可以分享更多未來嘅活動。
User experience is a phrase we can't escape this day and age. The evolution of web design went from requiring coding knowledge to convenient drag-and-drop and now an intuitive combination of the two. Let's explore the future of web design/development, Webflow.
UX係當下無法逃避嘅一句說話。 網頁設計由需要編碼知識到方便嘅拖放,而家係兩者嘅混合。 一齊探索網頁設計/開發嘅未來,Webflow。
What to expect 我哋將討論:
How does Webflow effect the way we communicate throughout the design/development process? What are the best tools to use for design?
Why "no-code" is a terrible buzzword.
How much faster is Webflow project cycle compared to other application?
How does Webflow editor and designer let a web designer/ developer work in parallel with their clients?
Eliminating plugins and the benefits of doing so.
The journey of becoming a certified Webflow Expert
Webflow如何影響我哋喺成個設計/開發過程中嘅溝通? 設計嘅最佳工具係乜嘢?
點解"無需編碼"係誤解嘅流行語。
與其他應用程序相比,Webflow項目周期快幾多?
Webflow編輯器和設計師如何讓網頁設計師/開發人員與客戶並行工作?
消除外掛的好處。
成為認證Webflow專家嘅旅程
Who should attend 邊個應該參加?
🚀Web building newbies, designers, digital artist, web developers, marketers, business owners...etc 網頁製作新手,設計師,數碼藝術家,網頁開發員,營銷員,企業主... 等
Event Details 活動詳情:
📅 Date: Thursday 1 September
🕒 Time: 7:00 - 8:00 pm (HKT)
🎧Format: Online
🗣️Language: English