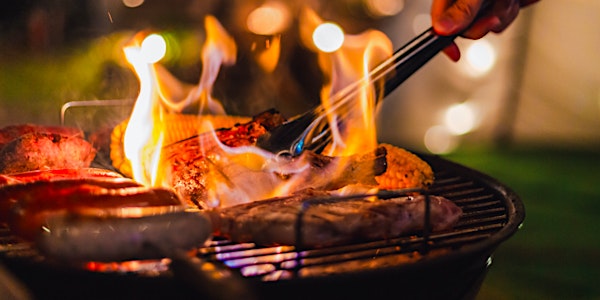 BRICK LANE Fall Kickoff Barbecue Party 秋日啓動燒烤派對
Free-flow barbecue, drinks, games and fun. 無限燒烤、酒、飲品、有獎遊戲及歡樂
When and where
Location
BRICK LANE@Admiralty Wellbeing Space 4/F CITIC Tower 1 Tim Mei Avenue Admiralty, HKI Hong Kong
Refund Policy
Contact the organiser to request a refund.
About this event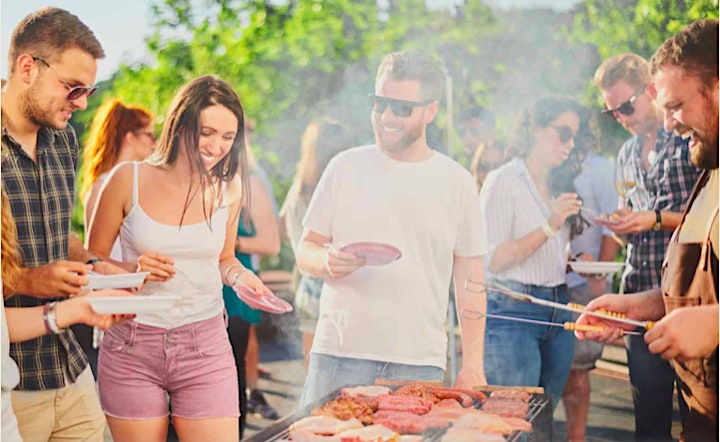 BRICK LANE is hosting a fab gourmet barbecue party at its Admiralty Wellbeing Space on the gigantic terrace to kick off fall. Filled with free-flow barbecue dishes, drinks, games and fun - grab a fresh salad from the salad bar for the wifey, a grilled steak from the grill for the kids, a beer from the bar for yourself, and you are all set to enjoy the crisp autumn night breeze. Perfect especially when your preferred barbecue role is guest rather than the grill master!
您感受到秋天已靜悄悄到來了嗎?跟BRICK LANE一起以無限燒烤美食美酒啓動秋日吧!9月24日星期六BRICK LANE在其金鐘店的若大露台身心健康空間舉辦秋日啓動BBQ派對, 備有無限燒烤美食、飲品、遊戲及歡樂。屆時您可以為太太在沙拉吧弄一份清新生蔬,再為孩子從烤爐帶來剛烤至七成的西冷牛扒; 然後為自己拿一瓶啤酒, 坐下, 感受秋天的晚風並好好享受一頓火辣辣的週末晚餐!
LET'S PARTY!
Date: 24 Sept 2022, Saturday
Time: 18.00-20.00 or 20.00-22.00
Venue: BRICK LANE@Admiralty Wellbeing Space
讓我們派對吧!
日期:9月24日星期六
時間:18.00-20.00 or 20.00-22.00
場地:BRICK LANE @金鐘店身心靈健康空間
Barbecue may not be the road to world peace, but it's a start.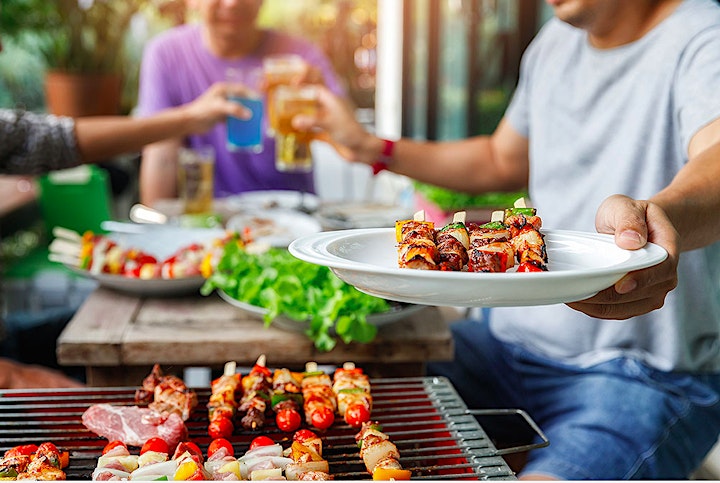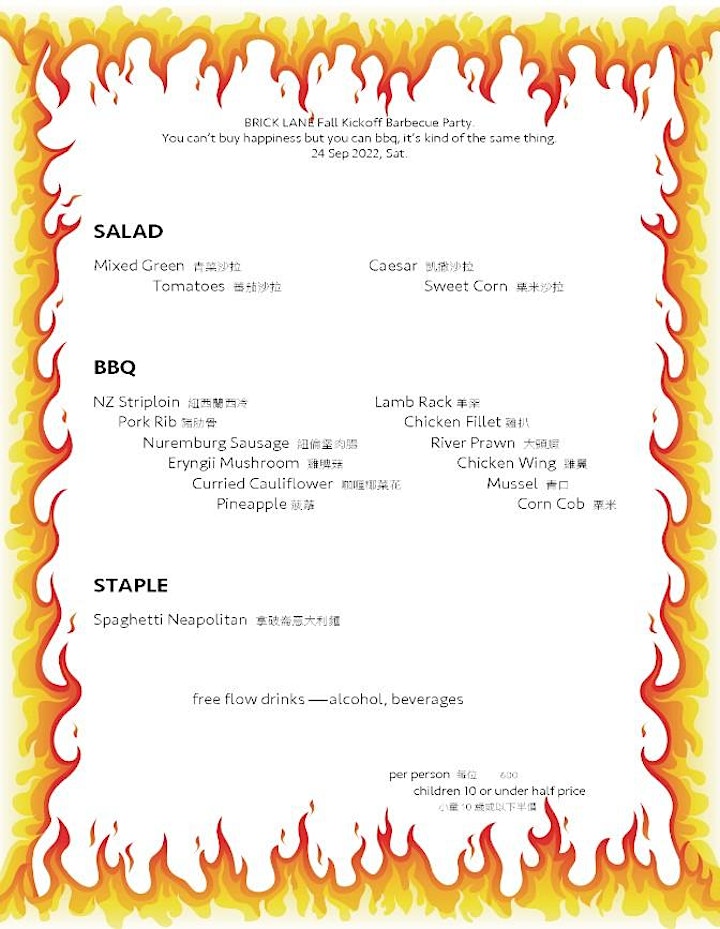 Menu 餐牌 :
https://forms.gle/zDqmS6yY6wwYN6j97
Don't miss out on the chance of a lifetime and book your tickets now!
Admission ticket $636 per person: includes free-flow barbecue, alcohol, beverages, games and fun for 2 hours
Children of age 10 or below half price*
每位$636: 無限燒烤、酒、飲品、有獎遊戲及歡樂兩小時
10歲或以下小童半價*
ABOUT BRICK LANE @Admiralty Well being Space Hong Kong
BRICK LANE @Admiralty is keen to collaborate our guests' dining experience with wellbeing by offering family bonding games and periodic spirits uplifting workshops and events in our Wellbeing Space, bringing joy to every dining visit and building a life appreciating community of happiness, fun and positivity.
關於 BRICK LANE @金鐘店身心靈健康空間
BRICK LANE每間分店均有不同主題布局,而BRICK LANE金鐘店則熱衷於結合美食與健康身心的調節以提升客人的用餐體驗。我們在金鐘BRICK LANE 特有的,在維多利亞港旁的若大露台建構身心健康空間 (Well-being Space),設有老少咸宜的玩樂設施,並定期舉辦提升快樂指數的活動及工作坊,希望為客人每次用餐帶來歡樂,並值此建立一個懂活在當下,欣賞生活樂趣的社群。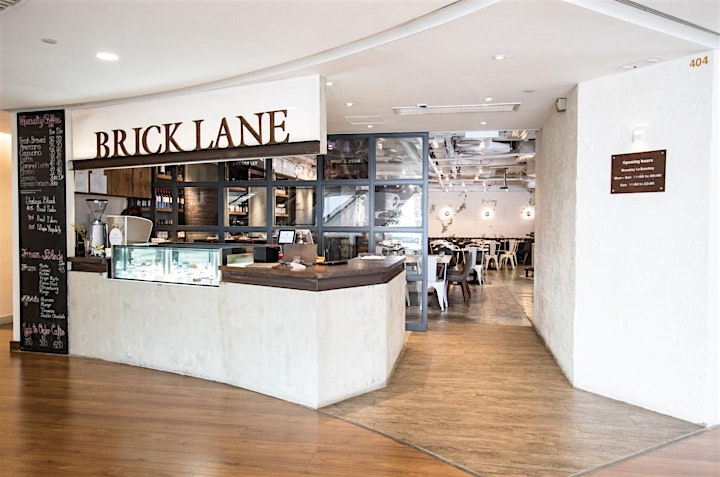 More information about BRICK LANE
IG: @bricklane_hk
FB: bricklaneAdmiralty
It's time to get your barbecue party on https://forms.gle/zDqmS6yY6wwYN6j97
Terms & Conditions 條件及細則
1. Full prepayment evidence is required to confirm enrolment at least 3 days before the event.
需於活動日期前最少3日完成登記並提供全額付款證明方能確認訂單。
2. Tickets are for dinner sessions starting at 18.00 or 20.00. Unlimited designated food and drinks provision in each session for 2 hours.
門票分別為晚餐時段六時或八時入坐。每一時段供應無限指定餐牌美食及飲品兩小時。
3. Enrolments are accepted on a first come first serve basis. Confirmation will be provided by email before the event.
活動登記接受與否將以先到先得形式處理。確認被接納的登記將在活動前以電郵通知。
4. Once the enrolment is accepted and processed, no cancellation, amendment or refund is allowed.
登記一經接納,恕不受理取消、任何更改或退款。
5. Guests are responsible to ensure satisfactory fulfilment of the COVID vaccination requirements imposed by the HKSAR Government for entering restaurants by all participants before enrolment and payment.
閣下登記及付款前有責任確保閣下及參與人仕已滿足香港特別行政區政府對於進入餐廳所規定的新冠疫苗接種要求。
6. No refund is accommodated for no show or decline of entry due to an unsatisfactory LeaveHomeSafe vaccine pass or the inability to provide age proof.
如閣下未能在指定日期及時間出席活動或未能出示有效之安心出行疫苖通行證或年歲証明,將視作顧客自動放棄論,所繳之款項概不退還。
7. The event is subject to postponement due to uncontrollable conditions including but not limited to weather and barricaded routes.
活動或會因應無法控制的狀況而改期舉行,包括並不限于天氣及封路等。
8. BRICK LANE reserves the right of final decision in case of disputes.
如有任何爭議,BRICK LANE保留最終決定權。
#bricklanehk #bricklane #hkfood #hkfoodie #travelhongkong #hongkongdining #discoveryhongkong #weddinghk #cateringhongkong #cafehk #alldaybreakfast #alfrescodining #bestcoffeehk #instagramable #snazzy #trendyplace #instagramableplace #cbdcafe #cbdcafehk #petfriendly #petfriendlycafe #event #barbecue #barbecuetime #barbecueparty #barbecuelife #grillmasters #foodstagram #foodie #catering