Boost Your Confidence: A Public Speaking and Business Writing Webinar
Boost Your Confidence: A Public Speaking and Business Writing Webinar (August 22 & 29, 3PM-5PM)
About this event
Enroll in our Intense Online Boot Camp and transform into a brand new confident you! This exclusive course is designed to level up your ability to communicate confidently during meetings and presentations at work.
Jonathan Yabut will help you identify your fears of speaking up and apply best practices on how to engage your audience.
All participants will get the following:
+ 4 hours of coaching and case simulations distributed across 2 weeks
+ Offline assignments and personalized assessment from Jonathan Yabut himself
+ Digital Certificate upon completion of online course
+ Free digital copies of Jon's best-selling books (all 3 valued at P599)
+ 1 Free e-book on Speaking Confidently At Work
For group bookings:
+ First 2 groups to book "Barkada Bundle" will get +1 hr private coaching from Jonathan Yabut
+ First 2 groups to book "Corporate Bundle" will get +1 hr private coaching from Jonathan Yabut
Please note! To ensure quality of personal coaching, this course is strictly limited only to 100 participants.
For complete outline of the module, visit: bit.ly/ConfidenceOutline
Check out below our photo & video from past batches!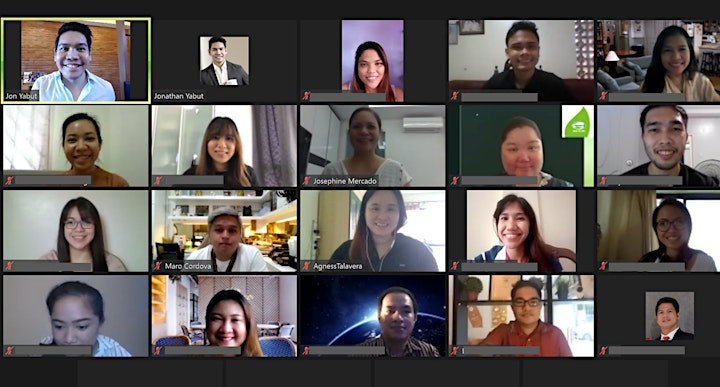 Organizer of Boost Your Confidence: A Public Speaking and Business Writing Webinar
JYCV is a leading marketing and talent consultancy group based in Southeast Asia founded in 2014 by Jonathan Yabut, Winner of The Apprentice Asia
It operates in 3 key cities: Kuala Lumpur, Singapore and Manila with 24 full-time staff, and 18 part-time brand consultants.
JYCV has proudly serviced over 100 marketing clients and campaigns in 8 countries in just 4 years. It specializes in two consultancy tracks, with specialization on millennial audiences:
A. Marketing / Branding / Digital Content
B. Talent Management / Soft Skills Training / Human Resources
Website: jonathanyabut.com
E-Mail:
jonathanyabut@jycvasia.com
Registration@jycvasia.com