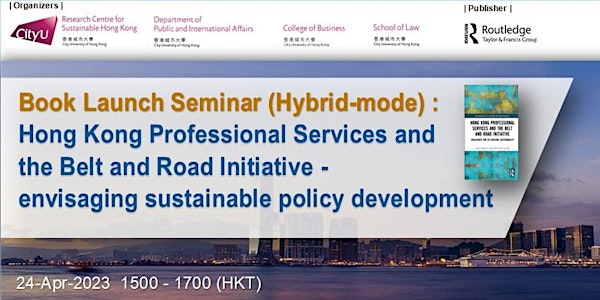 Book Launch Seminar-HK Professional Services and the Belt and Road (ZOOM)
This page is for attendees who wish to attend the book launch seminar online
By Research Centre for Sustainable Hong Kong (CSHK)
Date and time
Monday, April 24 · 3 - 5pm HKT
Location
香港城市大學劉鳴煒學術樓 LAU-8210 Lau Ming Wai Academic Building, City University of Hong Kong Hong Kong, KOW Hong Kong
About this event
The book: Hong Kong Professional Services and the Belt and Road Initiative: Challenges for Co-evolving Sustainability scrutinizes the role of Hong Kong in the expansive, and contested, vision of China's Belt-Road Initiative (BRI). It is a product of a 3-year multi-disciplinary research supported by the Strategic Public Policy Research Funding Scheme, Hong Kong. Utilizing an action research approach and engaging the views of a broad spectrum of actors, this book discusses 1) the defining features of the BRI, 2) the evolving expectations of the role of Hong Kong in the BRI from the perspectives of policy makers and the professional sectors, 3) the potential opportunities for Hong Kong from the perspectives of recipient countries.
This seminar aims at sharing the insights of the book and discussing the latest policy developments through a dialogue between the academia, business and the government .
PROGRAMME
1430 - 15:00 Registration
1500 - 15:15 Welcoming speech and Introduction of the book
15:15 - 16:15 Panelist discussion
16:15 - 17:00 Q&A session (For in-person participants only)
BIOGRAPHY
Prof. Linda Chelan LiProfessor Linda Chelan Li is Professor of Political Science at the Department of Public Policy, City University of Hong Kong. She stresses the role of collaboration as well as conflict in understanding politics and public policy. Her major areas of research include intergovernmental relations, government reforms, public finance, cross-border relations and sustainable development. Some major works include Centre and Provinces: China, 1978-1993. Power as non-zero-sum (Oxford, Clarendon, 1998), Towards Responsible Government in East Asia (Routledge, 2009), Rural Tax Reform in China (Routledge, 2012), and more recently, Co-evolution of Hong Kong's Professional Services and the Belt and Road Initiative (in Chinese, 2019), and Facts and Analysis: Canvassing Covid-19 Responses (2021), both by City University of Hong Kong Press.
Professor Li is the founding director of Research Centre for Sustainable Hong Kong (CSHK) at City University of Hong Kong, which espouses the aim of conducting cross-disciplinary and cross-sector applied research with real-life impacts in Hong Kong and the Region. Professor Li is currently leading "CSHK on Covid-19", a collaborative project under CSHK to collate and analyze essential data on the case developments and policy response of different jurisdictions to Covid-19, with participation of a cross-national team spanning Europe, Asia and America.
Mr. William TsangWilliam Tsang is currently the Assistant Head of the Chief Executive's Policy Unit (CEPU). He is a chartered surveyor (MRICS) and holds a Master of Philosophy (Economics) degree from the Chinese University of Hong Kong. Prior to joining the CEPU, he was the Head of Research at Kai Tak Sports Park Limited. Mr. Tsang is an experienced policy researcher, having served as an Economist in the Financial Secretary's Office and Senior Policy Analyst in the Policy Innovation and Coordination Office. He was also a Senior Researcher at Our Hong Kong Foundation, a policy think tank.
Mr. Nicholas HoNicholas Ho is the Chair of hpa (Ho & Partners Architects), a leading multi-disciplinary architectural design practice headquartered in Hong Kong. Ho is the Hong Kong, China (HKC)'s representative to the Asia-Pacific Economic Cooperation (APEC) Business Advisory Council (ABAC), member of the HKSAR Youth Development Commission, HKSAR Social Welfare Advisory Committee and HKSAR Trade and Industry Advisory Board, Executive Committee member of Construction Industry Council and Chair of its Youth Affairs Committee, council member of Hong Kong Institute of Architects (HKIA) and Chair of its Board of Local Affairs. Dedicated to public service and policy advocacy, Ho is elected as a member of 2021 HKSAR Election Committee.
With landmark projects across 50 cities in 12 countries, hpa has firmly established itself as an international and technologically advanced advisory platform for four decades. Since 2016, hpa has also spearheaded numerous smart cities initiatives through partnering with and investing in dozens of tech partners and solution providers globally, actively nurturing an ecosystem for technology development. Our advisory role and comprehensive services add value to clients' projects, including national governments and private sectors, with whom we have successfully collaborated in over 6 countries.
Ho has a keen interest in exporting Hong Kong professional services abroad, as exemplified by his current projects across Southeast Asia. Aligning with the PRC's mandate to develop the Belt and Road Initiative, he has been actively establishing partnership alliances along the New Silk Road.
Dr. Jerry ZhangDr. Zhang is an Adjunct Professor of CityU EMBA program. He is a retired senior executive of China Orient Asset Management (International), former Managing Director of CITIC Capital and Deutsch Bank, and former director of Goldman Sachs and Salomon Smith Barney. He has gained nearly three decades of experience in investment banking and alternative investment. Dr Zhang obtained his DBA from CityU and an MBA from the University of Chicago. He also holds a master degree in accounting from the Chinese Ministry of Finance Graduate School and a bachelor degree in economics from Inner Mongolia University.
Prof. Phyllis Lai Lan MoProf. Phyllis Lai Lan MO is a Professor of the Department of Accountancy and Associate Director of the Research Centre for Sustainable Hong Kong of the City University of Hong Kong (CityU). As a leading scholar and a professional accountant, Prof. Mo has had numerous publications in top-ranked accounting journals, including The Accounting Review, Journal of Accounting and Economics, Contemporary Accounting Research, Review of Accounting Studies, and Auditing: A Journal of Practice and Theory. Her research interest focuses on auditing, tax compliance, and Chinese accounting issues. In recent years, she has been working on interdisciplinary impactful research on the economic and social sustainability, and the development of Hong Kong professional services along the Belt-Road.
Prof. Lin FengLIN Feng is a Professor of law and Acting Dean at CityU School of Law. He is in charge of the Centre for Judicial Education and Research cum Identification of Hong Kong Law and three training programmes for Chinese incumbent judges. Professor Lin is a comparative legal scholar who has been trained in law in both Mainland China and New Zealand. He is a practising barrister. He has worked with Professor LI Yuwen on an EU-China project on comparative study of judicial review in EU and China. Professor Lin's research interests include Chinese and Hong Kong legal systems, comparative constitutional law (especially the interaction and/or conflict between Chinese legal system and Hong Kong's common law system through the Basic Law of Hong Kong), study of Chinese and Hong Kong judiciary from comparative perspective, and Chinese and Hong Kong environmental law.
About the organizer
Led by Professor Linda Chelan Li and a cross-disciplinary team of experts, the mission of CSHK of City University of Hong Kong is to conduct impactful applied research in response to real-life sustainability challenges in Hong Kong and the Region. One of the themes of focus is the opportunities and challenges offered by the Belt-Road Initiative (BRI). CSHK works collaboratively with industry, professional services and business sectors, and the government through the innovative platform "Sustainable Hong Kong Research Hub".

由香港城市大學公共政策學系李芝蘭教授出任中心總監的「香港持續發展研究中心」CSHK,旨在以應用研究方式應對香港及區域有關現實生活持續發展的挑戰,重點主題之一是一帶一路倡議的機遇和挑戰。我們以「香港持續發展研究樞紐」這個創新的開放平台,與業界、專業服務及商界和政府之間通力合作。