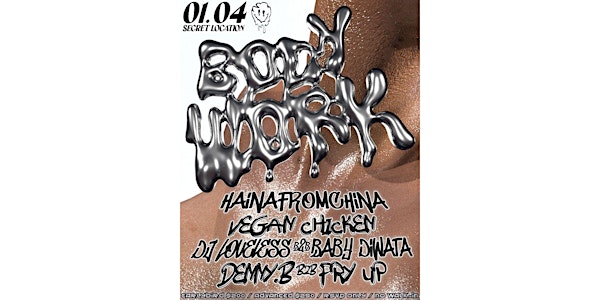 BODYWORK
Slimefest presents BODYWORK 01/04
Date and time
Starts on Sat, 1 Apr 2023 23:00 HKT
Refund Policy
Contact the organiser to request a refund.
About this event
Slimefest presents BODYWORK 01/04
A safe haven for all things fast, hard, & unapologetic.
Fresh off her KILLER Boiler Room debut we are hyped to announce hainafromchina joining us for her first HK appearance! An icon of the Vancouver rave scene & chief exec of @Normiecorp - this one is not to be missed 🔥
China-born, Vancouver-based DJ and 3D artist hainafromchina is a leading light in Western Canada's music and creative scene. Her hypnotic, hard-hitting sound fuses elements of trance, hardcore and donk, forming sweaty smiles and electric energy as high as her bpms on the dance floor. The guiding light or inspiration behind her sets is a simple one: what would make her friends dance non-stop. And as a founder and resident DJ of Normie Corporation, a Vancouver-based QTBIPOC-centred music party collective, she's no stranger to creating sweet and safe soundspaces to dance the night into oblivion.
Watch her recent boiler room set here:
https://www.youtube.com/watch?v=6vo8mTauEsY&t=1573s
Joining her are some of HK's boldest local heartthrobs Vegan Chicken, DJ Loveless, & Baby Diwata alongside resident sweethearts Fry Up & Denny.B
Limited capacity on this one so grab a ticket while you can
++Full line up++
hainafromchina
Fry Up b2b Denny.B
Vegan Chicken
DJ Loveless b2b Baby Diwata
++$200 Earlybird until 22/03 / $250 after ++ SECRET LOCATION ++ 11pm till LATE
About the organiser
Slimefest embarked on an unapologetic mission in 2022 to serve up high energy, high velocity raves across Hong Kong. From techno, breaks, jungle and everything in between, they regularly showcase local underground talents alongside their diverse sounding founder-residents; HRD.ept, Denny.B, SOLICITOR and Fry Up.