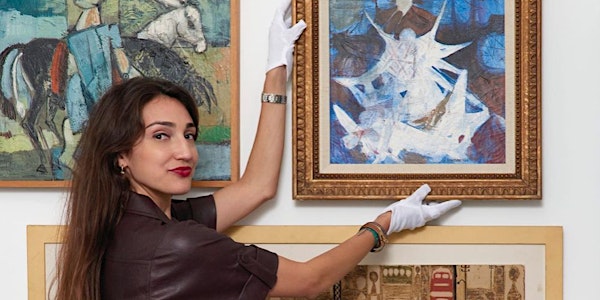 BoAS x Suzy Sikorski - Associate Specialist at Christie's
The Business of Art Society is excited to be joined by Suzy Sikorski, Associate Specialist at Christie's in Middle Eastern Modern Art.
About this event
Suzy Sikorski is an Associate Specialist at Christie's in their Middle Eastern Modern and Contemporary art department. She recently led the extremely successful Middle Eastern 20th and 21st Century Art sale that featured The Orin and Rita Parker Collection of Modern Iraqi Art.
She is also the founder of Mid East Art, an Instagram and website that promotes middle eastern art through investigative research and storytelling. Mid East Art not only seeks to highlight incredible hidden treasures from the Middle East but also bridge both Western and Middle Eastern audiences and art worlds. The platform features in-depth essay, insightful interviews and delightful photographs.
In 2016- 2017 she received a Fulbright Scholarship to the UAE where she began her in death research into Middle Eastern Art. She also has plentiful other experience in the art world such as being a researcher for Ayyam Gallery in Dubai and interning for Kim Heirston Art Advisory in New York.