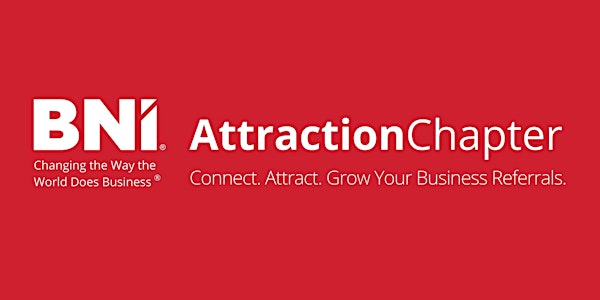 BNI Attraction Chapter Business Open Day (Networking Event)
Grow your Business Through Referral Marketing and Networking Online
About this event
Entrepreneurs and Business Development Managers need a strong community of like minded professionals for ongoing support and generating new business.
As a business owner, or business development manager, are you:
ready to grow your business?
looking to work smarter not harder?
If you said yes to the above questions, and you:
prefer referral marketing to making cold calls
prefer collaboration to competition
love to give in order to gain
We invite you to our online Business Opportunity Day.
About BNI
BNI is the world's leading referral organisation that helps members increase their business, by enabling them to develop long-term, meaningful business relationships with quality business professionals.
Through weekly meetings and exclusive resources, BNI has fueled personal and professional growth of over 275,000 members globally.
Founded in 1985 by Dr Ivan Misner, our proven referral network is designed to help businesses grow with each other through quality referrals and valuable opportunities.
In the year of 2020, BNI members around the world gave to each other 11.5 million referrals which translated into business in value over 16.2 billion USD.
In today's business environment having a trusted referral network is essential.
Expand Your Network: Connect with like-minded business professionals
Develop A Referral Based Business: Partner with people who can help you grow
Sharpen Your Business Skills: Gain exclusive access to life-long learning resources
Don't miss this chance to Grow Your Business!
Register today!