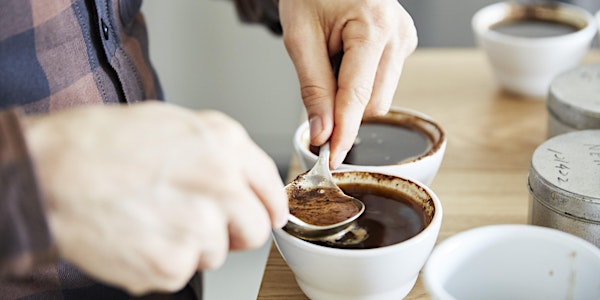 Blue Bottle Coffee Cupping Class
Enjoy the Cupping Class with Blue Bottle Coffee
When and where
Location
Blue Bottle Coffee Hong Kong Lyndhurst Terrace Cafe 38-42 Lyndhurst Terrace Hong Kong, HKI Hong Kong
Refund Policy
Contact the organizer to request a refund.
About this event
歡迎來到Blue Bottle Coffee。
怎樣可以發掘出咖啡中眾多不同的風味?杯測可能是其中一個較方便又有效率的方法。透過我們的杯測班,你可以認識什麼是杯測,同時通過不同的感官逐步地去了解咖啡的滋味和特色。課程中會杯測三款單一產地和一款併配咖啡豆,除了可以了解如何運用自己感官系統之外,亦開發你的味覺與嗅覺,令你可以品評咖啡的風味和差異。
◎ 咖啡杯測班流程
- Blue Bottle Coffee 品牌簡介
- 杯測簡介
- 咖啡豆簡介
- 杯測示範
- 學生杯測體驗及問答環節
上課當日,我們會為您準備好一切杯測工具,課堂之後,您將會得到一盒三款單一產地咖啡豆體驗裝(每包60克,共180克)以及Blue Bottle Coffee 杯測匙,讓您課堂之後也能在家練習。
無論是想學習如何辨識一杯咖啡,或是想建立屬於自己的感官體驗,這個杯測課程都非常值得一試。
*75分鐘課程全以粵語教授為主;英語作輔助性質
*報名費用須全數付款,不作任何退款或更改時間
如遇特別天氣問題而作課堂更改,Blue Bottle Coffee 將個別通知參加者作相對安排
請追踪我們的instagram @BlueBottleCoffeeHongKong 留意最新動向
Welcome to Blue Bottle Coffee.
How do you make connections between what you get out of that cup and the library of flavor experiences in your mind? Cupping would be one effective way that evaluates the flavors and aromas in brewed coffee used worldwide. During the Cupping class, you will taste 3 Single Origin coffees with 1 blend coffee side by side to learn what processing variables will impact the cup. Also, while enjoying these two selections, you will explore the five elements of tasting and better understand how the speciality coffee industry categorizes coffee profiles.
If you would like to experience flavors and then translates that experience into words or speak the shared language of the coffee industry - this class would be an unforgettable experience.
◎ Class Agenda
- Blue Bottle Coffee Brand Introduction
- Cupping introduction
- Coffee Beans introduction
- Cupping demonstration by barista
- Experience and Q&A session
We will have all cupping kits ready for you so that you do not need to prepare anything for the class, after school, you will get Complimentary Set of Coffee Beans ( 3 bags of 60g Single Origin Beans) and Blue Bottle Cupping Spoon to allow you to try out with our new knowledge at home.
Save your spot.
*The 75-minute course is mainly Cantonese-speaking.
*Full payment for the registration and no refund or rescheduling.
Blue Bottle Coffee shall notify participants for special arrangement for any inclement weather
Please follow instagram @BlueBottleCoffeeHongKong for latest update