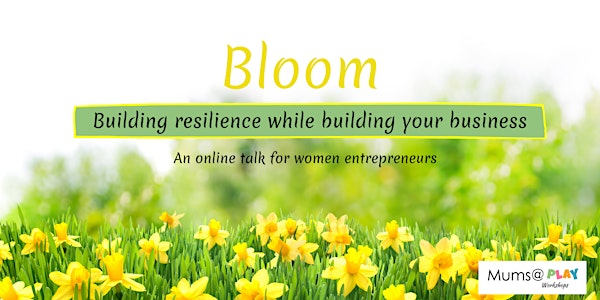 BLOOM - Building resilience while building your business
An online talk on the art of balance and building our personal resilience as women entrepreneurs while also building our businesses
Refund Policy
Contact the organiser to request a refund.
About this event
BLOOM - Building resilience while building your business
Do you want to start something of your own but not sure where to begin?
Do you have a small business but finding it difficult to balance your personal and professional commitments?
How do you deal with everyday business challenges and uncertainities?
Are you feeling overwhelmed and not sure where to seek support?
In this highly interactive online talk you will learn how to -
Empower yourself and learn how to seek support
Sharpen your focus as an entrepreneur
Move in the direction of what you aspire to be
Strengthen your personal resilience
Are you ready to begin?
This online talk caters specifically to women entrepreneurs, mompreneurs and small business owners who are looking for a positive change and a positive mindset.
The format of the session is highly interactive where participants are invited to share their experiences and learn together in this supportive community.
Our Guest Speaker
This online talk is led by highly experienced and inspirational speaker Lola Chetti. Lola Chetti is a leadership development consultant and an executive coach in Hong Kong. She is the mother of a 24 year old and after a first career in the Judiciary, Lola became an expat spouse, lived in Paris and Malaysia for 15 years . She started a part time occupation as a volunteer teaching children in a refugee centre for 6 years,which led her taking a Masters in Consulting and Coaching for Change at Insead. For the last 12 years , Lola has been an entrepreneur designing and delivering customised leadership learning and also working as an executive coach for multinationals . She currently delivers an accredited coach training program in Hong Kong.
Lola Chetti | Global Executive Coach
MCC- ICF, Ex MA -INSEAD , LLB(Hons) & Barrister-Lincoln's Inn-UK
Holding Space Coaching & Consulting Ltd | www.holdingspacecoach.com