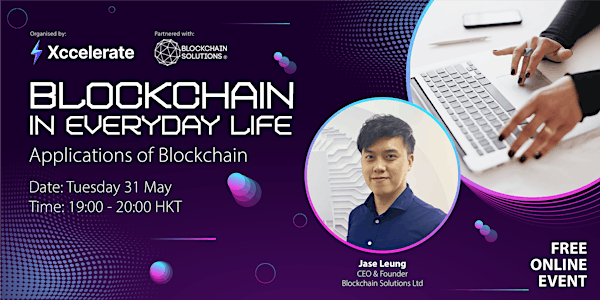 Blockchain in Everyday Life | Applications of Blockchain
Join our 1-hour workshop with Blockchain Solutions to explore the applications and future potential of blockchain technology.
About this event
What is blockchain? And why should you care? 🧐
Join our 1-hour workshop in collaboration with Blockchain Solutions to explore the applications and future potential of blockchain technology, and the examples of how blockchain applies to you in your daily life.
Themes we'll cover:
What is blockchain? Introducing blockchain technology and its everyday applications
The importance and future potential of blockchain across different industries
Tips for developers interested in breaking into the blockchain industry
Tips for businesses who want to apply blockchain technology to improve business performance
Who should attend?
Anyone interested in learning about blockchain and its many applications!
Developers interested in specialising in blockchain technology
Businesses interested in learning how blockchain can improve business performance
Join us to get a better understanding of the power of blockchain and how it can help you!
Event Details:
📅 Date: Tuesday 31 May
🕒 Time: 19:00 - 20:00 HKT
💻 Format: Online Event
🌐 Language: English
—
About Blockchain Solutions
Blockchain Solutions provides unrivaled blockchain technology solutions and applications to our clients, transforming their business model by building revolutionary solutions. Our service brings enhanced transparency, security, and efficiency to clients' businesses.
Blockchain technology is flexible for many business models. Depending on the client's request, our team customizes operation tools to implement in different platforms, such as mobile apps, websites plug-in, service platforms, digital wallets, etc.
Our team offers a one-stop solution to help clients build, operate, govern and grow their businesses. We aim to help solve clients' business challenges and improve their productivity at a lower cost.
https://www.blkchainsolutions.com
—
About Xccelerate
At Xccelerate, we're taking a new approach to upskilling. No irrelevant course material or vague opportunities in various Coding Bootcamp and courses. We only offer programs that are designed to provide professionals with the clearest, quickest path toward the exciting tech job of their dreams.
Xccelerate's NEW Blockchain for Developers Course! 🎉
We are excited to announce that we have recently launched our Blockchain for Developers Course. This event gives you the opportunity to learn what job opportunities exist for blockchain professionals and keep an eye out for future blockchain-related events.
In the blockchain course, you will learn the fundamentals of blockchain, smart contracts & Ethereum, cryptocurrency and NFTs, Web3 apps (DApps), DAOs, and DeFi payment systems. It will also include a company-based project! Check out the course description and prerequisites here.
Not a developer yet? No worries! We'd recommend you join our Full-Stack Web Development Immersive Course to learn the fundamentals and develop your portfolio, and then join the Blockchain Course to further specialise.