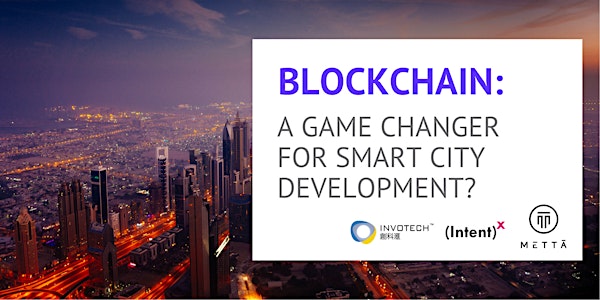 Blockchain: A Game Changer for Smart City Development?
When and where
Location
Mettā 21/F California Tower, Lan Kwai Fong 30-32 D'Aguilar Street Central, Hong Kong Island Hong Kong
Description
How and when can government, industries, academia and startups leverage Blockchain technologies to enhance Smart City development?
Many business leaders still associate Blockchain with Bitcoin and cryptocurrencies. In fact, there are various Blockchain technologies for different purposes, and major research firms are rapidly accelerating their evolutions. Blockchain technologies in combination with other emerging technologies -- like the internet of things, artificial intelligence, decentralized applications or web 3.0 -- have enormous potential for shaping future Smart Cities.

A Smart City uses digital technologies to promote performance, sustainability and well being, and to increase its ability to respond to citywide and global challenges (resilience). Traditional Smart City initiatives, like the Hong Kong Smart City Blueprint (https://www.smartcity.gov.hk), focus on"Smart Mobility", "Smart Living", "Smart
Environment", "Smart People", "Smart Government" and "Smart Economy", etc. However, the potential for Blockchain to improve and impact these initatives has yet to be fully explored or realized.
Business leaders and consultants involved in Smart City initiatives, start-ups, developers, tech-enthusiasts and consultants working with Blockchain technologies beyond Bitcoin are encouraged to attend.
Join us for a dynamic evening discussion to establish an understanding of the emerging role of Blockchain in Smart City development:
- Discuss the status quo of Hong Kong in driving Blockchain enhanced Smart City development
- Ideate a further course of action for the Hong Kong Blockchain ecosystem
- Understand the difference between Blockchain applied to cryptocurrency and Blockchain
applied to Smart Cities
Agenda:

6:30: Registration + Networking
7:00: Introduction + Presentation from Sabine Reppert of Intent-X Limited: The difference between Blockchain in the cryptocurrency landscape and Blockchain in the Smart City landscape, best practice examples from around the world, and current limitations and trends.
7:20: Interactive Panel Discussion
Featured panelists (additional panelists to be announced):

- Ian Christofis, Managing Principal Consultant, Advanced Solutions Group, Thales eSecurity
- Scott Likens, New Services and Emerging Technologies Leader, US, China and Japan, PwC
- Jason Ngan, Chairman of Investment Committee and Smart Healthcare SIG, Smart City Consortium
- XT Khaw, Co-Founder of Moveco and Director of Cove Drive
- Moderator Sabine Reppert, Intent-X Limited
How is Hong Kong prepared for driving Blockchain enhanced Smart City development? Where is the current focus of Blockchain start-ups, Blockchain developers, Blockchain consulting firms, academia and incumbent companies inHong Kong? How big are the knowledge gaps and the knowledge-action gaps?
8:00: Audience Participation in Co-Creation Session (led by Sabine Reppert)
What is needed to turn Hong Kong into a hub for Blockchain enabled Smart City Development?
8:20: Q&A + Networking
8:30: End
Please note that this event may be videotaped or recorded.