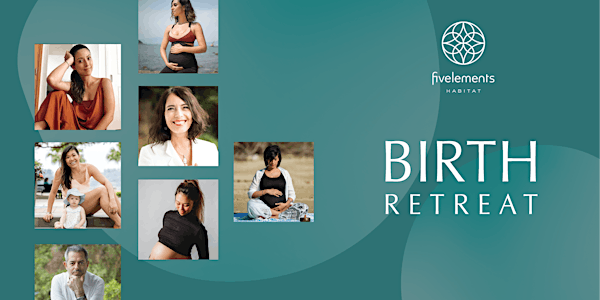 Birth Retreats with SATTRA and HK's Top Specialists at Fivelements Habitat
Complimentary panel discussion with our top specialists on fivelements Livestream!
When and where
Location
Fivelements Habitats Level 13A, Tower 1, Times square 1 Matheson Street Hong Kong Kong, HKI Hong Kong
About this event
IT TAKES A VILLAGE TO RAISE A CHILD, IT TAKES A COMMUNITY TO EMPOWER A MOTHER
Join our online forum to learn about our Birth Retreats and meet the specialists involved from the women's wellness industry. During the forum, they'll provide insights in their area of expertise and guidance on what they will offer at the retreat. It's also a chance for you to begin your wellness journey and ask any questions that arise for you.
This online forum will be followed by a series of 6 half day retreats, curated by SATTRA and are available at Fivelements Habitat Hong Kong. Birth Retreats offer a unique wellness experience to give you strength, support, knowledge, and empower you through your pregnancy birth and beyond.
Online panel discussion with our specialists - ​Meet the Birth community
Tuesday 27th Oct 2020​ ​- 7.30 - 8.30pm
Birth Retreat Nov 2020 - The health of birth - Damien Mouellic & Nav Kumari
Saturday 7th Nov 2020 9am - 1.30pm
https://www.eventbrite.hk/e/birth-retreat-nov-2020-the-health-of-birth-damien-mouellic-nav-kumari-tickets-125121901977
Birth Retreat Dec 2020 - A mother's community - Dee Cheung & Nav Kumari
Saturday 5th Dec 2020 9am - 1.30pm
https://www.eventbrite.hk/e/birth-retreat-dec-2020-a-mothers-community-dee-cheung-nav-kumari-tickets-125307057783
Birth Retreat Jan 2021 - A Couple's Retreat: Being in birth - Lindsay Parfitt & Nav Kumari
Saturday 9th Jan 2021 9am - 1.30pm
https://www.eventbrite.hk/e/birth-retreat-jan-2021-a-couples-retreat-by-lindsay-parfitt-nav-kumari-tickets-125308827075
Birth Retreat Feb 2021- Celebrating your feminine World - Corinne Konrad Calder & Nav Kumari
Saturday 6th Feb 2021 9am - 1.30pm
https://www.eventbrite.hk/e/birth-retreat-feb-2021-celebrating-your-feminine-world-by-corinne-nav-tickets-125310690649
Birth Retreat Mar 2021- New life after birth - Ziggy Fitmama & Nav Kumari
Saturday 6th Mar 2021 9am - 1.30pm
https://www.eventbrite.hk/e/birth-retreat-mar-2020-new-life-after-birth-by-ziggy-nav-kumari-tickets-125311003585
Birth Retreat Apr 2021- The golden trimester - Heanney Banks & Nav KumariSaturday 10th Apr 2021 9am - 1.30pm
https://www.eventbrite.hk/e/birth-retreat-apr-2021-the-golden-trimester-by-heanney-banks-nav-kumari-tickets-125313079795