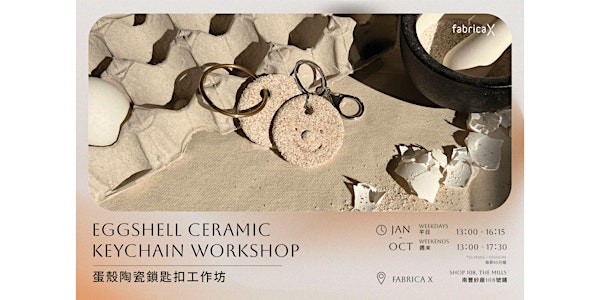 Multiple dates
「新生物料」蛋殼陶瓷工作坊 Biomaterials - Eggshell Ceramic Workshop
一齊參加蛋殼陶瓷工作坊,發揮你嘅創意啦!Let's join and develop your own Biomaterials product!
Date and time
Thu, 12 Jan 2023 03:30 - Fri, 30 Jun 2023 16:15 HKT
Location
Fabrica X 45 Pak Tin Par Street Shop 108, 1/F The Mills Hong Kong, NT Hong Kong
Refund Policy
Contact the organiser to request a refund.
About this event
蛋殼有咩用?雞蛋可以做出美食,而蛋殼亦都好有價值㗎!除咗製成肥料,更加可以變成獨特嘅陶瓷!
「蛋殼陶瓷」係一種新生物料,可以將廚餘再生,製成可生物降解嘅裝飾品或器皿,減少我哋對一次性或不可再生物料嘅依賴。當蛋殼陶瓷完成佢嘅使命,更可以再次成為肥料,為植物提供養分,生生不息。
今次南豐紗廠 Fabrica X同富達國際(Fidelity International)攜手為大家呈獻「蛋殼陶瓷鎖匙扣工作坊」,會帶大家一齊探索新生物料嘅可能性。我哋會收集紗廠內餐廳的蛋殼剩食作為原材料,教大家親手做出屬於自己獨一無二嘅蛋殼陶瓷鎖匙扣。
一齊參加蛋殼陶瓷工作坊,發揮你嘅創意啦!
甚麼是「新生物料」?
「新生物料」是一個可行的未來解決方案,將促進物料界在未來的可持續創新。科學家與業界正攜手開發各種替代品,例如由水果廚餘製造的100%可生物降解物料,讓我們的價值鏈傾向物料循環再造。
物料創新可減少時裝業對傳統物料的依賴,例如動物皮革與合成纖維等等,並讓業界邁向使用更多可持續與可生物降解的替代品,從而減少對環境帶來的損害。
來參觀我們的Fabrica X 零售體驗店,一起學習、體驗和購買新生物料的創新構念和產品。
詳情
日期: 1月12日至10月8日
時間: 每節45分鐘 / 平日:13:00 – 16:15 / 週末:13:00 – 17:30
地點: Fabrica X
香港荃灣白田壩街45號南豐紗廠108號舖
費用: 每人$50(原價$250)
所需蛋殼材料及工具
人數: 每節最多8人
活動流程
新生物料簡介及導賞 (20 分鐘)
蛋殼陶瓷製作 (25 分鐘)
關於富達國際
富達國際(富達)為全球超過287萬客戶提供投資解決方案和服務以及退休專業規劃。作為一家擁有超過50年歷史的私人公司,我們始終以目標為導向,心繫下一代並採取長期的投資策略。富達業務遍佈全球超過25個地區,總資產達6,133億美元,服務的客戶包括銀行、主權財富基金、大型企業、金融機構、保險公司、財富管理公司及個人投資者。在富達,我們明白每一個投資決定都會影響社會。因此,我們採取主動可持續投資方針,引導公司作出對社會產生正向影響的決定。
我們的可持續投資方針以三大支柱 — 綜合分析、互動參與及互相合作為基礎,旨在為客戶取得更卓越的長期投資回報,同時妥善管理風險。
資料來源: 富達國際, 截至2022年9月30日
Have you ever wondered what the afterlife is for eggshells? Eggshells are a valuable resource with lots of potentials! They can be utilized as fertilizer or even turned into ceramics!
Eggshell Ceramic, a biomaterial, transforms food waste into biodegradable accessories, replacing our reliance on non-renewable materials. The Eggshell Ceramic Keychain can be dissolved in water and become a fertilizer to provide plant nutrients – a circular material that eliminates waste!
'Eggshell Ceramic Keychain Workshop', brought to you by Fabrica X and Fidelity International, explores the possibility of Biomaterials with you. We collect eggshell wastes from the restaurants within The Mills to create your own Eggshell Ceramic Keychain. Let's join and develop your own Biomaterials product!
Let's join and develop your own Biomaterials product!
What is Biomaterials?
'Biomaterials' are a promising solution for the future to accelerate sustainable innovations in the material space. Scientists and industry are collaborating to develop alternatives such as 100% biodegradable material from fruit waste to shift our value chain towards circularity.
Innovations in materials can reduce the fashion industry's reliance on conventional materials such as animal leather and synthetic fibers and move towards more sustainable and biodegradable alternatives that are less harmful to the environment.
Come visit our Fabrica X Impact Retail store to experience, learn and purchase biomaterial innovations and products.
Information
Date: Jan 12 – Oct 8
Time: 45 mins per session / 13:00 – 16:15 on weekdays / 13:00 – 17:30 on weekends
Venue: Fabrica X (Shop 108, 1/F, The Mills, 45 Pak Tin Par Street, Tsuen Wan, Hong Kong)
Fees: $50 per head(Original Price: $250)
Included all required materials and eggshells
Availability: 8 pax. per session
Workshop Rundown
Biomaterials campaign introduction and tour (20 mins)
Eggshell Ceramic production (25 mins)
More about Fidelity International
Fidelity International offers investment solutions and services and retirement expertise to more than 2.87 million customers globally. As a privately held, purpose-driven company with a 50-year heritage, we think generationally and invest for the long term. Operating in more than 25 locations and with $613.3 billion in total assets, our clients range from central banks, sovereign wealth funds, large corporates, financial institutions, insurers and wealth managers, to private individuals. At Fidelity, we are committed to invest for a better future for our community. Therefore, we take an active approach on sustainable investing, aiming to steer companies towards decisions that will positively impact for the greater good. Our approach is built on integration, engagement as well as collaboration that aim to enhance long-term investment returns while managing risk for our clients.
Source: Fidelity International, as at 30 September 2022.
About the organiser
The Mills Fabrica is a go-to solutions platform accelerating techstyle and agrifood tech innovations for sustainability and social impact. With its business incubator, investment fund, spaces in Hong Kong and London, and community-building initiatives, The Mills Fabrica aims to will drive positive change for future generations.
南豐作坊是一個提供創新解決方案的平台,致力推動可持續的紡織科技(techstyle)和農業食品科技(agrifood tech),創造社會效益。透過其培育基地、投資基金、香港和倫敦的空間及凝聚社群的精神,共同推動下一代邁向正面變革。