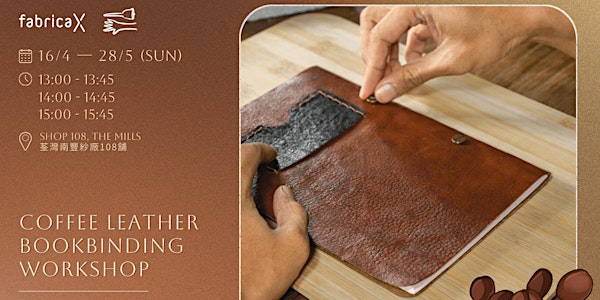 「新生物料」咖啡再造皮 筆記簿裝訂工作坊 Biomaterials - Coffee Leather Bookbinding Workshop
一起見證咖啡渣不再廢的蛻變!Join us to celebrate the re-birth of coffee skin waste!
Date and time
Sunday, April 16 · 1 - 1:45pm HKT
Location
Fabrica X 45 Pak Tin Par Street Shop 108, 1/F The Mills Hong Kong, NT Hong Kong
Refund Policy
Contact the organizer to request a refund.
About this event
【4月10日或者之前於南豐作坊網站登記可享早鳥優惠 Register via The Mills Fabrica's website by Apr 10 to enjoy the Early Bird Offer - $100 for two】
Webiste: https://bit.ly/3mU8Cwh
您知道製作皮革的過程中,撇除對動物的殘害,當中所用的化學品含有毒害成份並污染環境嗎? 一般做法是使用塑膠去令皮革更堅固,然而塑膠是一種由化石燃料組成的不可降解物料。
何不選擇對環境更好的物料和符合道德的替代品呢? Bell Society 利用細菌和有機物質,研發創新的皮革替代品。他們通過提煉咖啡皮廢料,並使用無毒化學品和天然著色劑,製成新生物料 M-Tex。
由 Fabrica X 和富達國際(Fidelity International )攜手呈獻,Bell Society 共同舉辦,今次的筆記簿裝訂工作坊為參加者提供觸覺體驗,讓你親身感受和嘗試利用環保物料 M-Tex,縫合和組裝屬於你的筆記本。
一起見證咖啡渣不再廢的蛻變!
活動流程
新生物料簡介及導賞(20 分鐘)
筆記簿製作(25 分鐘)
費用包括:皮革、筆記紙及所有工具
關於富達國際
富達國際(富達)為全球超過287萬客戶提供投資解決方案和服務以及退休專業規劃。作為一家擁有超過50年歷史的私人公司,我們始終以目標為導向,心繫下一代並採取長期的投資策略。富達業務遍佈全球超過25個地區,總資產達6,133億美元,服務的客戶包括銀行、主權財富基金、大型企業、金融機構、保險公司、財富管理公司及個人投資者。在富達,我們明白每一個投資決定都會影響社會。因此,我們採取主動可持續投資方針,引導公司作出對社會產生正向影響的決定。
我們的可持續投資方針以三大支柱 — 綜合分析、互動參與及互相合作為基礎,旨在為客戶取得更卓越的長期投資回報,同時妥善管理風險。
資料來源: 富達國際, 截至2022年9月30日
取消及退款政策
1. 預訂後取消預訂或缺席將不會獲得任何退款或轉讓。
2. 若南豐作坊因不可控制因素(如:預防及控制疾病條例、惡劣天氣等)取消活動,參加者所繳費用,會按程序扣除行政費後全數退回。
3. 南豐作坊保留因不可控制因素延後活動權利(如:預防及控制疾病條例、惡劣天氣等),或按程序扣除行政費後全數退回參加者所繳費用。
4. 如有任何爭議,南豐作坊將保留最終決定權。
惡劣天氣工作坊安排
1. 如果八號或以上熱帶氣旋警告信號,或黑色暴雨警告信號,於活動當天早上九時仍然生效,當天所有工作坊將會取消,並安排改期或退款。
Besides animal cruelty, do you know that leather production pollutes the environment with toxic and hazardous chemicals used in the tanning process? Moreover, the common practice of making leather more durable heavily depends on plastics - a petroleum-based product that cannot be degraded.
Why not choosing an ethical and better alternative for our environment? M-Tex by Bell Society, a biomaterial made by converting coffee skin waste and using non-toxic chemicals and natural colorants, utilizes bacteria and organic substances as an innovative solution to create a leather substitute.
Brought to you by Fabrica X and  Fidelity International  and co-organized with Bell Society, the Book Binding Workshop provides a tactile experience for you to feel and experiment with an eco-friendly material - M-Tex, from stitching to assembling your own notebook.
Join us to celebrate the re-birth of coffee skin waste!
Workshop Rundown
Biomaterials campaign introduction and tour (20 mins)
Bookbinding production (25 mins)
More about Fidelity International
Fidelity International offers investment solutions and services and retirement expertise to more than 2.87 million customers globally. As a privately held, purpose-driven company with a 50-year heritage, we think generationally and invest for the long term. Operating in more than 25 locations and with $613.3 billion in total assets, our clients range from central banks, sovereign wealth funds, large corporates, financial institutions, insurers and wealth managers, to private individuals. At Fidelity, we are committed to invest for a better future for our community. Therefore, we take an active approach on sustainable investing, aiming to steer companies towards decisions that will positively impact for the greater good. Our approach is built on integration, engagement as well as collaboration that aim to enhance long-term investment returns while managing risk for our clients.
Source: Fidelity International, as at 30 September 2022.
Cancellation and Refund Policy
1. Cancellations made after reservation or no show will not receive any refund or transfer.
2.A full refund (less the administration fee) will only be made if the event is cancelled by The Mills Fabrica or does not take place due to uncontrollable factors, e.g. Prevention and Control of Disease Ordinance, adverse weather.
3. The Mills Fabrica reserves the right to reschedule the event due to uncontrollable factors, e.g. Prevention and Control of Disease Ordinance, adverse weather. Alternatively, a full refund (less the administration fee) can be made.
4. In case of any disputes, the decision of The Mills Fabrica shall be final.
Special arrangement for bad weather
1. If Typhoon Signal No. 8 or above, or Black Rainstorm Warning is in force from 9:00 am, all workshops that were previously arranged on the day will be cancelled and will be rescheduled or refunded.
About the organizer
The Mills Fabrica is a go-to solutions platform accelerating techstyle and agrifood tech innovations for sustainability and social impact. With its business incubator, investment fund, spaces in Hong Kong and London, and community-building initiatives, The Mills Fabrica aims to will drive positive change for future generations.
南豐作坊是一個提供創新解決方案的平台,致力推動可持續的紡織科技(techstyle)和農業食品科技(agrifood tech),創造社會效益。透過其培育基地、投資基金、香港和倫敦的空間及凝聚社群的精神,共同推動下一代邁向正面變革。