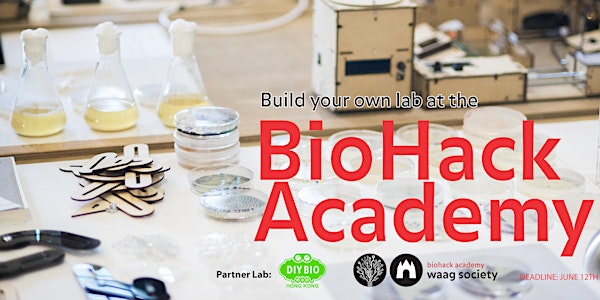 BioHack Academy 5: a biohacking course
When and where
Location
MakerBay, Yau Tong Sze Shan Street Hong Kong, Kowloon Hong Kong
Description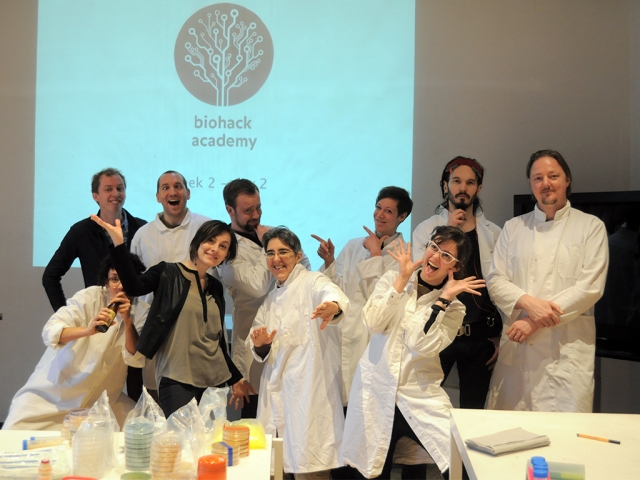 Are you interested in biotechnology, but you don't have a background in either biology or technology? Do you like to make things yourself and tinker with technology? Interested in DIYBio but don't know where to start? Or do you consider yourself creative and innovative and wanna work with some biomaterial? Come and join the fifth BioHack Academy!
Engineers have turned biology into a design discipline and it's now upon us to shape it's applications. After completing the fifth BioHack Academy you will be able to grow your own fuel, food, filaments, pharmaceuticals, fragrances, fungi and much more funky bio stuff at home. We will teach you how to join the bio revolution and how build your own lab equipment using a Fablab, Maker/Hackspace or other shared machine shop.
The fifth BioHack Academy consists of 10 classes. We will explain you how to construct the necessary machines, such as incubators, microscopes and centrifuges, to run your own biolab. Along the way you will learn how to operate them and put them to use in your own project. Whether that's a new type of bio ink, bio polymer, bio fuel or other kind of biohack is entirely up to you.
Moreover, the BioHack Academy is a truly international course. In the past editions, partner labs from the US, Latin America, Asia, Australia and Europe have followed the course simultaneously via remote video. We expect new partners to join this course as well, and grant you to opportunity to collaborate with biohackers from all over the world!
Skills you will learn:
Molecular biology

Microbiology

Biodesign and bioarts

Chemical and biological safety

Biotechnological reactor design

Spectral analytics

Bioinformatics

2D computer aided design

3D drawing and parametric design

3D printing
Date: 30 January - 3 April 2018
Location: MakerBay, 16 Sze Shan Street, C1 Yau Tong Industrial Building Block 2
Yau Tong, Kowloon, Hong Kong
Number of participants: 10
Age: 10+
Registration dealine: 1 January 2018
Timing
The weekly course meetup and practicals take place on Saturday during the day and the online lectures on Tuesday evenings.
Structure of the academy
The academy is build up of 10 classes where every week consists of lectures, practicals and building a specific device.
The schedule is tentative.
Week 1Week 2Week 3 Lecture topics History of biohacking
Safety & ethics
3D design in Sketchup Microbiology
Bioart/ design
Documentation Biomaterials
Coding Arduino
Digital Electronics Device build Sterile hood Stirrer Incubator Practicals MakerBay and Biolab tour
3D design
Principles of electronics Cultivating microbes Isolating microbes
Arduino coding
Week 4Week 5Week 6 Lecture topics Optics
Liquid culturing Genetics
Biosensing Midterm presentation Device build Microscope Thermocycler & Gelbox N.A. Practicals Microscopy
Cell staining DNA extraction
DNA profiling Work on your own project
Week 7Week 8Week 9Week 10 Lecture topics Bioethics Bioinformatics
Spectrometry Guest speaker Graduation show Device build Centrifuge Spectrometer Pumps & Bioreactor Practicals P2P reviewing
Work on your own project PyMol
Iodine Clock Reaction Grow your own certificate
Work on your own project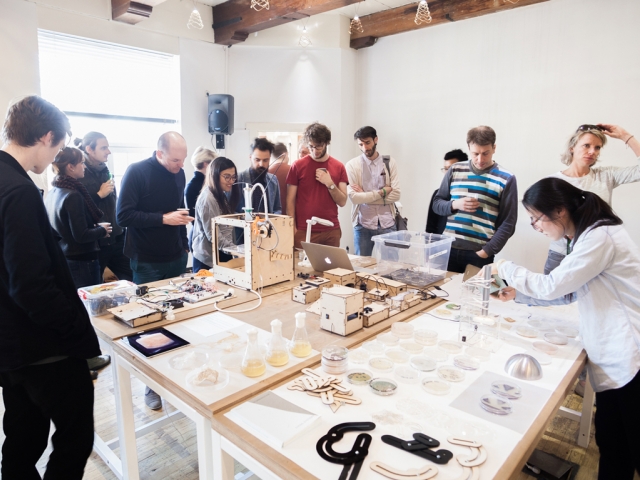 Finalising the academy
You will receive a BioHack Academy certificate. And your online lab journal on GitHub page will be open to the public to share the results with the Open Source biotech community at large.
Tuition fee
Early Bird (register before 31 Oct 17:00): HK$10,000
Regular: HK$12,000
The tuition fee includes weekly course meetup and practicals sessions, access to DIYBIO community lab and MakerBay facilities, access to BHA lab equipment source files and tuition materials. But material cost for building the devices is not included.
Material costs
The material cost depend on which laboratory equipment you would like to build and what materials you will use. Expected material cost is about HK$4000 (when you build all equipment), but you can always source a more economic materials from online store like taobao etc.
Payment
You can register via Eventbrite. The tuition fee is non-refundable.
Organiser x Partner Lab