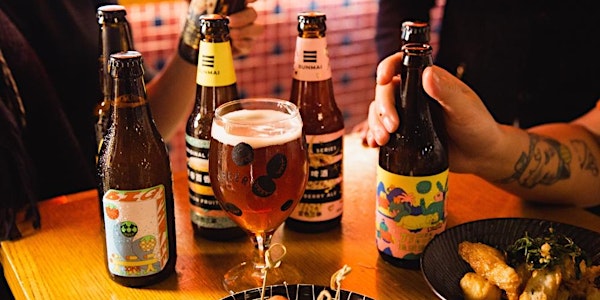 "Beyond HK" Beerfest - Taiwan Edition 台灣手工啤酒節
超過 10 款台灣限定的手工啤酒,來個充滿音樂、美食及笑聲的啤酒派對! Offering 10+ delicious Taiwanese craft beers. Come enjoy live music, fun party and plenty of beer!
When and where
Location
Flower years 380 Nathan Road Jordan, KOW Hong Kong
About this event
➡️ Pre-purchase a Guava Gose draft beer (HK$70) online, follow @FlowerYearsHK on Instagram and Facebook for an extra free bottle of craft beer!
Flower Years, Eaton HK's popular open-air bar and eatery within its buzzing Food Hall, will host the "Beyond HK" Beerfest in collaboration with breweries from Taiwan. After the raging success of the last local Beerfest, Flower Years extends beyond Hong Kong and introduces craft beer from across Asia to Eaton HK. In September, three breweries from Taiwan will make their debut - Ugly Half Beer, DB Brewery and Sunmai. Flower Years will transform into a vibrant night market in Taiwan, party the Taipei-way with Taiwanese street snacks, live music, and win free beer mugs!
*Free Entry, pre-order the Taiwanese beer sets at discounted price.
➡️凡於網上預訂台灣生啤一杯(港幣$70)及追蹤@FlowerYearsHK IG和Facebook,即免費送您一枝台灣手工啤酒!
位於Eaton HK Food Hall內的半露天酒吧餐廳,Flower Years花樣年華一向支持亞洲以及本地手工啤酒。繼去年的本地手工啤酒節獲得空前成功,今個夏天,花樣年華再下一城衝出香港,舉辦「Beyond HK啤酒節」,為大家帶來世界各地的精釀啤酒。於9月率先登場的是三款台灣精釀品牌,包括酉鬼啤酒、鄧爸麥酒及金色三麥。屆時更推出各款精選台灣地道小食、現場音樂、啤酒杯換領等活動,讓您置身如台灣的夜市般。
*免費入場,可以優惠價預購台灣啤酒套餐。