Benefit Comedy Show for Asian's and Pacific Islanders with disabilities
Date and time
Wednesday, May 15, 2013 · 7:30 - 10pm PDT
Location
Kimball's Carnival 522 2nd Street Oakland, CA 94607
Description
Comedy and Pinball for a Cause:

Benefit Comedy Show for APIDC
(Asians & Pacific Islanders with Disabilities of California)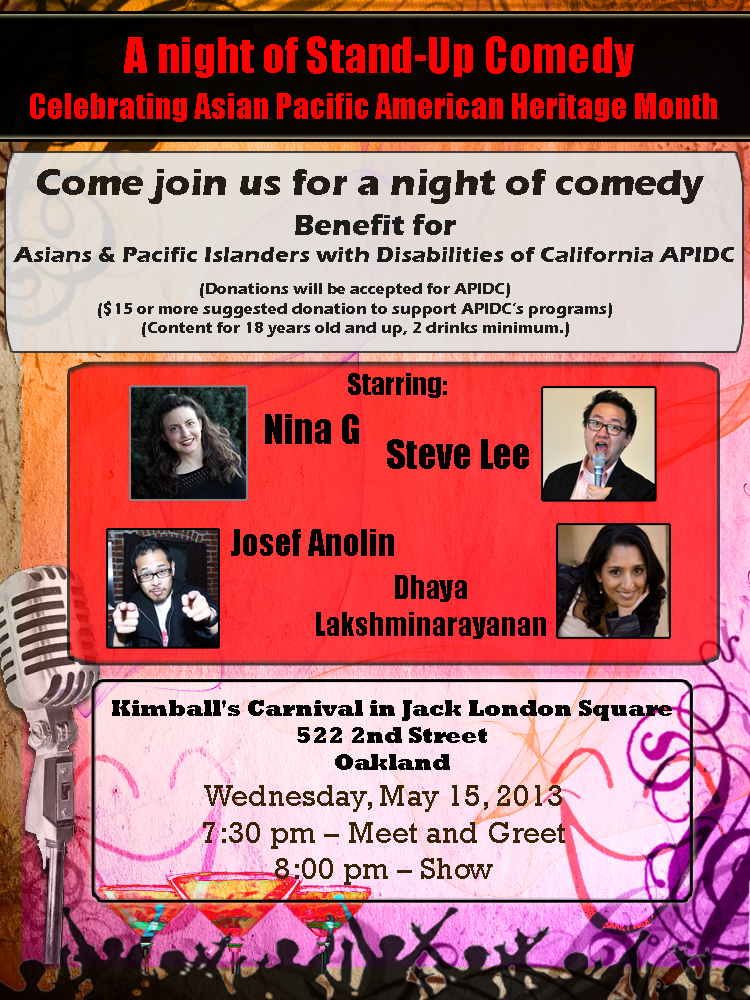 A night of free comedy. Donations will be accepted for APIDC
Asians Pacific Islanders with Disabilities of CA.(APIDC) APIDC's mission is to give a "voice and a face" to Asian and Pacific Islanders (AAPIs) with mental and physical disabilities. APIDC's goal is to bridge the service and cultural barriers that Asian's and Pacific Islanders (APIs) with disabilities and their families may face. APIDC's purpose is to act as the technical assistance network to interconnect disabilities organizations with API communities, API individuals with disabilities and their families.
Since 1998, APIDC has continued the on-going grassroots conversations and convening of APIs with disabilities. As disability issues are deeply hidden and barely acknowledged within the AAPI community, Asians & Pacific Islanders with Disabilities of CA (APIDC) was formed as a non-profit organization in 2008. Our mission is to "give a face and a voice" to AAPIs with disabilities. We seek to break down the stigma of disability within the AAPI community; provide technical assistance and employment research data of AAPIs with disabilities to organizations that seek to more effectively work with AAPIs with disabilities; work to bridge gaps on disability issues within our AAPI communities as well as slowly ease the discomfort of talking about disability issues, it is not charitable work, contrary its promoting disability rights as a proud member of our social justice community.
www.apidisabilities.org

$15 or more suggestioned donation to support the APIDC's programs.
2 drinks minimum.

About the organizer
「麦酷疯」脱口秀,香港第一个普通话脱口秀开放麦 ((stand-up comedy open mic)!这里集合了香港喜剧精英与新秀,全力为普通话观众带来欢乐!我们每次也与观众抽獎和给当晚最受欢迎的脱口秀演员奖品,在这里,你可以忘掉一切,有什么比开怀大笑更重要!( 如果你笑死了本活动不负任何责任。)

你看过《脱口秀大会》吗?有没有想过其实你也可以和他们一样好笑?那你一定要来这里小试牛刀!与平时正式售票的脱口秀场合不一样,开放麦是新旧演员试梗的地方,票价和气氛更接地气,轻松融洽,是锻炼口才、提升幽默的最佳场所。无论你是经验丰富的出名脱口秀演员或新人,甚至观众,都欢迎报名参加表演 (现场名额有限,先與主持人联系 steveleecomedy.com ) 。
李世扶 (Steve Lee) ,在香港与美国脱口秀工作多年, 是一位流利于英文、粤语和普通话的脱口秀演员, 香港英文脱口秀比赛亚军,粤语新人脱口秀比赛冠军,在美国、香港东南亚等地脱口秀俱乐部常客。
Steve Lee stand-up comedy is centered around his experiences in both continents dealing with racism and living with disabilities, and his content is remarkably original. Rather than being encumbered by stereotypes, Steve is vitalized by them. He blends stories and punchlines to convey his belief that we are all equal - equally ignorant, fallible, weird, and desiring freedom. For Steve, comedy is a way to get people - including himself - to laugh about our own shortcomings and problems in our daily lives.
Steve's Stand-Up Comedy has an expanding fan-base on two continents. He is a staple at comedy clubs in L.A., San Francisco, Hong Kong, Shanghai ,Kuala Lumpur and Singapore, and has opened for headliners like Tom Rhodes, Tom Cotter, Brad Williams and Brent Weinbach. He is also a winner of the Hong Kong New Cantonese Stand-Up Comedian, a runner-up of the Hong Kong International Comedy Competition, a finalist of the Hong Kong International Comedy Competition, invited to perform at the Burbank Comedy Festivals 'Best of the Fest' show, part of the San Francisco SketchFest and was on the World Series of Comedy Final Week in Las Vegas.