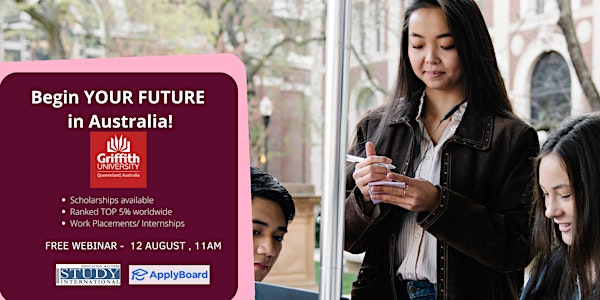 Begin YOUR FUTURE in Australia with Griffith University!
Know more about their programs, scholarships, and fees! Invest in your future.
About this event
At Griffith, we are committed to helping international students achieve success by providing quality education, guidance and support. With more than 200 degrees and a reputation for research and teaching excellence, Griffith continues to be a leading university of choice.
Ranking in the top 2% of universities worldwide, Griffith University offers future-focused degrees that are developed in consultation with industry, based on cutting-edge research, and taught by Australia's most awarded teachers.
Depending on your degree, you may study full-time or part-time, or on-campus, online or a combination of both. We also offer a range of personal and learning support services to help you develop your academic and research skills and manage life while you study.
Join the Free Webinar on 12 August (Friday), 11AM. Just download the ZOOM app on your smartphone, tablet or computer and join our webinar from the comforts of your home. Discover many opportunities that await you studying in Australia. Don't put your future on hold, start today!