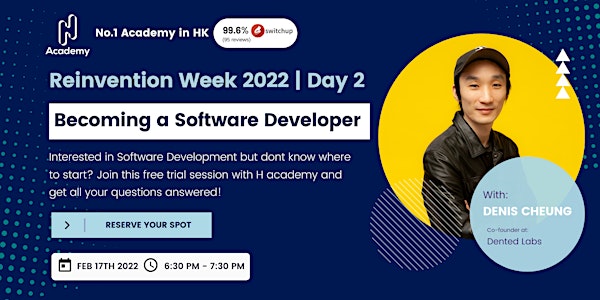 Becoming a Software Developer in Hong Kong
The year 2022 is all about "REINVENTION". Interested in Software Development but don't know where to start? Get all your questions answered!
Date and time
Thu, 17 Feb 2022 02:30 - 03:30 PST
About this event
Want to develop a career as a Software Developer? You have come to the right place!
Find out more about how to pivot your career into Software Development, the different roles, interview tips and more!
Also, get a sneak peek into H Academy's Fulltime Software Development Course, taught by expert instructors and a chance to work on real life projects.
Built from the ground up, this course ensures you are job ready to pursue a career in web development. Get a chance to be placed in 1000+ companies, hiring web developers, with our world class career coaches.
Key Takeaways
Career paths for Web Developers
How you can step into the web development industry
Live Class Demo
Hands on Exercise
Live Q&A to answer all your questions
Meet Your Instructor
Denis Cheung, Co-Founder, Dented Labs
Denis taught coding courses at General Assembly, and he himself went through a coding bootcamp and developed his career as a developer. He also runs his own agency Dented with cofounder Gram Milosevic
Nandita V., Director of APAC Expansion Markets at General Assembly
"Denis is a dream instructor- he's able to explain complex things clearly, is eternally patient, and able to ascertain students' problems even when they can't verbalise the issue themselves. GA has been very fortunate to have him on the team. He's passionate about web development, a pleasure to work with, and a natural born mentor."
Why become a Software Engineer?
You love solving problems - You love to explore and tinker! Why not get paid to do that?
Everyday is something new - No matter if you're building Apps or Websites, you'll always have new and incredible ideas to bring to life!
Technology is always growing and the demand for Developers is growing faster by the day. The next big thing could change the world, what if you made it?
Why H Academy?
World Class Instructors
We handpick world-class instructors to ensure you learn from the best
Real-World Experience
We handpick only the best real-world projects to ensure you are challenged and build applicable skills that employers will value
Career Support
For those looking to move into Software Engineering, we help open the door to potential career opportunities through our partnership with 1000+ companies
About the organiser
Happyer Skills offers Full-Time Immersive and Part-Time Courses, Bootcamps and Workshops providing professionals from all backgrounds with the skills needed to make a career change, upskill or launch their own startup. From Data Science to Product Management, you will learn how to apply the skills learnt from the courses through real-world projects and internships. You will be taught by world-class instructors who have experience working with firms such as HSBC, IBM, Klook, Accenture, Agoda etc.