Event Information
Location
Active Learning TKO
Alto Residences, Shop 1, 1/F, 29 Tong Yin St, Tseung Kwan O.
Hong Kong
Hong Kong
Hong Kong
Aerial outdoor beach yoga.
About this event
3 part workshop: aerial yoga class in the studio, hike to Tai Long Wan, the most beautiful beach in Hong Kong to fly in the bamboo tripods over the ocean! Beginners are welcome.Detailed schedule:
8 - 9am - studio class at Active Learning TKO.
9 - 10am Breakfast at JOMO (5 min from the studio)
10.30am - taxi from the studio to Sai Wan Pavilion + short hike to the beach
12pm - arrive at the beach, tripod set up and a short rest, warm up flow
12.30 - 2.30pm - aerial yoga on bamboo tripods on the beach and over the water
3pm - boat back to Sai Kung (100-150 HKD) or hike back to Sai Wan, mini bus/taxi to Sai Kung.
Notes:
- Cost: 888 HKD
- Food and transportation costs are not included
FAQ
- Is aerial yoga safe?
Yes. Guided by a trained teacher it is absolutely safe and fun.
- Are the bamboos poles safe to do aerial yoga?
Yes. Bamboo is incredibly strong, stronger than steel or even concrete! It can hold up to 200 kg. There is a reason why bamboo is used for scaffolding all over Hong Kong.
- What are the benefits of aerial yoga?
Aerial yoga is gentle way to get strong, relieve pain and heal the body. Hammocks support the body's weight, enhance our range of motion and allow us to stretch deeper and work a greater range of back and core muscles. Aerial offers great therapeutic benefits. We use gravity to decompress the spine, realign the vertebrae, relieve disc and nerve pressure, which causes pain.
- What should I bring?
Cash for transportation, water, sunscreen, yoga clothes, towel, swimwear, water, snacks etc.
- What if the weather is bad?
We will most likely postpone the event to a different date. If the date doesn't suit you, you can change it to any other upcoming workshop.Any questions, reach out to me directly, via FB message or on info@bamboo-yoga.com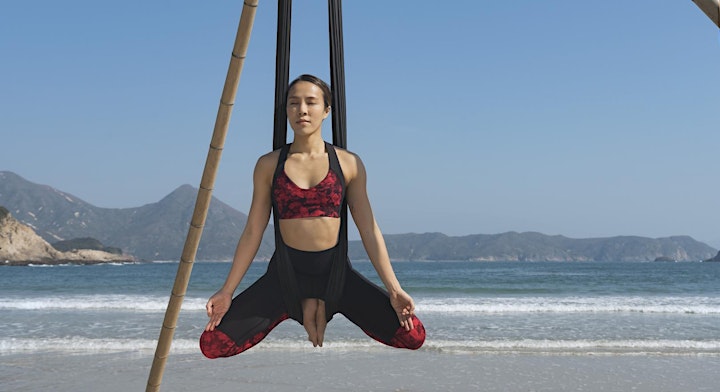 Location
Active Learning TKO
Alto Residences, Shop 1, 1/F, 29 Tong Yin St, Tseung Kwan O.
Hong Kong
Hong Kong
Hong Kong
Refund policy