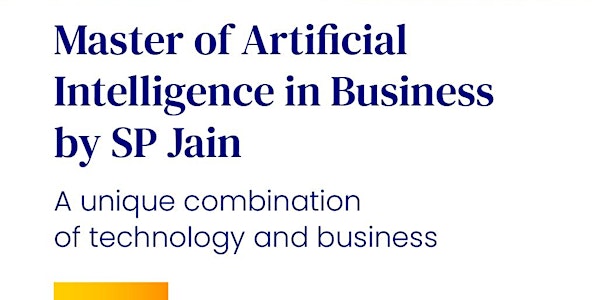 Be an AI and Machine Learning Specialist in Australia!
Future-proof your career and be at the forefront of the AI revolution with SP Jain's Master of AI in Business
About this event
Did you know that AI and Machine Learning Specialists are among the top jobs with increasing demand? Join our webinar on July 2, 2022 to learn more about this new program from one of the top business schools in the world!
For this program, you will study in Sydney where you can apply for the 3-year post-study work visa rights or you can study online on weekends without interrupting your career. After finishing the program, you will graduate with an Australian degree accredited by TEQSA, Australia. Lastly, generous scholarships are available!
Check on this link to learn more about this very exciting program: https://www.spjain.sg/master-of-artificial-intelligence-in-business
To know more about the other multi-city postgraduate programs offered by SP Jain, please click here: https://www.spjain.sg/programs/postgraduate/mgb
What are you waiting for? Register now!