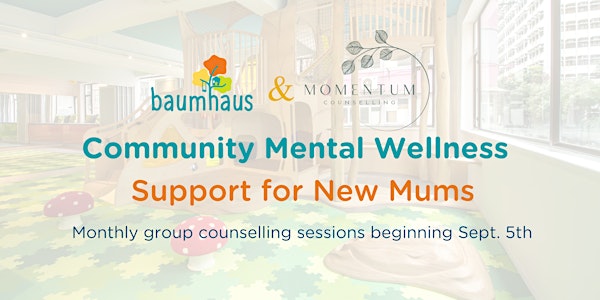 Baumhaus x Momentum Counselling: Mental Wellness for New Mums
New to motherhood? Let us support you!
When and where
Location
Kar Yau Building 1/F 36-44 Queen's Road East Wan Chai, HKI Hong Kong
About this event
A monthly support session to support your motherhood journey, with tips on how to unpack your mental load, and an opportunity to meet some new friends.
Drop in for a cup of coffee or tea. Bring baby, or leave them at home (it's your choice*).
With trained counsellors Patricia Toh and Jill Carter. Meeting once a month beginning Monday, 5th September 2022, 12:30-2:00pm. $200 per session. Facility, playroom access, and a cup of coffee is included in this fee.
* If your child is 6 months and above ( and mobile), please consider bringing another adult so that you can enjoy the session.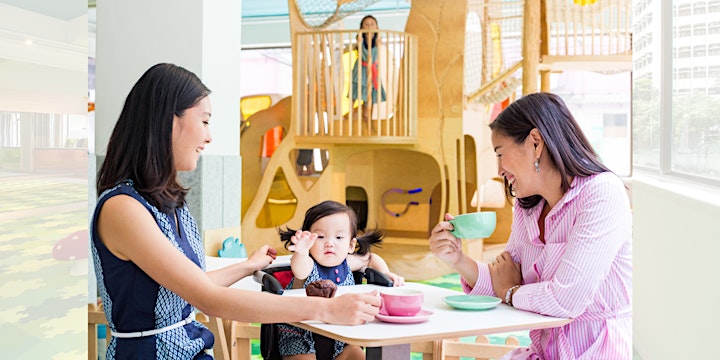 About Baumhaus - A pioneer family space in Wanchai since 2015, Baumhaus is known for its treehouse playroom, cafe space for families to gather, and its internationally awarded Kindermusik program.
Committed to building a community for families, the Baumhaus facility supports parents with young babies, and gives particular attention to what they need in this part of their journey.
The community well-being project for new mamas is part of their ongoing campaign:
www.baumhaus.com.hk/safespaces
---
About Patricia Toh and Jill Carter (Momentum Counselling)
PATRICIA TOH:
Patricia grew up in Sydney and originally moved to Hong Kong for work, but has since built her life here and is a mother of two children. Having migrated, lived and worked on multiple continents, she has experienced the highs and lows from being an expatriate and a working mother of young children. Patricia understands the complexities and challenges that clients may have to navigate.
She is interested in helping clients overcome:
- stress from being a new mother;
- relationship/marital challenges;
- career-induced stress, or those who are looking for change or feel like they are seeking direction;
- parent-adolescent communication barriers and enhancing stress management skills for students;
- anxiety and/or depression.
Prior to co-founding Momentum, Patricia spent over 17 years in finance, working across private equity, asset management and investment banking in Hong Kong, London and Sydney. Her career has enabled her to connect with people from all walks of life and she has always been interested in the human mind. She has found her second calling in counselling and helping clients work through challenges in their lives and prioritizing their mental health.
JILL CARTER:
Jill seeks to help people find their meaning and joy in life, addressing areas of difficulty that include anxiety, depression, trauma, relationships, divorce, and bereavement. She works with individuals, couples and families. As a mother to two tween daughters, she is interesting in helping families to find balance to help foster their children's academic success along with their social and emotional well-being.
Originally from the United States, Jill has been a Hong Kong resident since 2010. Her interest in human cognition and behaviour started in her teens, and she studied psychology at university and post-graduate. Life led her in a different direction to corporate marketing and later photography. She has enjoyed self-employment as a portrait photographer for 15 years. A series of critical life events in 2020/21, including breast cancer treatment and survivorship, resulted in several "light bulb moments" that led her back to psychology and counselling studies.
https://momentumcounselling.hk/