BASE Bootcamp - UX UI Design

Tuesday, 13 September 2016 from 19:30 to 21:45 (HKT)
Event Details
Description
Customers may forget what you said, but they will never forget how you made them feel. To make customers satisfied, you need to get their attention, obsession and loyalty with the user interface (UI) and user experience (UX) design skills that taught in our workshop.
客戶可能會忘記你說過的話,但他們永遠不會忘記你帶給他們的感覺。學習用戶界面(UI)和用戶體驗( UX )設計技巧,讓客戶們更愛上你設計的手機應用及網站程式。
Activity Details
Dates and Time:         13, 20, 27 Sep & 4 Oct                       [19:30 - 21:45]
Location:                     The BASE, 1/F, Lift 29-30, HKUST
Language:                   Cantonese
Quota:                         30 (First-come-first-served by payment)
Program Fee:              HK$ 200 (The Application Fee will be refunded if the HKUST members attend all sessions)
Payment Methods:
All (HKUST & Non-HKUST Participants)
HKUST Students & Staffs:
Pay Cash to Mr. Endy Chow

(Tel: 3469 2514)

 

during the office hour (Mon - Fri, 10:00 - 17:00) at Room 3611, Lift 29-30

Pay Cash to the BASE Representative at LT-D Concourse on Sep 8 -10 from 11:00 to 17:00
Workshop Content:
Sep 13 (Tue) - Design Process 設計流程
你了解手機應用及網站設計的流程,UI及UX設計的分別嗎?我們會為你介紹設計師常用的工具,及如何找出用家喜愛的設計。
Importance of UX - Case study

Roles of different type of designers / UI vs UX

Product development process

UX documents and deliverables

Common tools and resources

User research

Market research
[Capstone part 1 – Research by given Topic]
Sep 20 (Tue) - Prototype 「原型」
寫程式之前須設計出整個系統的prototype,這樣才能將實體完整呈現,這堂你將會學到如何能初步把你程式的意念呈現出來。
Product goals and strategy

Devices and environments considerations

User flow

UI elements

Wireframe

Usability test
[Capstone part 2 - User flow and wireframe by given Topic]
Sep 27 (Tue) - User Interface介面設計
設計好的程式也需要吸引人及用戶體驗良好的介面設計,這堂你會更了解現時常見的介面設計及如何用顏色和空間加強介面設計。
UI patterns

Use of colors and space

Design for interaction

Design guidelines

Working with front developers
[Capstone part 3- User Interface by given Topic]
Oct 4 (Tue) - Capstone Project Presentation展示你的設計
把三堂內學到的東西,將你的手機應用及網站設計都展示出來吧!
Capstone Projects Presentation (We may ask some UI UX designers to be judges)

Reward & Feedback

UI UX designer experience sharing

 
Enquiry:
Please contact The BASE Team (base@ust.hk)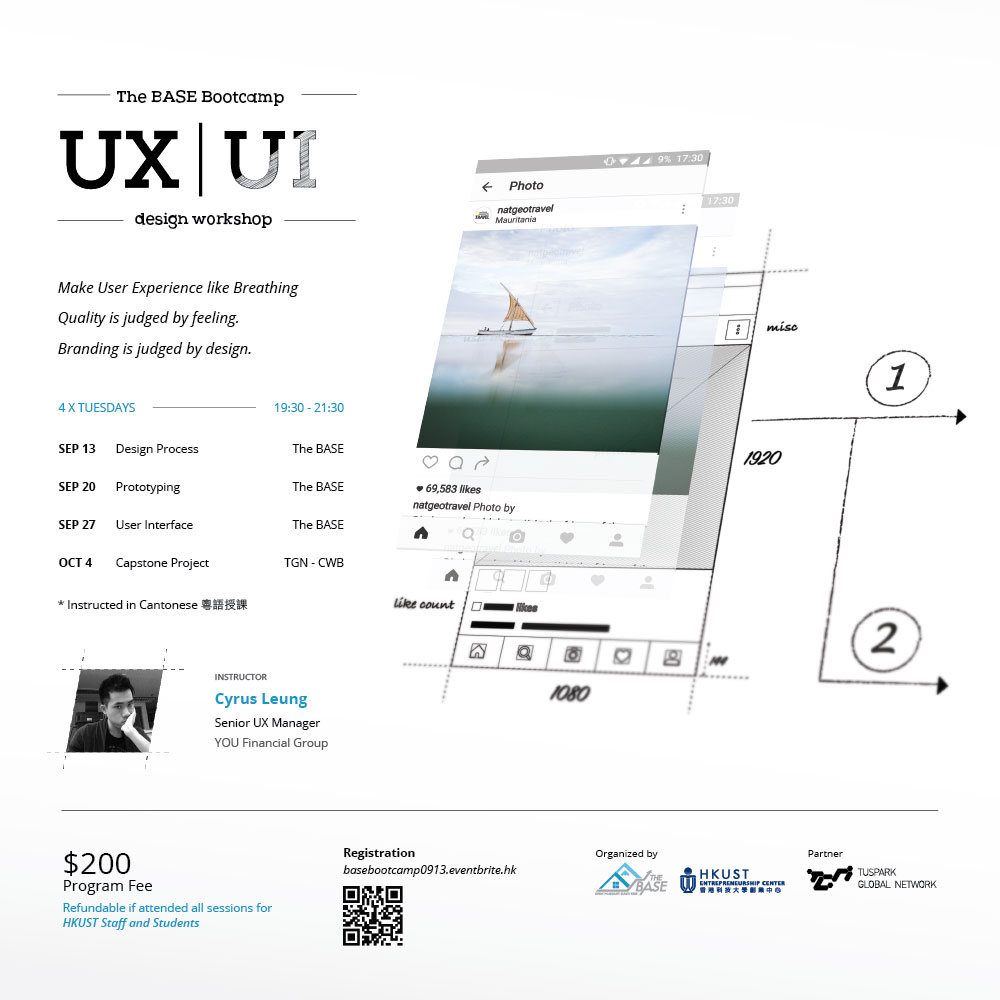 When & Where

Hong Kong University of Science and Technology
The BASE, 1/F, Lift 29-30
Clear Water Bay
New Territories
Hong Kong SAR China

Tuesday, 13 September 2016 from 19:30 to 21:45 (HKT)
Add to my calendar
Organiser
The BASE is a student-driven community supported by HKUST Entrepreneurship Center with a physical co-working space, which aims to promote and cultivate the Entrepreneurial Spirit through different kinds of activities such as seminars and workshops in HKUST & Hong Kong.