Description
Description
Guess how fast can you build an app? One day. All you need to do is join us. You simply need to attend 2 lessons to grab all basic skills. Explore your own capability and experience the app development with all other passionate students!
你知道能夠有多快建立一個手機應用程序?一天,您只需參加兩節課就能抓住所有基本技能。來一起探索你自己的能力,並與其他同學們體驗好玩的手機應用開發!
Activity Details
Dates and Time:
Mar 11 & 18 (Sat) | 12:00 - 15:00 (2 Sessions)
Location:
The BASE, 1/F, Lift 29-30, HKUST
Language:
English
Quota:
30 (TheHKUST Dream Builder Accelerator's teams have a higher priority)
Event Facilitator:
Ricky & Eirene
Application Start:
Feb 20, 2017 - 13:00
Refundable Reservation Fee:
HK$ 200
(The Application Fee will be refunded if the participants attend all sessions)
The Policy of Refundable Reservation Fee
To ensure that all participants can have a whole learning process, the BASE team organizers will collect the Reservation Fee of HKD200 during the registration at the first session. This Reservation Fee is refunded to those participants who take the full attendance at the end of session.
Workshop Outcomes
Introduce the Basic elements of iOS Development

Overview The iOS Development Process & Tools

Make your app interactive & functional

Learn how to empower your app from online resource
Reminder
Participants have to bring:
Mac OS Laptop




Window OS Labtop but connected with the iOS device (e.g., iPhone & IPad) (Note: Bring the cable yourself!)
Enquiry
Please contact The BASE Team (base@ust.hk)
Organizer:

The BASE Team is a student-driven community supported HKUST Entrepreneurship Center with a physical co-workspace, which aims to promote and cultivate the Entrepreneurial Spirit in HKUST & Hong Kong.
Partner:

We are building a platform to help developers do better jobs in shorter time at lower cost. The picture in our vision is big that we can't do it alone. We don't plan to do it alone. Developers are our users. They are also our partners. "Benefit from community. Contribute to community." is what we are making happen together.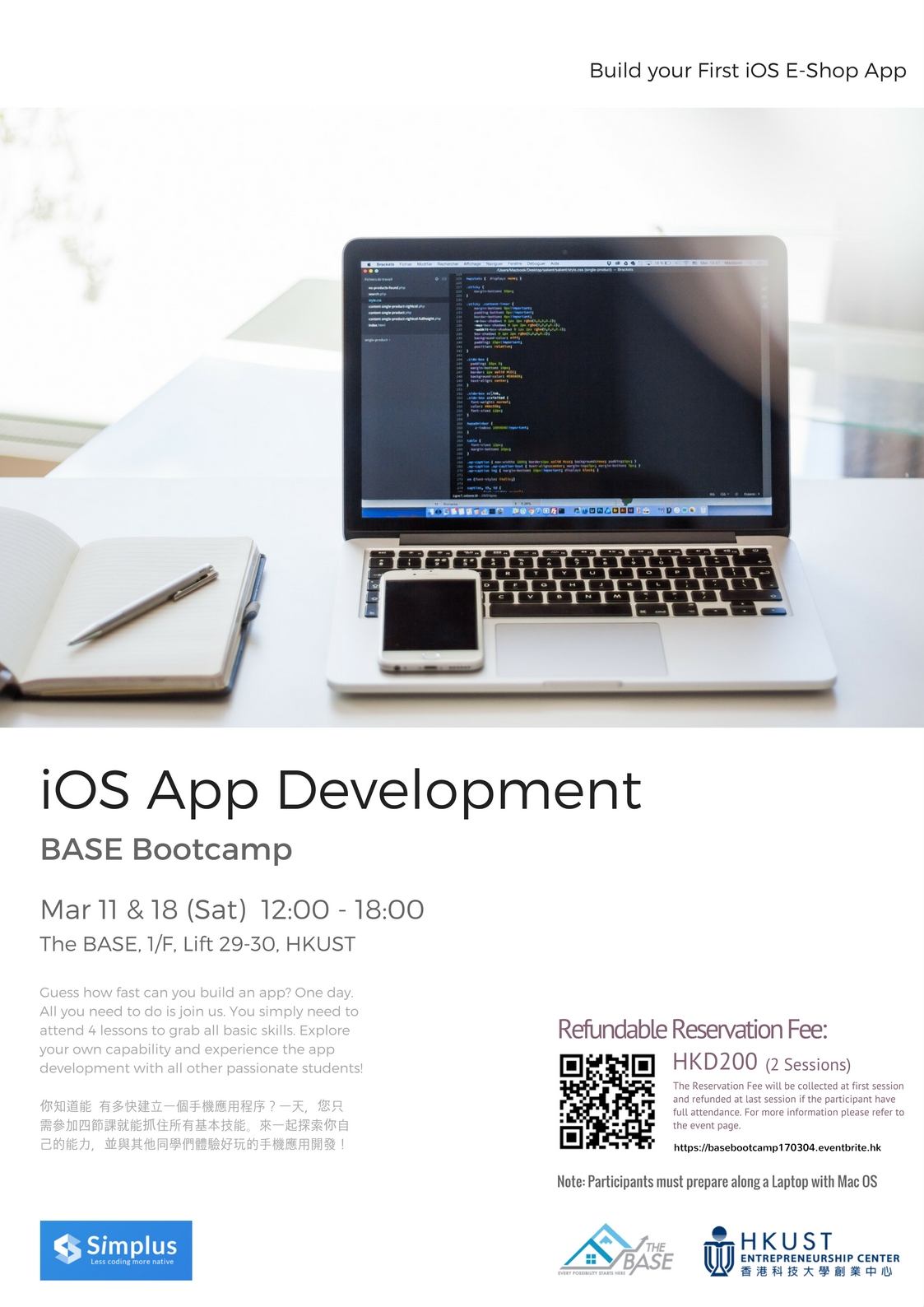 Organiser of BASE Bootcamp - iOS App Development