About this Event
工作坊簡介
現代的書籍用紙張造成,而在造紙術發明之前,竹簡是使用時間最長的書籍形式。
竹簡就是用柔軟的繩子把一根根細長小竹片編織,由「片」成「冊」,繪上文字、圖像或其他各種特定的符號。在創作過程中,一織一畫,讓孩子專注解難,激發他們對書與文字的獨特想像。
Introduction
Nowadays, books are made of papers, while before the invention of papermaking, they were made of bamboo slips.
Bamboo slip is made by binding bamboo strips one by one using a thread, with characters, images or specific symbols written on it. Through the process of creation, it is not only strengthening the problem-solving skills, but also the imagination and creativity of kids will be greatly inspired.
體驗內容包括:
• 透過設計竹簡激發孩子的創意
• 發揮孩子對符號及文字的想像力
• 探索編織與繩結的運用
• 欣賞竹簡上的甲骨文字及篆書
• 啟發孩子對藝術的解覺
Experience includes:
• Inspiring the creativity of kids through designing the bamboo slips
• Utilizing the kids' imagination towards characters and symbols
• Exploring the way of knitting using a thread
• Appreciating the Oracle characters and seal scripts
• Developing the kids' sense the arts
10.11.2019 / 10:30am - 12:30pm / @ 3/F Exhibition Area 3樓展覽空間
No. of Participant : 12 pairs of parents & kids
名額: 12對親子
Target: Suitable for children between ages 7 - 10 (accompanied by a guardian)
對象: 適合7-10歲小朋友參加(每位小朋友須由一位家長陪同)
Language 語言:Cantonese 粵語
Free of charge 費用全免
About Partner 合作夥伴

雀仔樹基金
雀仔樹基金以artful thinking, organic teaching and learning為教育哲學, 透過創意藝術帶出藝術的力量,提升心靈素質,進而提高生活質素。讓兒童於創意及想像的世界盡情馳騁,並邀請成年人進一步走進孩子的世界。
birdintree foundation
The educational philosophy of birdintree foundation is artful thinking, organic teaching and learning. This is to bring out the power of art through creative arts, to enhance the quality of the mind and in turn the quality of life. Let children run wild in the world of creativity and imagination while inviting adults to enter this world of children.
About the Exhibition -
OPEN PAGE: THE ART OF THE CREATIVE PROCESS
This second exhibition, "OPEN PAGE: THE ART OF THE CREATIVE PROCESS", is an ambitious project which looks into imagination and artistry in the process of content creation — making designs that promote pleasure, enthusiasm and reliability, that communicate and draw attention, and encourage quietness and thought.
Date: 11.10.2019 – 17.11.2019
Time: 10:00 – 19:00 (Mon to Sun)
Venue: 3/F, 7 Mallory Street, Wan Chai, Hong Kong
Free admission
Website: www.designspectrum.hk
關於展覽「貳頁 — 看好設計」
為了探討及表揚在設計書籍過程中所彰顯的想像力和藝術感,在第二個展覽「貳頁 — 看好設計」所展出的每本書籍均內有乾坤,見微知著,賦予讀者恬靜及思考空間,令人眼前一亮。
日期︰2019年10月11日 – 11月17日
時間︰上午10時 – 晚上7時 (星期一至日)
地址︰香港灣仔茂蘿街7號3樓
免費入場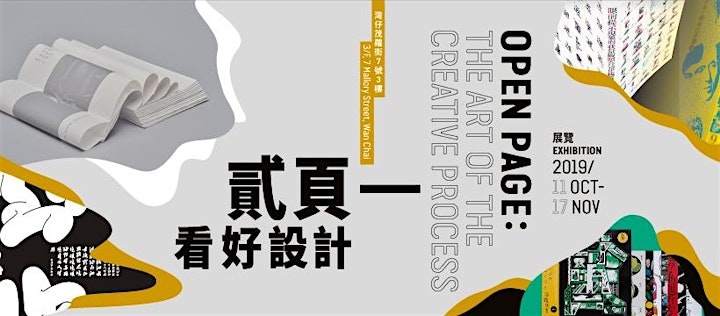 About Design Spectrum
Design Spectrum is a new initiative by Hong Kong Design Centre (HKDC) to foster a good design culture in the community. Located in a revitalised cluster of Grade 2 historic buildings at 7 Mallory Street, Wan Chai, Design Spectrum features year-round exhibitions, exchanges, design appreciation and other promotion programmes to cultivate a creative atmosphere, while nurturing local creative capital. It serves as a unique public face for HKDC to strengthen linkages with the community and partners locally, in other cities of the Greater Bay Area, ASEAN cities and overseas, and contributes towards creative and cultural tourism.
About Hong Kong Design Centre
Hong Kong Design Centre (HKDC) is a non-governmental organisation, and was founded in 2001 as a strategic partner of the HKSAR Government in establishing Hong Kong as an international centre of design excellence in Asia. Our public mission is to promote wider and strategic use of design and design thinking to create business value and improve societal well-being, with the aim of advancing Hong Kong as an international design centre in Greater Bay Area and in Asia.
Learn more about us at www.hkdesigncentre.org
關於設計光譜
設計光譜是香港設計中心(HKDC)推出的全新項目,旨在推動社區培養好設計文化。設計光譜設於灣仔茂蘿街7號的二級歷史活化建築物內,透過舉辦全年展覽、交流、設計賞析及其他推廣項目,營造創新氛圍,同時為社會培育創意資本。作為HKDC面向公眾的獨特平台,設計光譜致力加強與來自本地、大灣區其他城市、東盟城市和海外合作伙伴的聯繫,同時推廣創意及文化旅遊。
關於香港設計中心
香港設計中心為於2001年成立的非政府機構,擔當香港特別行政區政府的策略伙伴,以推動香港成為亞洲區內享譽國際的設計之都為目標。公共使命是推動社會更廣泛和具策略性地運用設計及設計思維,為業界創造價值及改善社會福祉,旨在推動香港成為大灣區及亞洲區內的國際設計中心。