Ayurvedic Healing & Beyond Mini Retreat with Dr Vignesh Devraj (Ayurveda MD) and Mariko Hiyama (Wellness Program Specialist)
About this event
As our first round of "Wrap-Up" event after our 2-month Zoom Class journey, we are going to host a "Mini Retreat" on Sunday, 31 May 🌿
This Mini Retreat is designed for those who are Beginner & Basic Level of Knowledge in Chakra (energy wheels).
We guide you through from foundational knowledge to embodiment of Chakra systems.
This retreat program is packed with Ayurvedic Healing Wisdoms as well as Yoga, Qi Gong and beyond.
Even if you are not familiar with Ayurveda or Yoga, you will be guided to enjoy each activity.
(Background of this Online Retreat)
Our Zoom program casually started in March 2020 with our simple but determined intention of "supporting & feeling lifted" during the COVID-19 pandemic time by doing something together for our friends and guests/clients who are locked-down either at home or away.
During the last 2-month of "Staying-In + No Traveling" time, thanks to every single participant who came to our classes, we were able to develop our concept and we merged ideas based upon our Dharma (life purpose/mission) as healers.
Our hearts are truly filled with so much gratitude toward those who participated regardless the location 🙏
Uncertainties maybe ahead of us but we can be prepared for the next situation if we leverage what we learnt during this global "shift" time - We hope that this retreat can serve as a preparation for your new beginning 💖
Please feel free to 📥 PM the organiser (Mariko) for more details.
We are looking forward to taking this journey together!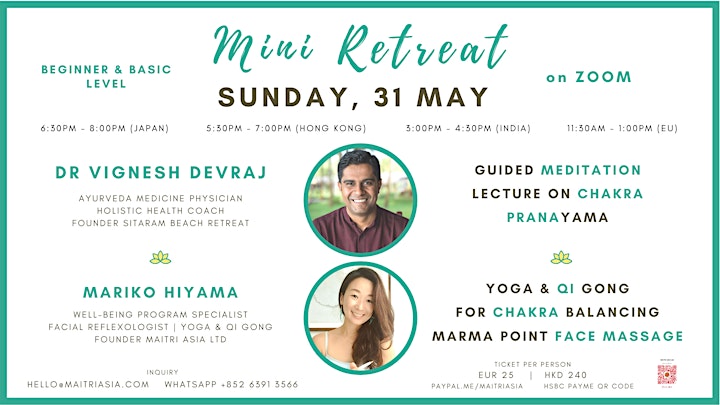 Organizer of Ayurvedic Healing Mini Retreat on Zoom
This particular event is Co-Hosted by MAITRI ASIA Ltd & Sitaram Beach Retreat.
The intention of the event is to share wisdom of Ayurveda in a modern lifestyle manner and to help you become the best version of yourself.
< Organiser >
MAITRI ASIA Ltd was established in the heart of Hong Kong in 2018.
MARI Yoga - FACE & SOUL is a brand of MAITRI ASIA and it made its debut in Luxembourg back in 2012 followed by a relocation to Hong Kong SAR in 2014.
Main services are
1) Facial Reflex Therapy (treatment, workshop & course)
2) Japanese Face Lifting (treatment, workshop & course)
3) Yoga & Qi Gong Class (healing program)
4) Ayurveda Healing Programs with Sitaram Beach Retreat, Dr Vignesh Devraj
5) Wellness & Beauty products development & retailing