Learn how Ayurveda can support healthy and smooth transitions of Women's Important Life Stage "Menopause".
About this event
"Menopause is not a disease. Menopause is a stage in all women's life."
In this interactive online course, you will learn following topics through Ayurvedic Medicine and its science of life philosophy.
Steps to prepare for Menopause
Understanding the Dosha imbalance during Menopause
Lifestyle and dietary change to aid smooth menopause
Understanding the benefit of life post menopause
Ayurvedic herbs to regulate hormones and metabolism during menopause
Dr Vignesh Devraj (founder & chief Ayurveda MD at Sitaram Beach Retreat) will guide you through this course based on the Indian traditional medicine system, Ayurveda, with modern twists in a practical manner in order to help the transition of women's life stage.
This course is open to all genders. By joining this course, whether you are in Menopause or not, it will help you understand what really Menopause is and how to harmoniously live with it. You can also learn what your loved ones are going through during her new life stage and how to support her emotional aspect.
We will allocate ca. 20 - 30m for Q&A session after the lecture.
This course will come with
Follow-up note
Replay
Certificate of Attendance
FAQ
Q: I cannot be Online on the day/time. Can I have a Replay Video?
A: Yes, we will send you a recording in 48-72hrs to your email. In order to receive the recording, please make sure you sign up this course before it begins with correct email address of yours.
If you have any questions, please contact the organiser (Mariko Hiyama)
email: hello@maitriasia.com
whatsapp: +852 6391 3566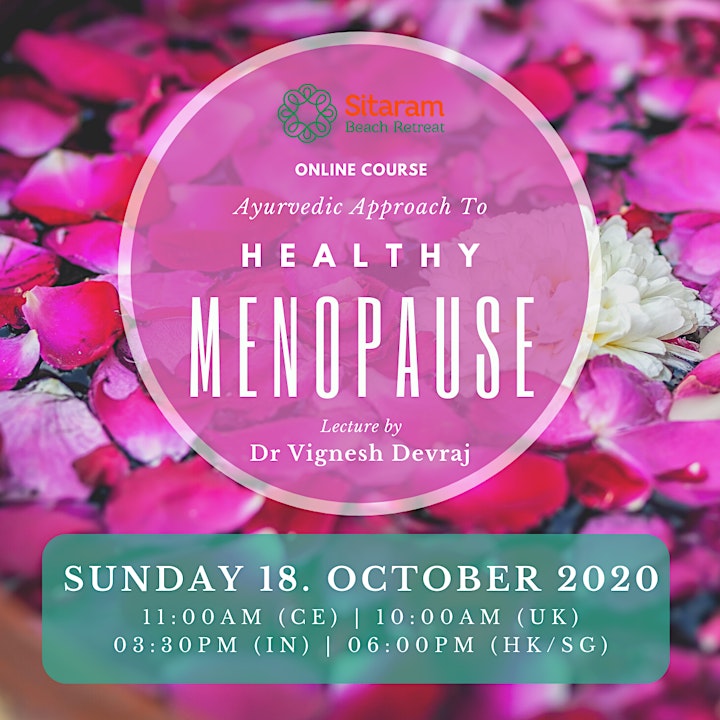 Organiser of Ayurvedic Approach to Healthy "Menopause"
This particular event is Co-Hosted by MAITRI ASIA Ltd & Sitaram Beach Retreat.
The intention of the event is to share wisdom of Ayurveda in a modern lifestyle manner and to help you become the best version of yourself.
< Organiser >
MAITRI ASIA Ltd was established in the heart of Hong Kong in 2018.
MARI Yoga - FACE & SOUL is a brand of MAITRI ASIA and it made its debut in Luxembourg back in 2012 followed by a relocation to Hong Kong SAR in 2014.
Main services are
1) Facial Reflex Therapy (treatment, workshop & course)
2) Japanese Face Lifting (treatment, workshop & course)
3) Yoga & Qi Gong Class (healing program)
4) Ayurveda Healing Programs with Sitaram Beach Retreat, Dr Vignesh Devraj
5) Wellness & Beauty products development & retailing