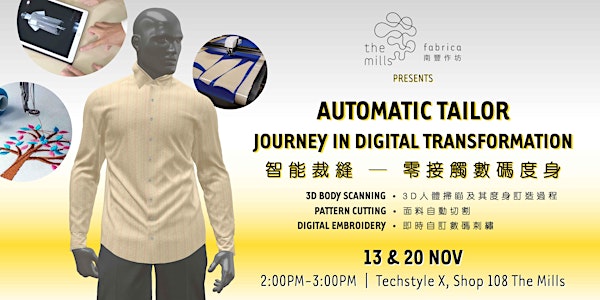 Automatic Tailor - Journey in Digital Transformation | 智能裁縫 — 零接觸數碼度身
Discover the new technologies that power tailoring and garment creation today!
When and where
Location
Techstyle X 45 Pak Tin Par Street Shop 108 1/F The Mills Hong Kong, NT Hong Kong
Refund Policy
Contact the organiser to request a refund.
About this event
As part of the exhibition "Foreign Fabrics, Local Looks" held at The Mills throughout the month of November, The Mills Fabrica presents "Automatic Tailor", an interactive workshop in which participants will experience 3D body scanning, discover about automated pattern cutting, and create their own instant embroidery customization, three different steps for creating made-to-measure garments using the most advanced current technologies.
During this workshop, you will learn about:
3D body scanning and its use in M2M (made-to-measure) manufacturing
Automated pattern cutting
Instant digital embroidery customization
Join us at Techstyle X and participate in the future of tailoring!
– – – – – – –
Details:
Date: 13/11, 20/11 (Sat)
Time: 2pm-3pm HKT
Location: Techstyle X, Shop 108, 1/F The Mills, 45 Pak Tin Par Street, Tsuen Wan
Price: HKD 100
Availability: 15 pax per session
Inclusive: one (1) embroidered handkerchief (25 x 25 cm), created and customized live during the workshop AND one (1) HKD50 coupon for a future Techstyle X workshop of your choice** Subject to terms and conditions of use
– – – – – – –
Rundown:
3D body scanning experience – 15 mins
Automated pattern cutting – 15 mins
Handkerchief embroidery customization – 30 mins
想了解吓時裝界嘅最新科技?作為南豐紗廠「土生洋相」展覽的一部分,南豐作坊今次就搵嚟「智能裁縫」,幫大家嚟個3D人體掃瞄之外,仲會畀大家設計屬於自己嘅袋巾仔,現場整畀大家拎走,畀大家感受吓科技嘅強大!
透過是次工作坊,你將會體驗:
3D人體掃瞄及其度身訂造過程
面料自動切割
即時自訂數碼刺繡
– – – – – – –
活動詳情:
日期:11月13日及20日
時間:下午2時至3時(每節1小時)
地點:Techstyle X(荃灣南豐紗廠108號舖)
費用:港幣100元
人數:每節15人:預先報名及即場參與皆可(後者視乎預約情況)
費用包括:自訂刺繡手巾一條及50元Techstyle X工作坊優惠卷*
*受使用條款約束
– – – – – – –
活動流程:
3D人體掃描體驗 — 15分鐘
自動圖案切割 — 15分鐘
手巾刺繡設計 — 30鐘
Cancellation and Refund Policy
Cancellations made after reservation or no show will not receive any refund or transfer.
A full refund (less the administration fee) will only be made if the event is cancelled by The Mills Fabrica or does not take place due to uncontrollable factors, e.g. Prevention and Control of Disease Ordinance, adverse weather.
The Mills Fabrica reserves the right to reschedule the event due to uncontrollable factors, e.g. Prevention and Control of Disease Ordinance, adverse weather. Alternatively, a full refund (less the administration fee) can be made.
In case of any disputes, the decision of The Mills Fabrica shall be final.
About Techstyle X
Techstyle X is Fabrica's experimental and experiential store offering the public a unique selection of techstyle products and innovations, while providing companies with the opportunity to showcase their technologies, launch new concepts and interact with customers.
About Fabrica Lab
Powered by The Mills Fabrica and The Hong Kong Research Institute of Textiles and Apparel Limited (HKRITA), Fabrica Lab is the first techstyle prototyping space of its kind in Hong Kong, merging technology and style under the same roof. We provide a lab for prototyping with world-class equipment for startups, designers, and hobbyists to work, collaborate and learn about techstyle.
About The Mills Fabrica
Fabrica is the innovation arm of The Mills – dedicated to creating techstyle startup success stories and building a global techstyle community. We are an open platform for innovation, facilitating collaboration between startups, brands, retailers, manufacturers, academic and research institutions and more.
[立即報名]
取消及退款政策
預訂後取消預訂或缺席將不會獲得任何退款或轉讓。
若南豐作坊因不可控制因素(如:預防及控制疾病條例、惡劣天氣等)取消活動,參加者所繳費用,會按程序扣除行政費後全數退回。
南豐作坊保留因不可控制因素延後活動權利(如:預防及控制疾病條例、惡劣天氣等),或按程序扣除行政費後全數退回參加者所繳費用。
如有任何爭議,南豐作坊將保留最終決定權。
關於Techstyle X 體驗店
Techstyle X是南豐作坊旗下的實驗式體驗店,向公眾展示techstyle產品及創新技術。體驗店為初企提供空間,展示他們的前沿科技和嶄新概念,讓他們有機會直接與顧客交流。
關於南豐作坊Lab
南豐作坊Lab是全港首個techstyle原型製作空間,得到香港紡織及成衣研發中心鼎力支持,將科技與時尚行業揉合成全新領域。我們提供世界級的原型製作器材,讓初企、設計師、業餘愛好者及合作夥伴共同研發產品、合作和認識techstyle概念。
關於南豐作坊
南豐作坊是南豐紗廠推動創新的重要支柱—致力締造techstyle初創企業的成功故事,搭建全球techstyle社群。我們是推動創新的開放平台,促進初創企業與品牌、零售商、製造商、學府和研究機構等合作。