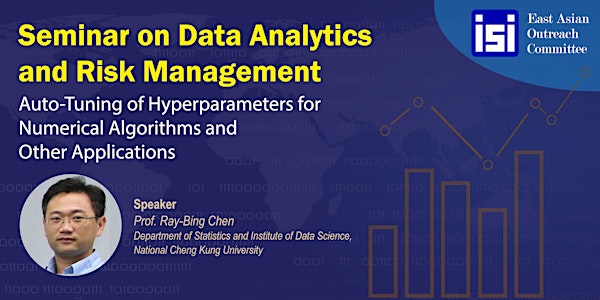 Auto-Tuning of Hyperparameters for Numerical Algorithms & Other Appls
Seminar on Data Analytics & Risk Management - Auto-Tuning of Hyperparameters for Numerical Algorithms and Other Applications
About this event
The seminar is jointly organized by The ISI East Asian Outreach Committee, and The Asian Regional Section (ARS) of the International Association for Statistical Computing (IASC).
Auto-Tuning of Hyperparameters for Numerical Algorithms and Other Applications
Prof. Ray-Bing Chen
Department of Statistics and Institute of Data Science, National Cheng Kung University
Performance tuning of algorithm codes is an essential issue in machine learning and scientific computing. By suitable choosing the values of the hyperparameters, we can optimize the codes in terms of timing, accuracy, robustness, or other performance objectives. As computer software and hardware are becoming more and more complicated, such a tuning process is not an easy task, and there are strong needs for developing efficient and automatic tuning methods. In this talk, we focus on the surrogate-assisted tuning process which is an iterative tuning procedure. At each iteration, surrogates are updated for the algorithm performances and new explored points are chosen based on the prediction uncertainties provided by the surrogate models until stopping criteria are met. Therefore, proper hyperparameter values can be determined due to the results of the tuning process. Instead of the hyperparameter tuning problems, the idea of the tuning procedure can also be used in the other industrial problems, for example, cooling system design problems. Several examples based on the different scenarios are illustrated in this talk to demonstrate the performances of the surrogate-assisted tuning processes.

Professor Ray-Bing Chen is Professor in the Department of Statistics and Institute of Data Science, National Cheng Kung University. He received his Ph.D. in Statistics from the University of California, Los Angeles. His research interests include statistical and machine learning, statistical modeling, computer experiment, and optimal design. Prof. Chen's papers are published in the field of computational statistics and industrial statistics, like, Journal of Computational and Graphical Statistics and Technometrics. He was elected as Elected Member of the International Statistical Institute in 2020. Currently he is the chairman of IASC-ARS.