About this event
Join us for an amazing networking night for Australian and New Zealand Expats and Returnees from 7:30 pm on Friday, October 30th! The event will be hosted at Club 3 1/3, one of the most luxurious bars, located on the ground floor of No.3 on the Bund.
10月30日,周五晚
我们诚挚邀请您参加在外滩三号的高级酒廊 - Club 3 1/3举行的
澳洲&新西兰海归外滩尊享鸡尾酒会
This is a unique opportunity to renew old friendships and forge new networks with some of Shanghai's finest professionals. A wonderful evening and more surprises to be expected!
在高端优雅的环境中,结交更多拥有相似背景的新朋友
在这个兼具格调与品位的鸡尾酒派对
您将与百位来自澳洲和新西兰校友社群的海归精英们举杯相聚,尊享高品质社交酒会,一起度过精彩的交流之夜!
Attendees 参与人群
Attendees: AU/NZ Returnees, Expats, Professionals who worked/lived in the AU/NZ before or from AU/NZ Companies, AU/NZ Chinese, etc.
澳洲/新西兰海归,外籍人士,在澳新工作或生活过、或在澳新企业工作的人群,及华人华侨等
Get your early bird ticket now
点击获取早鸟票:https://yoopay.cn/event/08644201
WHEN
10月30日,周五
晚上7点半至11点半
Friday, October 30, 2020
7:30 pm - 11:30 pm
WHERE
Club 3 1/3
中山东一路3号1楼,近广东路
1/F, 3 Zhongshan Dong Yi Road
Near Guangdong Road
150+ guests are expected to join us! The pictures below are from our previous events. 150多位海归精英将加入我们
Guests attended our previous events are from:
往期澳新海归活动参与嘉宾来自学校为:墨尔本大学,悉尼大学,皇家墨尔本理工大学,昆士兰大学,莫纳什大学,澳州国立大学, 奥克兰大学, 坎特伯雷大学等(以上排名不分先后)
University of Melbourne, University of Sydney, RMIT University, University of Queensland Australia, Monash University, Australian National University, University of Auckland, University of Canterbury, etc.
Engaging Ice-breakers
Lucky Draw & Gifts
有趣的社交互动环节
让你更好的结识在场嘉宾
参与抽奖,赢取精美奖品
Name tags will be provided
我们将提供姓名标签
Live DJ Music
现场DJ为活动打造最佳氛围
DRESS CODE
Smart & Elegant
优雅大方
TICKET
The entrance fee includes one drink
(Red wine, White wine, Selected Cocktails, Beer, Soft Drinks)
票价包含一杯酒水(可选红、白葡萄酒、特调鸡尾酒、啤酒和软饮)
Early Bird Ticket 早鸟票
100 RMB /person
Sign up before 11pm Oct.26 (Monday)
早鸟价10月26日周一晚11点截止
Presale Ticket 预售票
108 RMB /person
(3 guests or more sign up 三人及以上组队报名)
118 RMB /person
(2 guests sign up 两人组队报名)
128 RMB /person
(1 guest sign up 单人报名)
Ticket on spot 现场支付
150 RMB /person
HOW TO SIGN UP
预订方式
购票链接 TICKET LINK: https://yoopay.cn/event/08644201
Please add WeChat if you have any further questions
or want to follow more upcoming events
如有任何疑问或预知更多活动和详情,请添加以下微信
(WeChat ID: shfun_official)
Tickets are not refundable, but you can use it for one of the future events
门票不可退还,提前告知可以延期一次使用
如未提前告知,则门票自动过期作废
ABOUT VENUE
Club 3 1/3, located at the grand floor of Three on the Bund. The name is derived from the club's exclusive entryway, which is set apart from the main entrance. It was designed in an effort to revive the opulent and exquisite lifestyle of the mid-20th century. Also involved in the project is famed New York architect and interior designer, Michael Hsieh. Vintage-inspired accents and decor from decades past serve as the foundation for Club 3 1/3, combined with modern elements to create the ultimate social space.
坐落于世界瞩目的顶尖夜生活聚集地外滩三号
一座优雅、神秘、性感的夜幕王国
推开厚重的⼤门,在华丽水晶灯投下的魅影光芒中,揭开充满仪式感的落地布帘,进入 Club 3 1/3谜样趣味的空间。高贵的孔雀绿墙壁、经典的⿊白⼤理⽯桌面将整体⾊调映衬得华丽复古。来⾃自20年代的典雅氛围贯穿始终,在丝绒沙发、复古挂灯、情境灯光、质感⾳音乐共同打造的幻影空间里, 宾客围坐其中杯盏交错,体验贵族⼀般的娱乐氛围。
Contact:
微信公众号 WeChat Public Account: ShanghaiFUN上海
Email: Erin_tang@126.com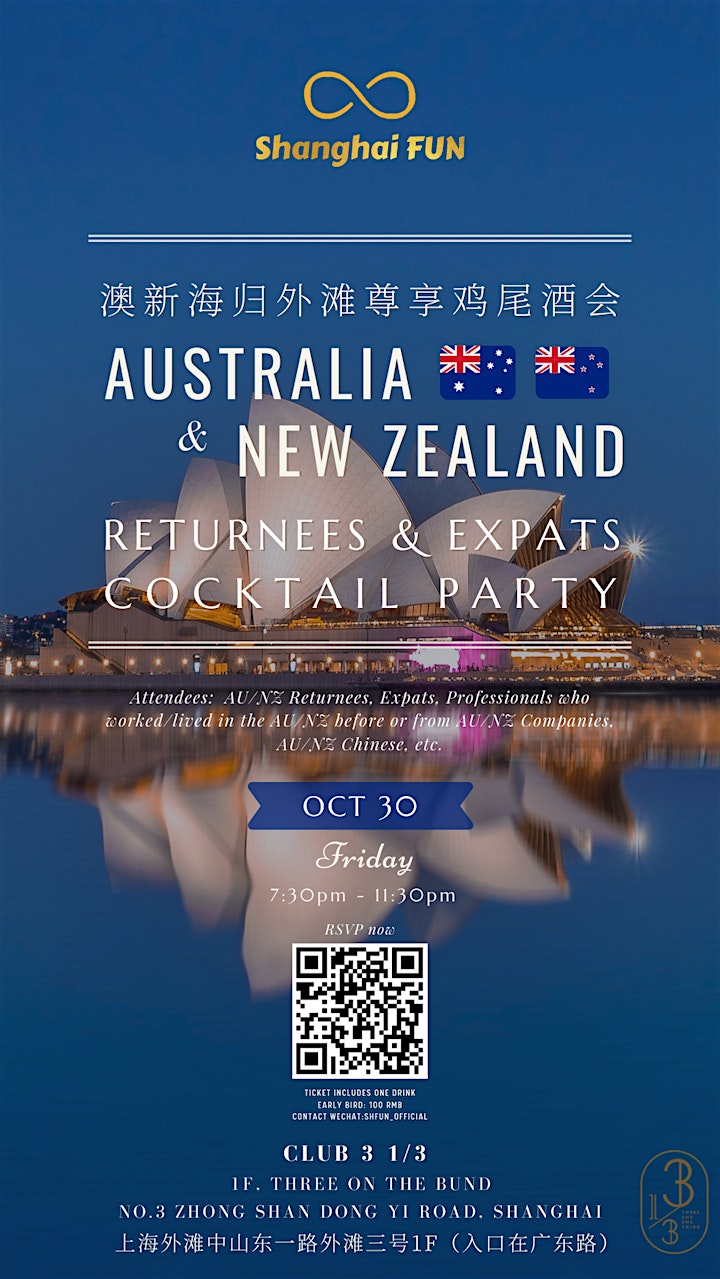 Organiser of Australia/New Zealand Returnees & Expats Cocktail Party 澳洲、新西兰海归外滩尊享鸡尾酒会
About Shanghai FUN
We organise parties, networking events, brunch/dinner meetup and after work drink events in Shanghai. 
Join us to make new friends, expand your social circle and take part in fun events! 
Our events attract an international crowd of professionals looking to socialise, network and meet like-minded people.
Invite your friends to follow us and spread the word!
活动组织方
Shanghai FUN立足魔都,每周不定期的组织派对及类型多样的社交活动,参与人群为外国人、海归,及具有国际背景的人士,所选活动场地均为城中品质潮流场所。