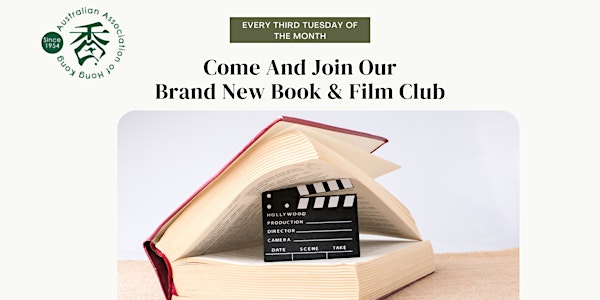 Multiple dates
Australian Association Book & Film Club
What story will inspire you next?
By Australian Association of Hong Kong Limited
Date and time
Tue, 20 Sep 2022 19:00 - Tue, 16 May 2023 21:00 HKT
Location
18A Gee Chang Hong Centre 65 Wong Chuk Hang Road Wong Chuk Hang, HKI Hong Kong
About this event
What story will inspire you next? Join other literary and movie enthusiasts at our new Book & Film Club. Whether you're after stimulating conversation about your favourite novels and films or just a means to fuel your love of books, you can combine reading and screenings with wine and enjoyable chatter. Typically covering a wide range of international books and films, and tapping into the Hong Kong International Literary Festival. Every third Tuesday of the month. Every quarter will be a film screening at a different location.
FREE to join, register using the ticket link.
Who are we? The Australian Association is one of the oldest membership organisations in Hong Kong, and longest running Australian associations dating back to 1954! We are here to bring people together from all over the world, from Australia of course, but also those with an interest in Australia too. This is a free event for you to get to know us and see all the sorts of things you can get involved in if you decide to become a member!
Location: Oz Hong Kong HQ, 18A Gee Chang Hong Centre, 65 Wong Chuk Hang Road
20th September 2022
1. Novel: Midnight in Peking: How the Murder of a Young Englishwoman Haunted the Last Days of Old China by Paul French
18th October 2022
2. Film: Indochine
15th November 2022
3. Novel: Lucky's - unfortunately this novel is no longer in print and so we will have a group discussion to select a new one on 18th October.
Alex Pippos
20th December 2022
4. Novel: Death on the Nile
Agatha Christie
17th January 2023
5. Film: Death on the Nile
Agatha Christie
21st February 2023
6. Non-fiction: The Space Between the Stars: On love, loss and magical power of nature to heal
Indira Naidoo
21st March 2023
7. Memoir: Running in the Family
Michael Ondaatje
18th April 2023
8. Novel: Group choice
Volunteer to lead discussion
16th May 2023
9. Film: Group choice. Holiday theme as summer is coming up
About the organiser
The Australian Association of Hong Kong was established to encourage fellowship amongst Hong Kong based Australians, people with an interest in Australia and to create opportunities for the Australian community and their friends to get the most out of Hong Kong. By registering for this event/promotion, you will be automatically signing up to the newsletters from the Australian Association of Hong Kong. You may unsubscribe at any time