Green Is The New Black & Kilo Kitchen are organising a fundraiser dinner for the affected communities and wildlife of the Australia Fires
About this event
ALL FUNDS RAISED WILL BE DONATED - EVERYTHING HAS BEEN SPONSORED :)
Australia is burning, and the fires are leaving a path of destruction and devastation in their wake. With an estimated billion animals lost, thousands of homes destroyed with people displaced, and fires the size of Manhattan - Australia needs our help.
Green Is The New Black in partnership with Kilo Kitchen, and the generous support of Collectius, are organising a fundraiser dinner on Aussie Day weekend to raise money for the effected communities and wildlife rescue.
Join our event on Saturday 25th January (see details below).
OR If you can't join the event - you can still
(a) donate to our fundraiser
(b) buy a raffle ticket for your chance to win over S$4,000 in prizes (same link as tickets).
Everyone involved is donating or sponsoring their time, food, drinks, talent, products, prizes so that ALL FUNDS RAISED WILL BE DONATED! We are blown away by the generosity of the community.
Collectius is our corporate partner and has already pledged S$10,000! Now is our turn to raise as much as we can to match that and more.
--------------------------------------------------------------
🐨THE EXPERIENCE - DRINKS + DINNER + ENTERTAINMENT🐨
--------------------------------------------------------------
Join us for a 4-course dinner to raise money and awareness for the emergency that Australian is facing. Tickets are S$115 and include a vegetarian feast, an assortment of drinks (capped amount per guest), and live entertainment. All ticket proceeds will be donated, everything has been sponsored.
What's included:
> A 4-course vegetarian feast prepared by the team at Kilo Kitchen (menu below) with 3 complimentary drinks
> Taste the impossible with Impossible Foods
> Enjoy wines from Merci Marcel
> Wet your whistle with tequila & cocktails from Codigo
> Quench your thirst with beers from C R U S T
> Startling drag entertainment from Lykkie Liquor & Mona Kee Kee
> Intention setting with Stage 6
> Live music from Oliver Osborne & David Carollo
--------------------------------------------------------------
🦘THE RAFFLE - WIN OVER S$4000 WORTH OF PRIZES 🦘
--------------------------------------------------------------
> 1 x 6 month membership to Pure Fitness Singapore worth S$1,800
> S$1,000 gift card from LISA VON TANG - street-luxe fashion label fusing east and west into powerful statement pieces
> 1 x Green City Life Staycation for 2 worth S$590 at PARKROYAL COLLECTION Pickering, Singapore - eco-friendly garden concept hotel in Singapore
> S$500 credit at Lash Inc SG - luxury eyelash extension and brow salon
> 4 x S$250 vouchers from foodpanda
> S$200 rental voucher from Rentadella - a fashion rental platform that allows you to borrow all kinds of designer dresses
> 1 x @$200 voucher for a memorable dining experience at any Merci Marcel outlets (Tiong Bahru, Club Street, Orchard)
> 1 x Código 1530 Tequila 1530 Anejo 18 month aged Tequila S$198
> 3 x Guilt free kicks by Lacess worth S$180 each - sneakers made from up-cycled leather and plastic bottles
> Abundance Necklace worth S$120 by Green Gaea - made from recycled materials and funds tuition for underprivileged children in Bali
> 2 x sunglasses from Protesta - minimalist design with recycled and durable material
> 1 month of social swapping at The Fashion Pulpit worth S$88 - swap don't shop, a sustainable shopping experience
> 2 x Código 1530 Tequila Sampler pack S$79
> Clutch worth S$50 by Green Gaea - hand woven bag from Guatemala using traditional Mayan methods
> Guilt free snack box from Coco Paradise - gluten-free, dairy-free, refined-sugar free, vegetarian, egg-free and full of love
> 2 x pairs of flip flops from Indosole Singapore worth S$45- thoughtfully made footwear for your travels and adventures
> 5 x 36 roll boxes of Love Bambooloo - Bamboo daily essentials
> Plantable pens from Left-handesign - write, plant, love and surround yourself by bountiful nature
> No-Poo Starter Gift Set worth S$29 from Happy Earth - 100% organic, vegan, chemical-free body care made entirely from fruits, leaf and seeds
> 10 x Anca tops by Hoya Kerry - sustainable and ethical activewear
--------------------------------------------------------------
🐨THE CHARITIES 🐨
--------------------------------------------------------------
We have selected two charities and all funds raised will be split 50/50 between them.
FRRR - The Foundation for Rural and Regional Renewal supports bushfire-affected communities. The road to recovery for these communities is long, with varied and complex challenges unique to each town. These communities will need support long after the smoke clears, and the emergency relief money is expended. This fund ensures that donated funds reach grassroots community organisations across rural, regional and remote Australia, who often miss out on receiving disaster donations. FRRR makes grants to local not-for-profit groups for community-led projects that address the most pressing needs. All grant recipients have to report back on how they used the money, and what they achieved.
Read more about the FRRR here.
Wildlife Victoria - provides a vital link for the community between sick, injured and orphaned Australian wildlife and the appropriate response and care needed. Donations to their Victorian bushfire appeal will be distributed to wildlife shelters and carers to help rebuild enclosures and equipment that they have lost in the fires so that they can continue their lifesaving work, and support those that are struggling to cope with the enormous number of animals that will need care in the coming weeks and months.
Read more here Wildlife Victoria here.
PLUS: Every vegan meal review you do on abillionVeg from now until the end of February using #GITNB will raise AUD $1.5 for Wildlife Victoria! So get reviewing and eating better for you and the planet. 
--------------------------------------------------------------
🦘4 COURSE DINNER MENU BY KILO KITCHEN 🦘
--------------------------------------------------------------
> Kilo's Mezze Platter: a selection of grilled fermented potato focaccia, raw cucumbers, garlic confit & adobo dip, kalamata olives, tzatziki, wood fired marinated peppers, wood fired baba ganoush, dukkah marinated burnt carrots, miso hummus, Lebanese tabouleh & pinenuts
> Zucchini Cream Soup: cotija cheese, leek oil & roasted pistacchio's
> Kilo's Impossible Meatballs: confit tomatoes sauce, mala oil, sourdough bread crumbs, parmesan cheese, crispy potatoes, fresh basil & oregano
> Chocolate Terrine: crispy tuills and smoked caramel for dessert
--------------------------------------------------------------
If you would like to understand more about the fires you can read our guide here.
We hope you can join us for our fundraiser.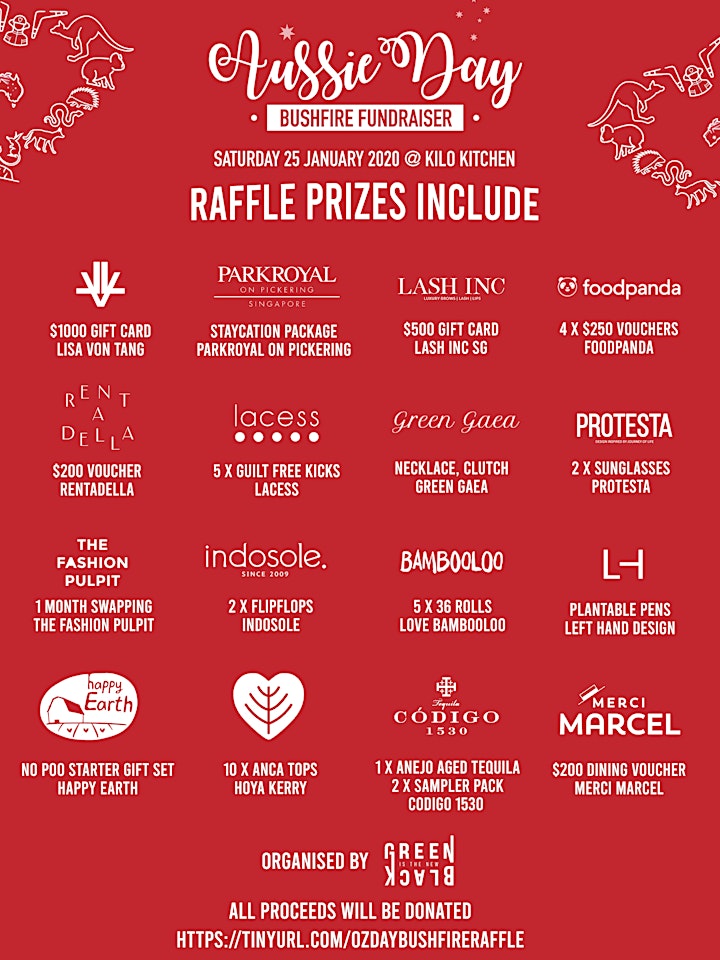 Organiser of Aussie Day Bushfire Fundraiser at Kilo Kitchen by Green Is The New Black
Green Is The New Black is a lifestyle media platform promoting conscious living in fashion, beauty, lifestyle and F&B. They are on a mission to empower individuals and businesses to #LiveMoreConsciously through #LittleGreenSteps by improving the way we consume, work and travel while doing more good in the world. They do it through their online magazine and bi-annual Conscious Festivals in Singapore and in Hong Kong.