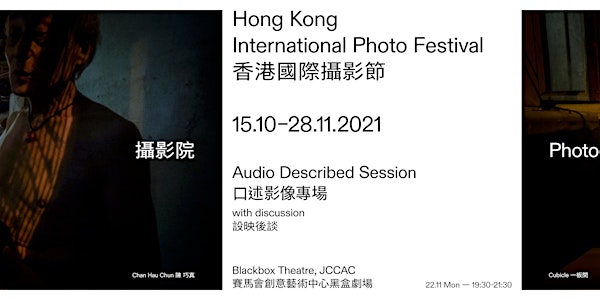 口述影像專場(設映後談)Audio-described Session (with post-screening discussion)
Sales Have Ended
Ticket sales have ended
Registration is full for this event. Be sure to check out our other events. If you have any enquiry please reach us at hello@hkipf.org.hk. Thank you! 本場次已經滿座,敬請留意我們其他節目。如有需要,請電郵hello@hkipf.org.hk聯絡我們。謝謝!
Sales Have Ended
Ticket sales have ended
Registration is full for this event. Be sure to check out our other events. If you have any enquiry please reach us at hello@hkipf.org.hk. Thank you! 本場次已經滿座,敬請留意我們其他節目。如有需要,請電郵hello@hkipf.org.hk聯絡我們。謝謝!
口述影像專場:陳巧真《一板間》及張乾琦《唐人街》(設映後談) Audio-described Session: Chan Hau Chun "Cubicle"; Chien-Chi Chang "China Town" (w/post-screening discussion)
About this event
攝影節今年與香港口述影像協會合作,初次推出口述影像專場。
我們希望未來口述影像不是一個服務,而是一個觀賞的選擇:睜著眼睛看,或閉著眼睛聽。觀眾可隨著不一樣感受狀態,進入不一樣的經驗世界。
Partnering with Audio Description Association Hong Kong, HKIPF presents our first audio description event: a double film screening.
We trust that in the future, audio description will no longer be regarded as a special service for visually-impaired individuals, but as a sensory option for everyone to experience when encountering a work of art. We can open our eyes and see, or close our eyes and listen: audio description may reveal new ways of understanding, interpreting and being.
作品 The Works
陳巧真 Chan Hau Chun《一板間 Cubicle》
張乾琦 Chien-Chi Chang《唐人街 China Town》
日期 Date:22.11.2021
時間Time:19:30 - 21:30
影像口述、映後談嘉賓 Audio-Describer / Guest Speaker:梁凱程博士 Dr. Dawning Leung
語言 Language:粵語 In Cantonese
入場 Admission:隨喜樂捐 Pay as you wish
***為其他觀眾著想,預訂門票前請先確定您的時間,如需退票請及早處理,切莫造成公共資源浪費。
***Plan your schedule before booking a ticket. If you wish to cancel your booking, please be considerate and do so in advance to free up spaces for others and avoid wastage.
影像口述、映後談嘉賓 Audio-Describer / Guest Speaker:
梁凱程博士 Dr. Dawning Leung
香港口述影像協會創辦人,資深口述影像員及培訓導師。倫敦大學學院翻譯學博士。
Dr Leung is the Founder, Programme Director, and Principal Trainer of the Audio Description Association (Hong Kong) (AuDeAHK). She holds a PhD in Translation Studies from University College London.
場地規則及防疫措施
進行活動前需量度體溫,發燒者不能參與活動
場地內進行活動必須配戴口罩
所有人員盡量分開,保持社交距離,4人限聚
不可飲食
如有違法,須自行負上法律責任
Venue Regulations and Health Safety Measurements
Any person entering JCCAC must wear a self-provided face mask and sanitise their hands. A thermal detector has been installed at L1 Wai Chi Street entrance, which is remotely monitored by the Centre security staff, who may request to check again any individual's body temperature if needed.
Any person who fails to cooperate as requested, or displays fever (forehead temperature above 37.5C), fatigue, cough, diarrhea, vomiting or other flu-like symptoms will be refused entry or asked to leave JCCAC.
All persons entering JCCAC must abide by the "Prevention and Control of Disease (Prohibition on Group Gathering) Regulation" (Regulation) gazetted by the Government, including but not limited to the extension of the "congregation restriction" which prohibits groups of more than 4 persons to gather in public, with effective from 24 February 2021.
Eating and drinking is not permitted.
Any person who violates the law will bear legal responsibilities.
為秉持攝影節的獨立自主,專注社會、非營利的精神,以及守持表達及知識的自由傳達,活動的開放自由參加,誠邀您成為我們的支持者:請即前往網址 stall.hkipf.org.hk,或致電或電郵與我們聯絡有關捐款安排。
香港國際攝影節由香港攝影文化協會主辦,協會為根據《稅務條例》獲確認豁免繳稅資格之慈善團體,凡捐款港幣一百元以上可獲扣稅。
創始於2010年,每屆攝影節以不同主題之展覽,將攝影世界具獨特性、創造性的名字,以及值得關注的視覺文化思潮引入香港。同時,透過不同公眾活動,搭建香港與世界攝影文化的溝通平台,借影像呈現不同文化歷史議題,審視不同社會人文狀況,促進跨越地區與領域的對話。
在攝影節邁向十一週年之際,請與我們一起前進,成為我們迎向下個十年的重要後盾。
Support freedom of expression and help facilitate the growth of the arts by making a donation to the Hong Kong International Photo Festival. You may visit our website stall.hkipf.org.hk or reach us at our contact number or email. Your contribution will go towards our operation, future programmes and keeping our events accessible.
The Festival is organised by the Hong Kong Photographic Culture Association, which is a tax-exempt charity under section 88 of the Inland Revenue Ordinance. Donations above HKD 100 are tax deductible.
The Festival was launched in 2010. In each edition, the Festival focuses on a different theme, introducing noteworthy photographers, trends, and movements, discussing manifold issues and perspectives. Through a wide range of public programmes, the Festival bridges Hong Kong and international visual practitioners, creating conversations between people and place, past and present, with oneself and the world.
With your support, we hope to make ever greater progress in the coming decade.
Organiser of 口述影像專場(設映後談)Audio-described Session (with post-screening discussion)