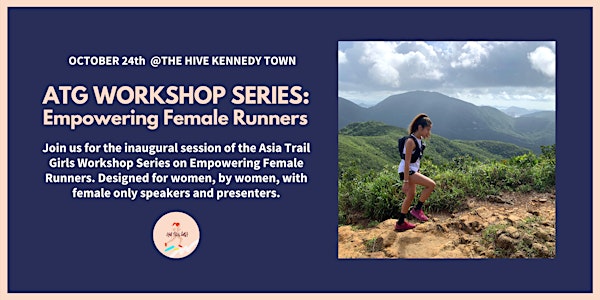 ATG Workshop Series: Empowering Female Runners
Join us for the inaugural session of the Asia Trail Girls Workshop Series on Empowering Female Runners.
Date and time
Saturday, October 24, 2020 · 7:45am - 2:30pm CST
Location
the Hive Kennedy Town 12P Smithfield #8th floor Hong Kong, HKI Hong Kong
About this event
The ATG Workshop Series: Empowering Female Runners event is the first of its kind in Hong Kong. It is designed for women, by women, with female only speakers and presenters.
The workshop is aimed at women of all ages who are either new to trail running and who want to learn more, as well as those who have been running trails for a while and want to take their running to the next level.
Our event aims to educate and increase knowledge around trail running with a specific focus on women's body and health.
In several interactive sessions women will get a chance to find out more about the benefits of running, how to transition successfully to trail, how changes to the female body can impact one's running and more.
In addition to theory, the event also offers one session of breathwork, strength training and yoga - all of them specifically designed for runners.
To conclude the event, there will be an organised fun run to Victoria Peak Gardens. Participants will split into groups according to their level and will be guided by one of the event leaders. Participants are welcome to invite their friends and families to join them on the Peak for a picnic lunch.
Schedule of the Event
7:45 -12:30 - Interactive sessions by different presenters (short coffee break halfway through)
Topics include:
Transitioning to Trail and the Benefits of Track
Taking up Running in your 40s, 50s, 60+
Unlocking Breathing Potential
Women's Health Experts Q&A
How to train in Harmony with your Hormones
Common Running Injuries and Prevention
Strength Training for Runners
Hong Kong Four Trails Ultra Challenge Panel
12:30 -13:30 - Fun run from the event venue to Victoria Peak Gardens
13:30 - 14:00 - Yoga for Runners
14:00 - Lunch on the Peak with friends and families
Please Note
A yoga mat or cushion is essential for some of the sessions, so please ensure you bring along your mat. Transport of mats and bags will be organised for after the event to the end location of the fun run.
Water, small snacks and one cup of coffee/tea per person will be provided. No other food will be available but you can bring what you need for the morning.
You are welcome to bring your own packed lunch for after the fun run or you can order a sandwich box meal through us for extra fee (vegan and vegetarian option available)
It is recommended to bring a water bottle with you for the run.
No refunds available but it is possible to transfer your ticket to someone else.
The workshop will be postponed to a future date if Covid-19 forces a cancellation. Full refunds will be given to participants who cannot attend the rescheduled event.
If you have any queries please contact us via email or WhatsApp:
Email: info@asiatrailgirls.com
WhatsApp Texts: +852 5595 9560