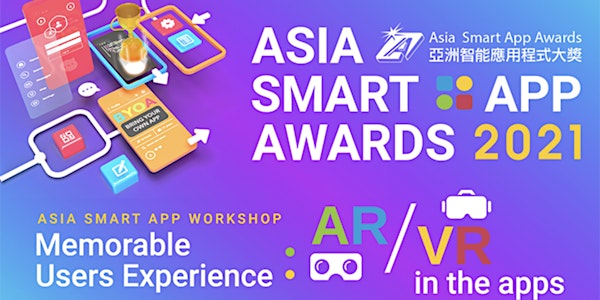 Asia Smart App Workshop - Visionaries 777 x Hiverlab x CSL x NetDragon
[ ASA 2021] Asia Smart App Workshop– Memorable Users Experience:AR / VR in the apps
About this event
Asia Smart App Workshop – Memorable Users Experience:AR / VR in the apps
Visionaries 777 x Hiverlab x CSL x NetDargon Websoft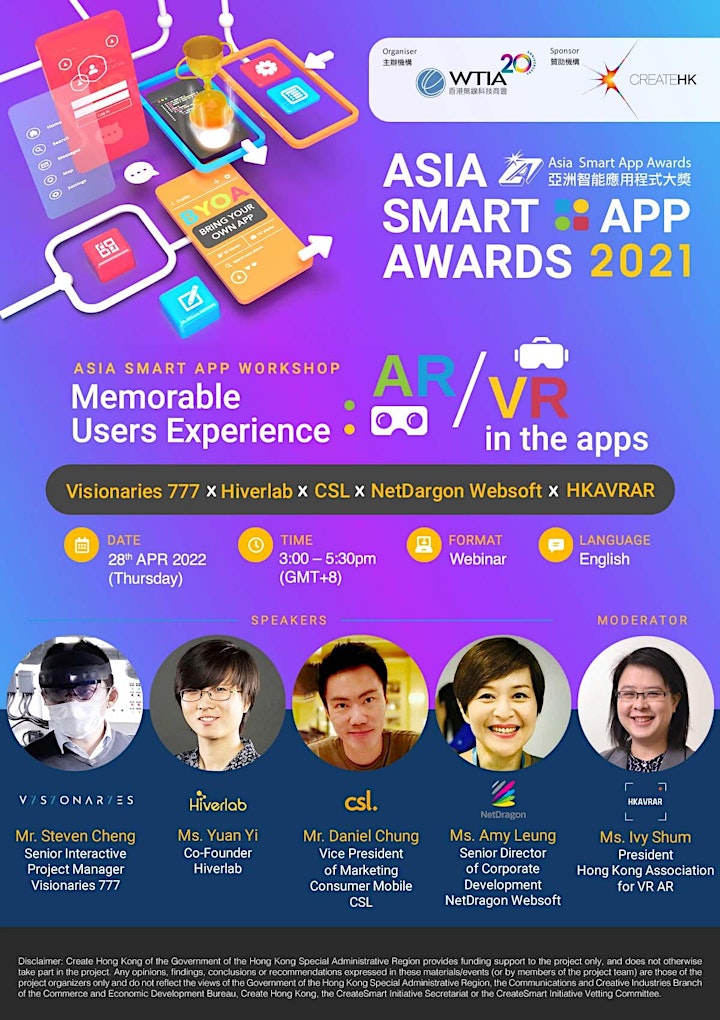 Today AR and VR are not simply buzzwords in the digital world anymore. These cutting-edge technologies go far beyond gaming and entertainment. Many companies have already incorporated AR/VR applications into their business: from education and ecommerce to healthcare and construction.
How to maximum the user experience by apply AR and VR technology in the apps? How can businesses benefit from AR and VR applications? And How VR and AR apps for business transform the way we work and interact with customers, colleagues and the world?
Join us to explore some flourished cases of ugmented and virtual reality in the apps, and the experience sharing from Visionaries 777, Hiverlab, CSL and NetDragon Websoft. Let's dive in!
Date: Thursday, 28th APR 2022
Time: 3:00 – 5:30pm (GMT+8)
Format: Webinar
Language: English
**Free Admission
Speakers' Information:
Mr. Steven Cheng, Senior Interactive Project Manager, Visionaries 777
Steven has been working with Augmented Reality technology since 2012. In his role as Senior Interactive Project Manager, he leads a team to carry out the design and development of two award winning enterprise solutions: AR PM and Inspekly, to resolve the challenges in property management, manufacturing and hospital industry.
Ms. Yuan Yi, Co-Founder, Hiverlab
Yuan Yi is the Co-Founder of Hiverlab and has been helping clients including MNCs and government agencies regionally in their Digital Transformation journey in the past 7 years, with a focus on creating future-ready digital infrastructures based on emerging technologies such as AR/VR/MR, IoT, Data Analytics, Cloud Computing and 5G. Trained in Technology Entrepreneurship, Public Policy, and Cognitive Science in National University of Singapore and the University of Edinburgh, Yuan Yi believes in the importance of multidisciplinary approach, agile methodology, stakeholder engagement and partnership collaboration in driving Digital Transformation globally for a sustainable future.
Mr. Daniel Chung, Vice President of Marketing, Consumer Mobile, CSL
Being the Vice President of Marketing for Consumer Mobile in CSL Mobile Limited, Daniel oversees products & services marketing, business development efforts and go-to-market strategic planning that help further develop CSL's business growth. Daniel is keen to drive new business initiatives & to manage business partnership addressing the digital savvy market. Daniel graduated with a degree in Electronic Engineering from University of Warwick, UK
Mrs. Amy Leung, Senior Director of Corporate Development, NetDragon Websoft
Amy is currently the Senior Director of Corporate Development of NetDragon Websoft Holdings Limited, strategically in charge of delivering educational technology to Hong Kong schools and institutions.
Her cumulative experience in education sector serving both local and international curriculum, plus contents marketing expertise, led her to join ND to champion how to create fun and engagement towards better learning via the power of technology.
Amy will share how AR and VR transform learning in the classrooms. More importantly, she envisions a new learning future, whereby students and educators will be increasingly engaged to learn through gamified tools and assessable platforms.
Moderator:
Ms. Ivy Shum, President, Hong Kong Association for VR AR
Ms. Ivy Shum is the Founder of Evory Media Limited (Focus in EventTech VR AR), Co-Founder of Studio-R Co. Ltd. (Focus in PropTech VR AR), the President of the Hong Kong Association for VR AR, and Chapter President of VRARA.
Ivy received her B.A. in Graphic Design and minor in Animation, Illustration in Silicon Valley, and an MSc in Multimedia Entertainment Technology at the Hong Kong Polytechnic University. She has been active in the Hong Kong entrepreneurial ecosystem since 2011. She was the event organizer and main coordinator of TEDxHongKong and Development Manager of SME Creativity Center in enabling local and overseas SMEs to explore creativity, ideation, and innovation.
Tentative Rundown
Webinar Begins | 15:00
Keynote Sharing | 15:05 - 17:00
Panel Discussion | 17:00- 17 :30
Q&A Session | 17:30 - 17:45
--------------------------------------------------------------------
WTIA: https://www.wtiahk.org/
Asia Smart App Awards: https://contest2021.bestasiaapp.hk/
Facebook: https://www.facebook.com/wtiawdc/
LinkedIn: https://www.linkedin.com/company/hkwtia/?viewAsMember=true
Disclaimer: Create Hong Kong of the Government of the Hong Kong Special Administrative Region provides funding support to the project only, and does not otherwise take part in the project. Any opinions, findings, conclusions or recommendations expressed in these materials/events (or by members of the project team) are those of the project organizers only and do not reflect the views of the Government of the Hong Kong Special Administrative Region, the Communications and Creative Industries Branch of the Commerce and Economic Development Bureau, Create Hong Kong, the CreateSmart Initiative Secretariat or the CreateSmart Initiative Vetting Committee.