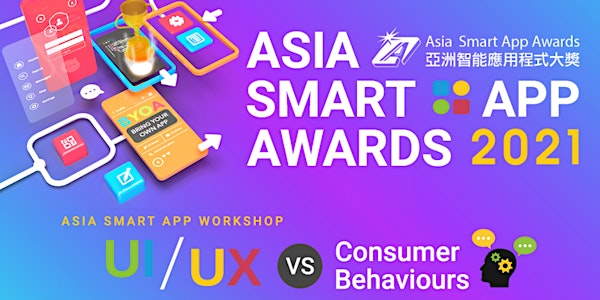 Asia Smart App Workshop - technine x DigiSalad x GreenTomato Academy
[ ASA 2021] Asia Smart App Workshop - UI/UX vs Consumer Behaviors
About this event
Asia Smart App Workshop - UI/UX vs Consumer Behaviors
technine x DigiSalad x GreenTomato Academy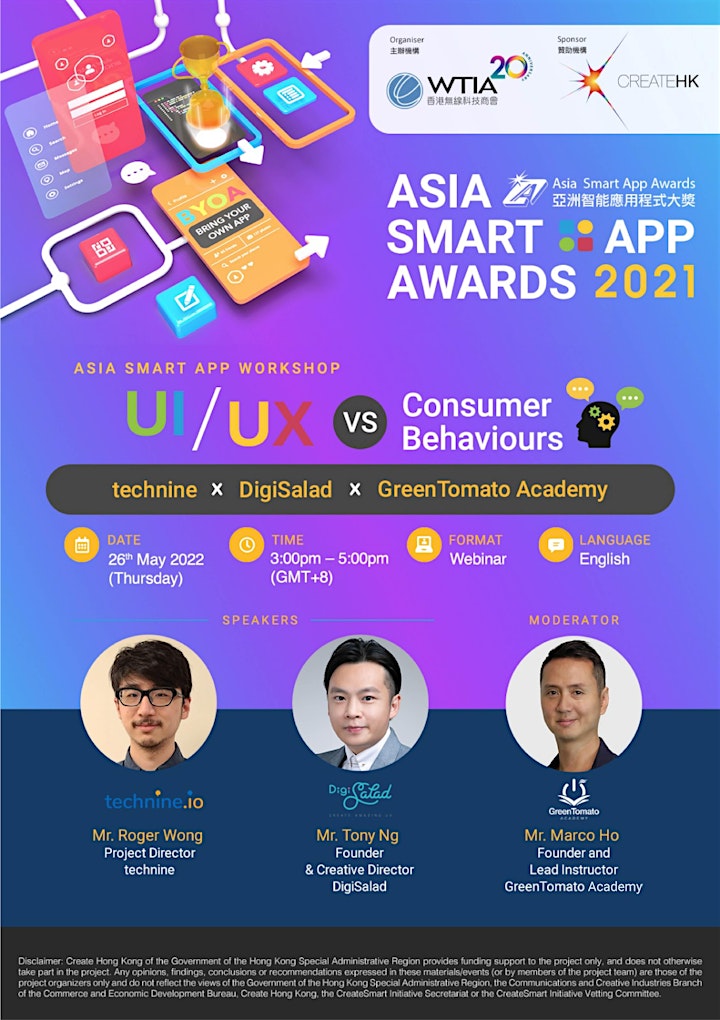 User Experience and User Interface (UX/UI) designs are more than creating good looking products. You will explore the valuable insights and experience design techniques that can help developers to make better apps, with human-centred, innovative and creative elements. Consumer behaviour and User Experiences(UX) are often at odds because of differences in goals, approaches and the presumptions that the two things are completely different services. But how can we design UIs to ensure we implement both consumer behaviour and great user experiences?
If you are planning to create your own mobile application, website, custom web app or even any query regarding to your product's concept, technical know-how, the best solution to get it done then don't hesitate to join the Workshop.
Join us to explore experience sharing in the webinar "UI/UX vs Consumer Behaviours" with speakers from technine and DigiSalad!
Date: Thursday, 26 May 2022
Time: 3:00pm - 5:00pm (GMT+8)
Format: Live Webinar
Language: English
**Free Admission
Speakers' Information:
Mr Roger Wong
Project Director, technine
Roger is a certified PMP with IT background who specializes in managing various mobile app development and corporate website projects. He leads a team of UX/UI designers, project specialists and app developers, and provides advice to customers on how to simplify user flow to enhance customer journey. Roger is specifically experienced in membership app design for a few industries and helps increase user stickiness with addictive and interactive features.
Mr Tony Ng
Founder & Creative Director, DigiSalad
Tony Ng, Founder and Creative Director of DigiSalad, has more than 10 years of digital solutions experience, especially in UX and UI design.
Tony has a unique view towards his business that "a great digital work isn't about designing beautiful pages purely. It is about context - how do we deliver the right experience to the right person at the right time. The most important thing is that your work can engage customers at anytime, anywhere and let users experience an entire amazing digital journey."
Moderator:
Mr Marco Ho
Founder & Lead Instructor, GreenTomato Academy
Marco Ho, Founder & Lead Instructor of GreenTomato Academy.
An expert in training with years of experience in education institutes, corporate marketing and design. Mr. Ho is proficient in design thinking, marketing management and handling digital campaigns from strategic planning to implementation.
Programme Rundown
Webinar Begins | 15:00
WTIA Welcoming | 15:01
Keynote Sharing | 15:05 - 15:55
Panel Discussion | 15:55 - 16 :20
Q&A Session | 16:20 - 16:35
--------------------------------------------------------------------
WTIA: https://www.wtiahk.org/
Asia Smart App Awards: https://contest2021.bestasiaapp.hk/
Facebook: https://www.facebook.com/wtiawdc/
LinkedIn: https://hk.linkedin.com/company/hkwtia
Instagram: https://www.instagram.com/hkwtia/
Disclaimer: Create Hong Kong of the Government of the Hong Kong Special Administrative Region provides funding support to the project only, and does not otherwise take part in the project. Any opinions, findings, conclusions or recommendations expressed in these materials/events (or by members of the project team) are those of the project organizers only and do not reflect the views of the Government of the Hong Kong Special Administrative Region, the Communications and Creative Industries Branch of the Commerce and Economic Development Bureau, Create Hong Kong, the CreateSmart Initiative Secretariat or the CreateSmart Initiative Vetting Committee.