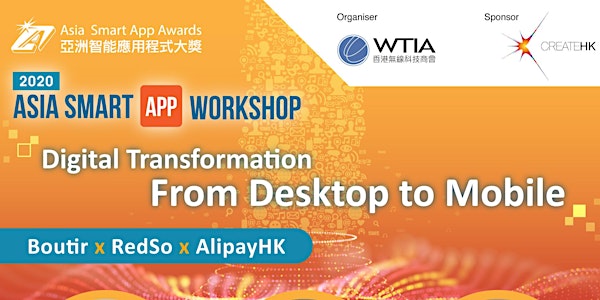 Asia Smart App Workshop - Boutir x RedSo x AlipayHK
[Asia Smart App Workshop-Boutir x RedSo x AlipayHK]– Digital Transformation : From Desktop to Mobile
About this event
數碼大蜕變:從桌上走到移動年代
How can we optimise mobile technology to setup our online businesses, sell more and do less? Shall we choose between an App or a Web? And what will be New Normal in the Mobile Age?
Digital Transformation initiatives have a massive impact on both customers and company employees. The role of mobile apps in digital transformation is extremely important. Mobile devices enable you to play online games, check your emails, do your shopping, read the news and chat online with people around the world! With the excitement that digital transformation especially mobile technology brings to us, what kind of advantages would the development of mobile technology bring to App companies?
Join us to explore some flourished cases in the webinar "Digital Transformation – From Desktop to Mobile" with speakers from Boutir, RedSo, and Alipay Payment Service (HK)!
Date: Thursday, 23rd July 2020
Time: 3:00 – 5:00pm (GMT+8)
Format: Webinar
Language: English
Admission: Free
Programme Rundown (Subject to change):
3:00 – 3:05 WTIA Welcoming
3:05 – 3:25 'How we help Small Merchants to use Mobile to setup their online business, sell more and do less'
- Mr. Eric Ng, Founder & CEO, Boutir
3:25 – 3:45 'App or Web? A guide for your decision'
- Mr. Louis Li, Partner, RedSo
3:45 – 4:05 'The New Normal in Mobile Age'
- Ms. Yvonne Leung, CMO, Alipay Payment Service (HK) Limited
4:05 – 4:45 Panel Discussion: 'From Desktop to Mobile'
4:45 – 5:00 Q&A Session
Speakers' Information:
Mr. Eric Ng, CEO & Founder, Boutir
Eric Ng started his career in ASTRI and Yahoo! HK as Senior Software Engineer and Search Engineer. In 2011, he decided to set up his own company RedSo and later in 2015 Boutir. Boutir, a leading social mobile commerce solutions provider and multi-channel commerce platform, was launched in Hong Kong in 2015 and is currently expanding in South East Asia. With a reach of 95,000 subscribed SMBs, Boutir is currently expanding to digital marketing and set mission to help every SME to sell more and do less, and become more effective and precise in its online and social marketing strategies.
Mr. Louis Li, Partner, RedSo
Louis graduated from CUHK Computer Science. He is a partner of a local software company, with experience in cloud technology for over 8 years. He established the first local partnership with Google Cloud Platform in 2013. Starting from 2018, he has been a part-time lecturer for blockchain related courses. Sometimes he also shows up as judge in hackathons and guest in various media programmes.
Ms. Yvonne Leung, CMO of Alipay Payment Service (HK) Limited
Yvonne Leung has been the Chief Marketing Officer of Alipay Payment Services (HK) Limited (APSHK) since November 2017. She is responsible for the branding, marketing and public relations strategy and development of the company.
She has extensive experience in marketing, CRM and digitalization, dedicate to integrating strategic thinking and practical business applications through creating human-centered user experience; while continually build innovative solutions to maximize business values and brand equity.
Disclaimer: Create Hong Kong of the Government of the Hong Kong Special Administrative Region provides funding support to the project only, and does not otherwise take part in the project. Any opinions, findings, conclusions or recommendations expressed in these materials/events (or by members of the project team) are those of the project organizers only and do not reflect the views of the Government of the Hong Kong Special Administrative Region, the Communications and Creative Industries Branch of the Commerce and Economic Development Bureau, Create Hong Kong, the CreateSmart Initiative Secretariat or the CreateSmart Initiative Vetting Committee.