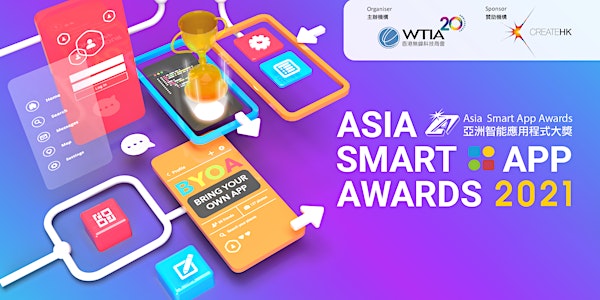 Asia Smart App Awards 2021 – Kick-Off Ceremony cum Smart App Seminar
Together with some of the Award Winners of the ASA 2020, will help the attendees explore the apps development trends in the Covid-19 era.
When and where
Location
Shun Tak Centre 402 402, 4/F, Shun Tak Centre 168-200 Connaught Road Central Hong Kong, HKI Hong Kong
About this event
Mobile applications have taken the center stage in the midst of the COVID-19 pandemic. At a time when industries are grappling under the environment of uncertainty and hardships, mobile apps have demonstrated the strength to reinforce a series of innovations to keep the world running.
How epidemic has changed Mobile App Development? What are the development trends of mobile app in the Covid-19?
Asia Smart App Awards (ASA) is coming back! The 8th edition of the Awards, organized by Hong Kong Wireless Technology Industry Association (WTIA) and with the funding support from Create Hong Kong (CreateHK) of the Government of the Hong Kong Special Administrative Region, not only recognises Asia's inventive and best-of-breed smart apps, but also provides a platform for app development professionals in Asia to learn and share the latest industry updates and expertise.
Details of the event as below:
Date: 23 November 2021 (Tuesday)
Time: 3:00pm – 5:00 pm (Registration start at 2:45 pm)
Venue: 402, 4/F, Shun Tak Centre, 200 Connaught Rd Central
Agenda:
1. Welcoming Speech – Mr. Roy Law, Chairman, WTIA
2. Keynote Speech – Ms. Jersey Yuen, Assistant Head, CreateHK
3. Kick-off Ceremony
4. Group Photo Session
5. Introductory Section to Asia Smart App Awards 2021
6. Panel Discussion "App Development Trends In the Covid-19 Era"
Moderator:
Mr. Donald Chan, Vice Chairman, WTIA
Panelists:
Mr. Nicolas Guyon, Co-Founder, Visionaries 777Mr. Brian Hui, Co- Founder, PokeguideMr. Jason Yuen, Co-Founder & CEO, SOCIFMr. Kelvin Siu, Founder & CEO, InnoSpire Technology

* All the panelists are the previous winners of ASA 2020.
7. Networking
*The Ceremony and Seminar will mainly conduct in English