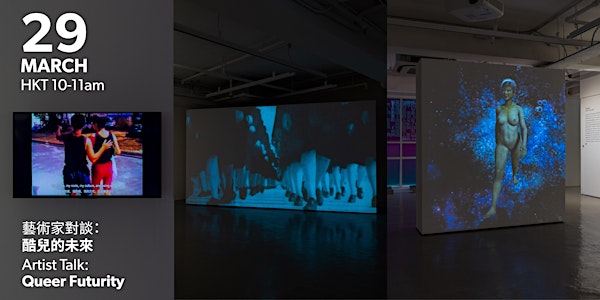 藝術家對談:酷兒的未來發展 Artist Talk: Queer Futurity
藝術家對談:酷兒的未來發展 Artist Talk: Queer Futurity
About this event
來參加「WOMEN我們:女也彳亍」的首場藝術家講座吧!
講座以「酷兒的未來」為題,邀請到三位以影像作為主要創作媒介的參展藝術家 Tina Takemoto,Madeleine Lim和權希樹,分享如何透過創作表達自身的情感和酷兒世界的各種可能。由稽查歷史材料,到紀錄當下的酷兒運動,以至開創元宇宙世界,三位的創作不約而同表達了各種女性的慾望和酷兒對存在的響往。講座更邀請到學者鄧芝珊、展覽策展人梁凱瑤和香港藝術家李泳麒,進一步討論未來非二元世界的可能。
歡迎在參與講座前瀏覽「WOMEN我們:女也彳亍」的網上展覽!
Join us for the first artist talk of 'WOMEN我們: From Her to Here' !
The talk brings together presentations from three participating artists, TT Takemoto, Madeleine Lim, and Heesoo Kwon to reflect on the theme of the "Queer Futurity". With moving images being their main medium, the artists will share how they express themselves as well as the possibilities of queerness via their artistic practises. From diving into historical footages, documenting the queer movements, to creating a metaverse, these presentations aim to reflect the different female desires and the longing of queer existences. The talk also invites scholar Dr. Denise Tang, curator Hoi Leung and Hong Kong artist Kalen Lee to further unpack the possibilities for persuading a nonbinary future.
Feel free to explore the virtual exhibition before the talk!
講者介紹 :
TT Takemoto (1967年生,現居於三藩市)
TT Takemoto是美籍日裔酷兒藝術家和學者,致力研究美籍亞裔歷史、性和身份認同。Ta的實驗電影探討亞裔和美籍亞裔文獻中所隱藏的同性親密關係和創傷。Takemoto不厭其詳地以膠紙、刀片和指甲油重新繪畫、移膜和改造16米厘/35米厘菲林膠片,藉此與現成影片和檔案資料互動和對話。Takemoto通過探究酷兒歷史的觸感和感官面向,如用魔法般變出各種沉浸式幻想,當中包括偏男性化的女同性戀外科醫生、女性化魚肉去骨、和帶有同性渴望的烘焙麵包。Ta的影片,向戰前至今曾共同活過、愛過和勞動過的美籍亞裔酷兒作出致敬。
Madeleine Lim (1964年生,現居於三藩市)
Madeleine Lim是Queer Women of Color Media Arts Project (QWOCMAP) 的創始人及藝術總監。作為90年代後期國際電影節上為數不多的非白人酷兒女性電影導演,她觀察到唯有非白人酷兒女性才能夠講述她們自己的真實故事。早於2000年,電影尚未關注性別及種族平等前,她已創立QWOCMAP。她相信一群積極參與社會運動的電影工作者,定能改變電影的工藝並成為社會運動的領導力量。在Madeleine的帶領下,QWOCMAP的電影導演培訓計劃備受認可,孕育了超過450部電影創作,是現存最大的LBTQ+BIPOC(非裔、原住民與其他有色人種)電影庫。
她同時是一位獲獎的電影人,有25年製片、導演、攝影和剪接經驗。她的電影備受世界各地國際電影節及觀眾歡迎,曾於溫哥華國際電影節,Mill Valley電影節及阿姆斯特丹國際特赦組織電影節上映。她的作品曾於多個博物館、大學及美國公共廣播電視台 (PBS) 上放映。其中,《三番叁巴醬》(1997) 在新加坡仍被禁播。
權希樹 (1990年生,現居於三藩市和首爾)
權希樹是一位來自韓國的視覺藝術家和人類學家,目前駐留於三藩市灣區。 她於2019年獲得加州伯克萊分校的美術碩士學位。她曾於多個地方舉行個展,包括三藩市的Et Al和Studio 2W、伯克萊Phoebe A. Hearst 人類學博物館、韓國CICA博物館以及Visual Space Gunmulsai。她的作品亦曾應邀參與多個聯展,其中包括CICA博物館、柏克萊大學藝術博物館及太平洋電影資料館、紐約47 Canal、三藩市舊金山中華文化中心、Slash畫廊及英國雪菲爾Site畫廊等。 2012年,她獲得了韓國知識產權局的年度女性發明家獎。此外,亦曾獲CICA博物館的「韓國青年藝術家獎」及伯克萊分校的「Roselyn Schneider Eisner 攝影和藝術實踐獎」,作品更入圍第20屆首爾國際新媒體電影節、雪菲爾德紀錄片影展的藝術項目及2021年的美國「酷兒|藝術|獎項」。
鄧芝珊 (b. 1972)嶺南大學文化研究系副教授,曾任職於溫哥華、西雅圖及三藩市婦女組織及同志機構多年。著有學術專書 Conditional Spaces: Hong Kong Lesbian Desires and Everyday Life (香港大學出版社, 2011),晚近研究專長為亞際文化脈絡下的年長女同志的日常生活及跨性別(跨仔)身份及工作議題。
梁凱瑤是一位生於香港,現居於三藩市的策展人,其策展方向尤其關注社區動態和脈絡。梁氏作為中華文化中心的策展人,管理中心的展覽、公共藝術介入,和跨年度的社區項目。
梁凱瑤近期的策展項目包括:Sofía Córdova的「破曉歌聲 iii: 這裏沒有的水果」(2021),一個跨年的實驗錄像計劃,聚焦六位灣區女性來到美國的難民故事;台灣聲音藝術家洪梓倪的場域特定個展「歸・巡」(2020),探索三藩市獨特的城市歷史。梁氏的下一個項目是Cathy Lu的個展「烏托花園」(2022年初),將以陶瓷為本的大型裝置作品,探索亞裔移民在美國的尋夢和反烏托邦狀態。
李泳麒(b. 1981)為香港藝術工作者。香港大學文學院學士,主修藝術史。及後獲英國志奮領獎學金前往倫敦藝術大學倫敦傳媒學院深造新聞暨紀實攝影。李氏現為香港浸會大學視覺藝術院助理教授,教授攝影;亦為英國倫敦南岸大學網絡影像研究中心訪問學人。
Introduction of the speakers:
TT Takemoto (b.1967 , based in San Francisco)
TT Takemoto is a queer Japanese American artist and scholar exploring Asian American history, sexuality, and identity. Their experimental films delve into hidden dimensions of same-sex intimacy and trauma that exists within Asian and Asian American archives. Takemoto interacts with found footage and archival materials through labor-intensive processes of painting, lifting, and manipulating 16mm/35mm film emulsion using scotch tape, razor blades, and nail polish. By engaging with tactile and sensory dimensions of queer histories, Takemoto conjures up immersive fantasies involving butch surgeons, femme fish filleting, and homoerotic breadmaking. Their films honour queer Asian Americans who lived, loved, and labored together during the pre-war era and beyond.
Madeleine Lim (b.1964, based in San Francisco)
Madeleine Lim is the founding Executive/Artistic Director of Queer Women of Color Media Arts Project (QWOCMAP). As one of a small number of queer women of color filmmakers on the international film festival circuit in the late 90's, she saw that only queer women of color would tell their own authentic stories. Decades ahead of mainstream conversations about gender and racial equity in film, she founded QWOCMAP in 2000. Her belief was that a community of filmmaker-activists could change the craft of filmmaking and the leadership of social justice movements. Under Madeleine's leadership, QWOCMAP's award-winning Filmmaker Training Program has nurtured the creation of over 450 films, the largest catalog of LBTQ+ BIPOC films in existence.
Madeleine is an award-winning filmmaker with over 25 years of experience as a producer, director, cinematographer, and editor. Her films have screened at sold-out theaters at international film festivals around the world, including the Vancouver International Film Festival, Mill Valley Film Festival, and Amsterdam Amnesty International Film Festival. Her work has been featured at universities, museums, and broadcast to millions on PBS. Her film Sambal Belacan in San Francisco (1997) remains banned in Singapore.
Heesoo Kwon (b.1990, based in San Francisco and Seoul)
Heesoo Kwon is a visual artist and anthropologist from South Korea and is currently based in the Bay Area, California. Kwon received her Masters of Fine Art from UC Berkeley in 2019. Her work has been the subject of solo exhibitions at Et Al and Studio 2W, San Francisco; Phoebe A. Hearst Museum of Anthropology, Berkeley; and CICA Museum and Visual Space Gunmulsai, South Korea. She has participated in group exhibitions at the CICA Museum; Berkeley Art Museum and Pacific Film Archive, Berkeley; 47 Canal, New York; Chinese Culture Center, San Francisco; Slash Gallery, San Francisco; and Site Gallery, Sheffield, UK, among others. In 2012 Kwon received the Female Inventor of the Year Award from the Korean Intellectual Property Office. Her other accolades include the Young Korean Artist Award from the CICA Museum, a finalist in the 20th Seoul International ALT Cinema & Media Festival, a finalist of the Sheffield DocFest Arts Programme, and the Roselyn Schneider Eisner Prize for Photos and Art Practice from UC Berkeley, and a finalist of the Queer | Art | Prize of recent works in 2021.
Dr. Denise Tang is Associate Professor in the Department of Cultural Studies and Associate Dean in Teaching and Learning at Lingnan University, Hong Kong. Her research specializes in gender and sexualities with specific focus on lesbian desires and transgender masculinities in an inter-Asian context. Prior to entering academia, Tang was program manager and HIV testing counselor for communities including Asian & Pacific Islander LGBTQI+, survivors of sexual violence, First Nations women and youth in San Francisco, Seattle and Vancouver B.C.
Hoi Leung is a Hong Kong-born, San Francisco-based, curator with a deep sensitivity to neighbourhood dynamics in her curatorial approach. As Chinese Culture Center's curator, she oversees the center's exhibitions, public art interventions, and multi-year community-based projects.
Hoi's recent curatorial projects include: dawn_chourusiii: the fruit they don't have here by Sofía Córdova (2021), a multi-year project and an experimental video work that foregrounds the stories of six Bay Area women who journeyed to the United States as refugees; and Homing (2020)—a site-specific solo exhibition by Taiwanese sound artist Hung Tzu Ni which explores San Francisco's unique urban history. Her upcoming project is Cathy Lu's Interior Garden (early 2022), a major solo exhibition of large-scale ceramic-based installations exploring the dream and dystopian states of Asian America.
LEE Wing Ki (b. 1981) is an artist-researcher-curator born and based in Hong Kong. He read History of Art at the University of Hong Kong and received postgraduate training in documentary photography and photojournalism at London College of Communication, University of the Arts London, supported by a British Chevening Scholarship. Lee is currently an assistant professor in photography at the Academy of Visual Arts, Hong Kong Baptist University; and a visiting researcher at the Centre of the Study of the Networked Image, London South Bank University.