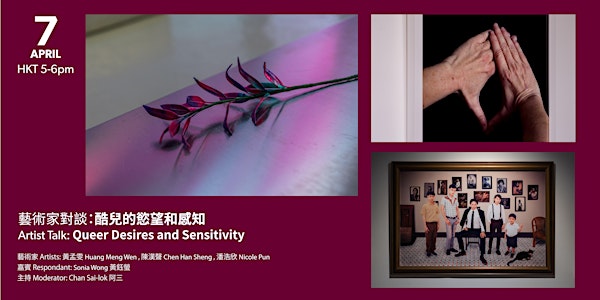 藝術家對談:酷兒的慾望和感知 Artist Talk: Queer Desires and Sensitivity
藝術家對談:酷兒的慾望和感知 Artist Talk: Queer Desires and Sensitivity
About this event
「酷兒的慾望和感知」
來到第二場「WOMEN我們:女也彳亍」的藝術家講座,我們邀請大家繼續與另外三位參展藝術家來探討「酷兒的慾望和感知」!不論是黃孟雯對台北大稻埕「穚頭十三太妹」那種跨越年代的情感記錄、或是陳漢聲對「玫瑰少年」葉永鋕事件的反思,抑或是潘浩欣對女同性戀者對情慾坦蕩直白的表示,三位創作者都直視並引領觀者跳進酷兒的慾望和感知,帶出酷兒真實地影響人們對歸屬感、個人安全和集體自由的理解。講座更邀請到學者黃鈺螢和藝評人阿三,深入探索酷兒的心境和狀態。
歡迎在參與講座前瀏覽「WOMEN我們:女也彳亍」的網上展覽!
The second artist talk of 'WOMEN我們: From Her to Here' will inivite the other three participating artists to explore the theme of "Queer Desires and Sensitivity". Whether it is Huang Meng Wen's cross-decades sentimental record of the Taipei "Thirteen Teddy Girls of Qiaotou", or Chen Han Sheng's reflection on the Yeh Yung-chih incident, or Nicole Pun's direct representation of lesbian's sexual desirel these three artists look straight at and guide the audience into the queer desires and sensitivity, bringing forward the real implications of being queer on feelings of belonging, personal safety, and collective freedom. The talk also invites scholar Sonia Wong and art critic Chan Sai-lok to further delve into this queer state of mind.
Feel free to explore the virtual exhibition before the talk!
講者介紹 :
黃孟雯 (1981年生,現居於臺北)
黃孟雯出生於臺北,畢業於臺北藝術大學藝術跨域研究所。她的藝術實踐結合其社會學與電影系的背景,關注亞洲及臺灣文化脈絡下的性/別議題。她藉由性別的觀點切入,為臺灣及東亞的歷史文化開闊另一重視野。她的影像風格融合臺灣電影類型片與當代藝術錄像,並在攝影與錄像中交織出一種影像敘事美學。
她近期的藝術計劃聚焦尋找邊緣女性的歷史。在《西裝與香花》的計劃中,她透過1938出生的阿寶的生命史,與臺灣報紙檔案,發掘臺灣早期酷兒—「穿褲的」女性身影。在《她們—政體洪流中》計劃中,她揭示了臺灣百年來建制下的親密關係工作者,如何在政權更迭的近代史中,成為建制動員的一環。她擅長以攝影、實驗電影、錄像、裝置、論文寫作實踐她的藝術計劃。
陳漢聲 (1988年生,現居於臺北)
1988年出生於高雄,畢業於國立臺北藝術大學新媒體藝術學系,目前擔任臺北市藝術創作者職業工會監事和走路草農工作室策展人。陳氏擅長實驗動畫、混合媒介和動能裝置,把自身的背景和身分寄語在創作中,聚焦農業、自然環境和性別議題。
他的作品曾獲「臺北美術獎」優選、「臺南新藝獎」首獎、「日本東京Art Olympia『第三屆國際性藝術比賽2019』」傑出作品獎、入選「高雄獎」、「臺北數位藝術奬」、「全國美術展」、「深圳獨立動畫雙年展」。他曾於中國Art35、清邁Ne'-Na Contemporary Art Space、曼谷Tentacles、牛棚藝術村,和高雄的駁二藝術特區、竹圍工作室、寶藏巖國際藝術村駐村。其作品曾於龐比度、曼谷雙年展、西班牙陶瓷雙年展、意大利袖珍織品藝術展和麗水攝影節展出。
黃鈺螢 (出生並現居於香港)
香港中文大學性別研究課程講師,研究範疇為女性情慾、酷兒身份、電影、流行文化及本地歷史 。2013年創辦香港首個推廣女性藝術創作的獨立電影節「女影香港」,及後於2018年與Eaton HK及Sally Coco合辦香港第一個以女性為中心的文化藝術生活節「Women's Festival Hong Kong」。在學術與倡議以外,黃氏也積極投入藝術創作,創作範疇包括中英文詩歌、短篇小說 、影評,及視覺藝術作品。
阿三 (出生並現居於香港)
香港藝術家、藝評及寫作人。香港中文大學藝術系畢業,後修畢藝術碩士(創作)及性別研究文學碩士課程。他的創作經年思索文字、文學與繪畫的關係,文學性之於當代繪畫的契合。近年展覽包括「The Name Red」(2021)、「Everyday Practice」(香港及紐約,2019及2020)、「一夕餘地」(2019)及「在詩的港口」文學實驗計劃(2016-17)等。曾入選Sovereign傑出亞洲藝術獎、獲大華銀行年度水墨藝術大獎、中文文學創作獎及高美慶教授藝術史獎學金等,著有《文本有相》及《Everyday Practice》等展覽小書。他曾任《秋螢》詩刊編輯及香港文學館理事,《楊東龍:就是繪畫》作品集及《藝術 醫院 廿五年》編輯;現為大專兼任講師、藝評組織Art Appraisal Club成員、藝術評賞計劃「時刻導賞員」負責人,及電台藝術節目嘉賓主持。
Introduction of the speakers:
Huang Meng Wen (b.1981, based in Taipei)
Huang Meng Wen was born in Taiwan. She graduated from Taipei University of the Arts with an MFA in Trans-disciplinary Arts. Within her academic background in sociology and film art, she combines the two as her artistic practice. She focuses on gender issues in Taiwan and Asian cultural context. Through observation of gender issues, she expands another field of vision to understand Taiwan and East Asian history and culture. Her image style combines film methods with contemporary art video, and she interweaves the narrative image aesthetics in photography and video.
Her recent projects focus on finding the history of marginal women. In the project of Once upon a time...... ' The woman in pants ' in Taiwan, through the life history of A Bao who was born in 1938 and Taiwanese newspaper archives, the figure of early queer - "The woman in pants" in Taiwan was explored. In the project Hertory and the Stigma, she revealed how sex workers in Taiwan's state system became a part of national mobilization in Taiwan's recent history of regime change. She practised her art project with photography, experimental film, video, installation, and essay writing.
Chen Han Sheng (b.1988, based in Taipei)
Born in 1988, Kaohsiung, and graduated from Taipei University of the Arts. Currently a Director of the TAIPEI Art Creator, and a Curator of Walking Grass Agriculture. He is an expert in experimental animation, mixed media, and kinetic installations. He also extends his own background and identity to his practice, primarily focusing on agriculture, the natural environment, and gender issues. ​
His works have won the silver medal in the Taipei Arts Award, the first prize of Next Art Tainan, and honourable mention in Art Olympia 2019 (Japan); selected for the Kaohsiung Award, Digital Art Award Taipei, Taiwan Art Exhibition, and the Shenzhen Independent Animation Biennale. He has been residence in Art35 (Zhejiang), Ne'-Na Contemporary Art Space (Chiang Mai), Tentacles (Bangkok), Cattle Depot Artists Village (Hong Kong), and also The Pier-2 Art Center, Bamboo Curtain Studio, and Treasure Hill Artist Village in Taiwan. His works have been exhibited in Centre Georges Pompidou, Bangkok Art Biennale, Biennal de Ceràmica, MIMIARTEXTILE, and Lishui Photography Festival.
Nicole Pun (b.1989, based in Hong Kong)
Nicole Pun is a visual artist based in Hong Kong. She uses photography, video, performance to explore queer identity, desire and female representation. She received her MFA from California Institute of the Arts. She has a BSSc from the Chinese University of Hong Kong, with a background in Journalism and Communication. Her work has been exhibited in Circus Gallery in Los Angeles; Avenue 50 Studio in Los Angeles; SOMArts Cultural Center in San Francisco; McGroarty Arts Center in Tujunga; "In & Out" Nicole Pun Solo Exhibition at Lumenvisum in Hong Kong. Her work is in numerous private and museum collections. She is the recipient of several grants and awards, including Yale-China Arts Fellowship at Yale University, WMA Masters Special Mention Award.
Sonia Wong (born and based in Hong Kong)
Based in Hong Kong, Sonia Wong now teaches gender and culture-related subjects at the Gender Studies Programme of the Chinese University of Hong Kong. Her research interests include lesbian identity, female sexuality, film, and new media. She is the founder of Reel Women Hong Kong, the first and only independent film festival in Hong Kong devoted to the promotion of female-created films and artworks, as well as gender equality and awareness, in society. In 2018, she co-founded the Women's Festival with Chantal Wong from Eaton HK and Vera Lui from Sally Coco. Apart from being a community organiser and advocate, she is also a writer and visual artist.
CHAN Sai-lok (born and based in Hong Kong)
Artist, art critic, and writer based in Hong Kong. Chan holds a BA and MFA in Fine Art and an MA in Gender Studies, all from the Chinese University of Hong Kong. He has always taken text and literature as points of departure in his artistic endeavor, through which he contemplates the intimate relationship between painting and literariness. His recent solo exhibitions include Everyday Practice (Hong Kong 2019 and New York 2020), Land of Longing and Exile (2019), and Alongside Poetry in an Alley (2016-17). Chan has been a finalist in the Sovereign Asian Art Prize, a winner of the UOB Art in Ink Award, the Awards for Creative Writing in Chinese, and Professor Mayching Kao Art History Award. His exhibition catalogues The Countenance of Text and Everyday Practice were published. Chan was one of the editors of Qiuying poetry magazine, an executive committee member of The House of Hong Kong Literature, editor of Yeung Tong Lung: Just Painting and Art in Hospital A Quarter Century. He is now a part-time lecturer in universities, co-founder of an art-critic-collective Art Appraisal Club, art director of an online art review project "Free Walk In", and guest host of a radio art program.