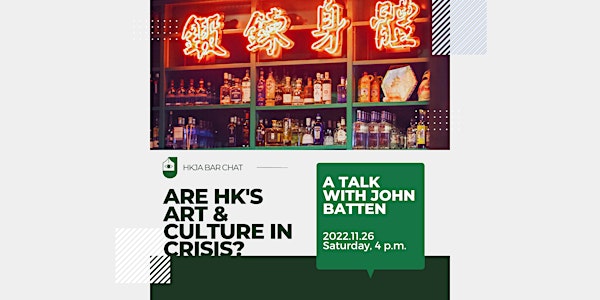 Are Hong Kong's Art and Culture in Crisis?
A dialogue with veteran art critic John Batten in an atmospheric underground bar Ping Pong Gintoneria.
When and where
Location
Ping Pong Gintoneria 129 Second Street L/G Nam Cheong House Sai Ying Pun, HKI Hong Kong
Refund Policy
Contact the organizer to request a refund.
About this event
* This event has been postponed to November 26, 2022. 活動將延期至11月26日,敬請留意。*
John Batten: Are Hong Kong's Art and Culture in Crisis?
Like the rest of the city, Hong Kong's arts and culture institutions are facing political challenges and a brain drain of artists. Institutions, including the Hong Kong Arts Festival sees a new director, and concerns about self censorship – even in art and culture – flared, when the Hong Kong Arts Development Council was criticised for funding films about the 2019 protests amidst the enacting of the National Security Law.
People in Hong Kong are becoming more interested in the arts, but are they seeing good and challenging works and displays, are art venues responding to their demand, or is a conservative bureaucracy stifling creativity and expression? What can young artists, writers, journalists, film-makers and the public expect from institutional gate-keepers fearful of "crossing red lines"? Meanwhile, overseas visitors stopped coming to Hong Kong's art fairs, auctions and gallery exhibitions due to Covid travel restrictions. Will Hong Kong lose its position as a major art trading hub in Asia? Are the city's creative and arts scenes reflecting its malaise after the 2019 protests and continuing Covid curbs? Will this be temporary or permanent?
John Batten, a veteran art critic, former gallerist and volunteer adviser for cultural institutions, including Tai Kwun, will give a wide-ranging talk on Hong Kong's artistic landscape against the backdrop of political change at the atmospheric basement bar, Ping Pong Gintoneria. It will be followed by a bilingual dialogue and Q&A with writer and host, Carol Lai, to share his insights of Hong Kong's current and future creative direction.
Speakers
● John Batten is co-founder of the Central & Western Concern Group that has led community activism over the last 15 years for the preservation of many of Central Hong Kong's historic buildings such as PMQ, the Central Market, and Tai Kwun. He is president of the International Association of Art Critics Hong Kong, a member of the Arts Programme Committee of Tai Kwun, and a director of the artist-run art education initiative, Rooftop Institute.
Previously, Mr. Batten ran his own art gallery and was a longtime organiser of Hong Kong ArtWalk. He has been writing about art, heritage, culture, politics and urban planning since the 1990s, including for the South China Morning Post, Ming Pao Weekly and architecture magazine Perspective. He is a regular commentator on television and radio.
● Carol Lai is a member of HKJA's executive committee. Ms. Lai holds a PhD in Communications from Goldsmiths College, University of London and was associate professor for the Global Communication programme at Akita International University's graduate school until 2016. She authored various current affairs columns as well as the book, Media in Hong Kong, press freedom and political change 1967-2005 (Oxford: Routledge).
Date: 2022.11.26(Saturday)4 - 5:30 PM
Main event language: English, with limited Cantonese assistance
Venue: Ping Pong Gintoneria, 129 Second Street L/G Nam Cheong House, Sai Ying Pun
Seating limit: 40
Ticketing:
HKJA members: $100 -- Enter your membership number as promo code to reveal the ticket option for members only.
Non HKJA members: $200
The HKJA is applying for seminar subsidies from the Vocational Training Council. Once approved, participants who are members of the media industry may receive up to 50% discount from ticket price, to be offered in the form of a ticket refund.
Participants must comply with regular Covid-19 rules for entering restaurants.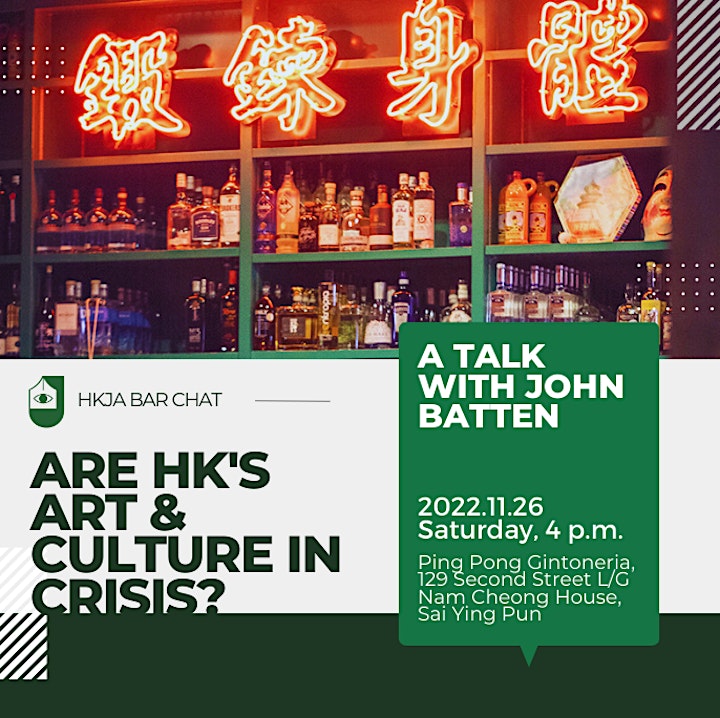 香港的文化藝術是否面臨危機?
一如城中其它領域,香港藝壇正面臨人才流失及時局變化的挑戰。自我審查的現象甚至滲透藝術及文化界別,引起大家的關注。在國安法後的時代,藝術家對紅線的觸及,都有著擔憂和警惕。但另一方面,香港社會對藝術的興趣卻日益增加,好的作品及充滿挑戰性的創作不斷湧現;展示場所也因此應運而生。在未來,香港藝壇的發展,又會否因疫情的困局受到打擊?政府對藝術資助的政策,又會否日趨保守,從而成為香港藝術發展的障礙?今次香港記者協會榮幸請到資深藝評家約翰.百德(John Batten)與會員分享他的洞悉,他將於隱世地下酒吧乒乓城,與主持及本會執委黎加路摸杯底對談。活動首部份座談以英語進行,及後將開放中英問答環節。
講者:
● 約翰.百德(John Batten)為國際藝評協會香港會長,關注及推動香港藝術的發展;任本地藝術團體義務顧問,當中包括中區的大館。
● 黎加路(Carol Lai)為倫敦大學金匠學院傳播學博士,香港資深傳媒人。曾任日本國際教養大學副教授。著有Media in Hong Kong: Press freedom and political change 1967-2005 (Oxford: Routledge)。
日期:2022年11月26日(六)4 PM 至 5:30 PM
活動主要語言:英語,問答環節輔以廣東話
地點:西營盤第二街129-135號129-135號南昌樓地舖
名額:40人
購票:
會員:$100 – 會員購票時請於頁面上方PROMO CODE一欄輸入會員號碼,以專屬$100價錢優先購票。活動當日需核對會員資料。
非會員:$200
記協正為此活動向職業訓練局申請培訓講座資助,如獲批核,業界參加者最多可獲票價50%資助,屆時記協將安排退款。
參加者必需遵守一般餐廳防疫規定。