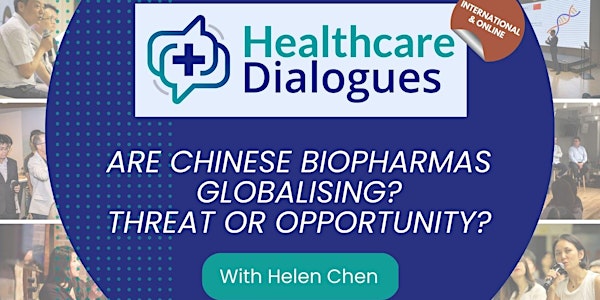 Are Chinese biopharmas globalising? Threat or Opportunity?
Helen Chen explains a possible new era of biopharma globalisation
When and where
Date and time
Thu, 16 Feb 2023 13:00 - 13:50 CET
About this event
With China rapidly emerging from the Zero-Covid Strategy, can we expect its biopharma companies to aggressively expand into global markets?
Will it be a smooth or a rocky ride?
How do regulators in Europe and the US view Chinese biopharmas?
Which companies should we look out for?
What will the impact be for the established Western players?
Come listen to this and other viewpoints from one of the industry's leading experts, with full Q&A to follow.
Helen Chen heads L.E.K.'s China life sciences and healthcare practice, with extensive case work and industry experience covering the full biopharmaceutical and medtech value chain. A winner of the prestigious Global Leaders in Consulting for 2019 award from Consulting Magazine, Helen has 30+ years of consulting and industry experience in the U.S. and Asia, and has resided in China since 2000.
Places are limited. First come, first served.
Thursday 16th February
1pm - 1:50pm CET (Switzerland Time)
8pm - 9:50pm (China/HK/SG Time)