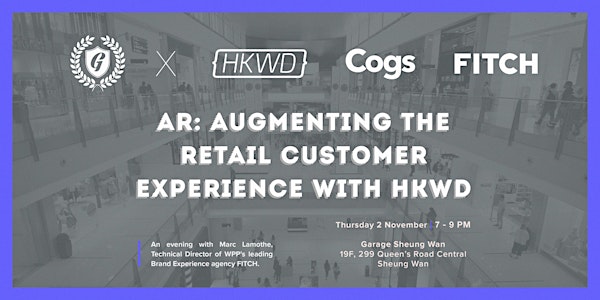 AR: Augmenting the Retail Customer Experience with HKWD
When and where
Location
Garage Society Sheung Wan 19f 299 Queens Road Central Sheung Wan Hong Kong, Hong Kong Island 0000 Hong Kong
Description
Join HK Web Dev Meetup and Marc Lamothe, Technical Director of WPP's leading Brand Experience agency FITCH for an evening discussion on AR in the retail world.
Marc has been delivering interactive digital applications to customers for over 15 years.
Since joining FITCH in 2011, he has managed the digital delivery for clients such as GE, Dubai Airports, Intel, LYNK & CO, Qatar Airways and Swire Properties.
He has a sound knowledge of the digital landscape, understanding from a technical perspective how competitor brands develop their digital platforms and will share his insight into Augmenting the Retail Customer Experience alongside the HK Web Dev Community.
Also speaking will be Kam Liu:
Kam is responsible for the development and integration of applications across Fitch's digital platforms (web, mobile and interactive).
He has experience in a diverse set of technology domains, from retail, to publishing, healthcare, and logistics, and has a broad knowledge of different technologies including web, AR, VR and IoT.
Technical Agenda
Technical overview of AR fundamentals and how AR is achieved: World Tracking, VIO, Feature Detection, Plane Detection

ARKit vs ARCore

ARKit: The fundamentals

AR in the Web: ARCore for Web, ar.js
Designing the future. FITCH transforms consumer experience and accelerates business success. They deliver seamless solutions by combining the physical, human and digital elements of a brand to create unique experience signatures.
FITCH is a leading global retail and brand consultancy with an integrated offer of strategy, design and implementation, which enables them to deliver across all touchpoints. They do this for clients that include adidas, B&Q, Brown-Forman, Dell, H&M and Philips. FITCH is a WPP company (NYSE).
The Hong Kong Web Developer group is a meet-up dedicated to learning and sharing the latest in Web Standard Development.
Event supported by COGS Agency
We are Cogs.
With offices across Europe and Asia, we connect talent with global career opportunities.
We recognise that there's more to someone's story than a CV and that behind every successful company
are talented people.
When we started in 2004 we wanted to create a company that helped great businesses and great
people find each other. To do that we've learned that each business and each candidate has a story to
tell. Cogs knows how to connect the stories of the right people at the right time.
Our global client base is a mix of creative agencies, consulting firms, brands and tech companies. We
help them find permanent, contract and freelance talent across the entire digital spectrum.