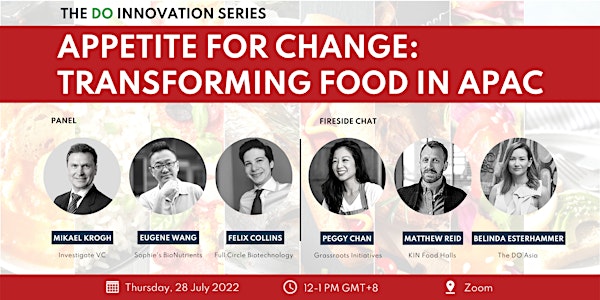 Appetite for Change: Transforming Food in APAC | The DO Innovation Series
What is the driving force behind the explosion of food-tech start-ups and investments into food?
About this event
The food innovation sector in APAC is booming, bringing together technological, cultural, and social innovation. From production to harvesting, distribution and consumption, the demand for sustainable, nutrient-rich, and inclusive food has created new markets and niches that are expanding at high speeds.
As the region with the largest and fastest-growing population, APAC has a big role in enabling and expanding food innovation and leading global change. APAC's unique demographics, diverse stakeholders, needs for improving food security and nutritional quality, and the ability to innovate are the catalysts for change in our agri-food system.
We will cover:
- What is the driving force behind the explosion of food-tech start-ups and investments into food?
- What are the latest trends on food innovation in APAC?
- What are the opportunities for the traditional agri-food industries?
- How can APAC navigate regulatory issues and how do they vary by country and consumers?
- How can we ensure collaborative multi-stakeholder action?
Speakers:
Panel
Mikael Krogh, Managing Partner and Founder of Investigate VC
Eugene Wang, Co-founder & CEO of Sophie's BioNutrients
Felix Collins, Founder of Full Circle Biotechnology
Fireside chat
Peggy Chan, Founder & Managing Director of Grassroots Initiatives
Matthew Reid, CEO & Co-founder of KIN Food Halls
Belinda Esterhammer, Managing Director of The DO Asia
About The DO Innovation Series
At the DO, we believe in the power of innovation to solve the world's challenges like climate change, gender inequality, and food insecurity. We are accelerating a new economy that is sustainable, innovative, and equitable. To achieve this, we activate entrepreneurs and intrapreneurs to disrupt the status quo through our unique transformation model.
We want to amplify our social impact through The DO Innovation Series. We bring together world-class speakers and industry experts to build an innovation and impact ecosystem with purpose.