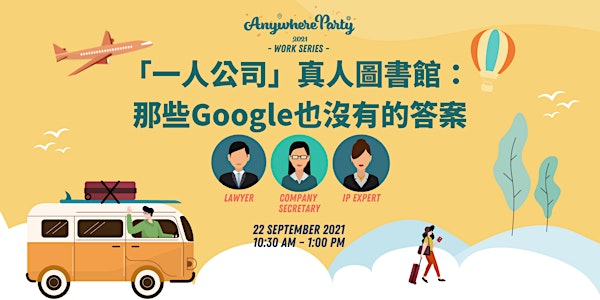 AnywhereParty Work Series - 「一人公司」真人圖書館: 那些Google也沒有的答案 (AWP Pass Only)
「每個人就是一本書,而且開卷有益。」真人圖書館旨在促進人們與平時不會遇到的人對話來消除隔閡,透過這個機會「借入」一些專家分享,問出所有平日看不慣、不易啟齒的問題,為一人公司的朋友們解答那些沒法在Google找到的答案,學會保護跟保障自己。
When and where
Location
Naturally Choice lifestyle cafe 「淳·生活咖啡館」 176號 Nathan Road #4樓 Hong Kong, KOW Hong Kong
About this event
在資訊爆炸的時代,我們要怎樣消除雜迅,找到適合的答案。
書本真的是在圖書館裡才借到嗎?每個人都有著不同的經歷,有著不同的故事。曾經有人說過,如果世界是一個圖書館,那我們每一個人都是一本截然不同的故事書。因此,我們也參考了起源於丹麥的一個名為真人圖書館的活動。希望透過這次的Brunch互動給予參加者一個機會和一個平時不常遇到的人對話,嘗試去了解別人的世界,閱讀別人的故事。
是次活動我們將會邀請在不同行業裡的專業人士,包括律師、IP及Trademark專家以及公司秘書。活動將會以Brunch的形式進行,確保參加者與嘉賓會有充足的時間進行交流。希望達至借出真人,讓參加者在「閱讀」(對談) 的過程中通過發問,把平日看不慣、不易啟齒的問題找到答案,從而知道在「一人公司」要如何學會保護跟保障自己。興趣的話,立即登記吧!
請注意:只有購買AnywhereParty (AWP) Pass 的客人才可以享用我們提供的獨家優惠,包括免費講座、特別折扣等等。如我們發現未有購買AWP Pass的人士登記優惠門票,Anywhere有權在不發通知的情況下將你的訂單取消。
請上 http://anywhere.today/ 了解更多 AnywhereParty Pass 詳情。
*****
To become our AnywhereParty Pass Holders, please go on http://anywhere.today/ for more details.
If the world is a library, then each person is a walking book that holds its own story! Inspired by Human Library® from Denmark, we are hosting our very own brunch gathering where law and intellectual properties experts will be your walking book! We encourage our participants to ask any questions concerning their business and share with others that are on similar paths! This is the chance to ask questions where Google can't answer and have tailored responses by professionals.
Please note: Only AnywhereParty (AWP) Pass Holders can enjoy the discounted tickets for our events and venues. Any non AWP Holders who signed up will be removed without any further notices.
是次Brunch將由 Naturally Choice Lifestyle Cafe提供,當中餐牌包括:
Brunch menu set A
紐西蘭香腸、蕃茄、炒雜菌、炒蛋、蕃茄焗豆、厚多士、沙律菜
一杯紐西蘭果汁
一杯Latte / Long black
Brunch menu set B
煙三文魚炒蛋厚多士、紐西蘭香腸意粉、沙律菜
一杯紐西蘭果汁
一杯Latte / Long black
請在登記時在 "Brunch Set Options"的方格上填上想享用的套餐,多謝合作。