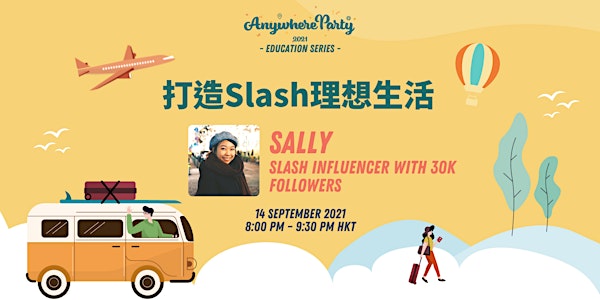 AnywhereParty Education Series - 打造Slash理想生活 (Public)
如你覺自己理想人生還在路上,歡迎這晚聽聽Sally的故事,然後讓我們一起尋找屬於你自己的理想生活。
When and where
Location
Fashion Farm Foundation S405, 4/F, D2 Place ONE,. 9 Cheung Yee Street,. Lai Chi Kok Hong Kong Hong Kong
About this event
Sally 30 歲前的人生,是這樣的:裸辭過兩次,從流行時尚行業、到音樂業、再到旅遊業,中間當過幾年自由身。身邊朋友已經升職數次,在大公司獨當一面,或已生兒育女,組織幸福家庭。但她卻樂於繼續嘗試新事情,成為了一個旅遊博客,也與朋友開了一間咖啡店。
這是Sally 為自己設計的人生。
如你覺得自己理想人生還在路上,歡迎這晚聽聽她的故事,然後讓我們一起尋找屬於你自己的理想生活。
講座重點:
- Sally 的故事:從旅行,展開Slash人生
- 迷惘,就是尋找自己的時候
- 打造人生,從了解自己開始
- slash 的方式有千百種
請注意:如果你已經成為了我們的AnywhereParty (AWP) Pass Holder,請用我們APP裏的連結進行登記。如果未成為但有興趣成為我們的 AWP Pass Holder,可以在我們的網址(https://www.anywhere.today/anywhereparty-hk/) 或下載我們的APP訂購。
*****
My life before turning 30 years old has been like this: resigned from two jobs with no backup plan, moved from industry to industry; fashion, music, travel and a few years of freelancing in between. People around me have been excelling in life: getting promotions, landing big roles in big companies, achieving family goals or even having children. Despite this, I was more than happy to try new things, became a travel blogger, and started a cafe business with my friend.
If you think you still have not reached your ideal lifestyle, feel free to join my sharing, listen to my story, and let us all find the correct path to the life we desire.
Topics:
- Story of Sally: from travelling to becoming a slash
- How to find your passion
- Plan your life; get to know yourself!
- Different ways to become a slash!