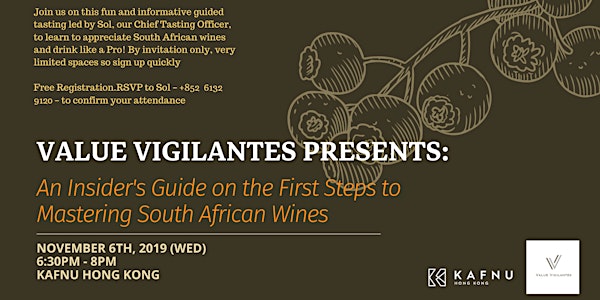 An Insider's Guide on the First Steps to Mastering South African Wines
We've put together a simple guide to wine tasting to help you make sense of the amazing aromas and tastes you'll come across when drinking a
When and where
Location
Kafnu Hong Kong 38 Hung Luen Road 2/F, Kerry Hotel Hung Hom, KOW Hong Kong
About this event
Sign up now: http://bit.ly/kafnu-nov-GuidetoWineTasting
- - - - - - - - - -
We've put together a simple guide to wine tasting to help you make sense of the amazing aromas and tastes you'll come across when drinking a glass of good wine. Your ability to detect and appreciate complexity in wine will become a good gauge of your overall progress in learning how to taste wine.
Join us on this fun and informative guided tasting led by Sol, our Chief Tasting Officer, to learn to appreciate South African wines and drink like a Pro! By invitation only, very limited spaces so sign up quickly now!
| Date & Time |
Date: November 6th, 2019 (Wednesday)
Time: 6:30pm - 8pm
| Ticket Fee |
Free of Charge
Max pax: 20
| Venue |
2/F, Kerry Hotel, 38 Hung Luen Road, Hung Hom
The event will be inside Kafnu. Kafnu is located on the 2nd floor inside Kerry Hotel. The closest MTR is Whampoa MTR exit C2. You can also conveniently access the venue from Hong Kong Island via the North Point <--> Hung Hom Ferry which takes only 7 minutes. Schedule here: http://bit.ly/kafnu-ferryschedule
活動將會於 Kafnu 場內進行,位於嘉里酒店2樓。最近的地鐵站為黃埔站C2出口,或乘搭北角至紅磡的渡海小輪亦只需7分鐘。http://bit.ly/kafnu-ferryschedule
▂▂▂▂▂▂▂▂▂▂▂▂▂▂▂▂▂
| About Value Vigilantes |
Tired of the same old supermarket fare of boring, inferior and overpriced plonk? Unsure of what the bottle shop is offering? Fear no more! We have all suffered in silence for longer than we should and it is time that we set the record straight and reap the benefits of one of the few smart Government policies for as far as anyone can remember! This is why we have set up this venture to persuade like-minded people like yourselves that we should be enjoying good value wines, rather than continue to suffer at the hands of high street duopolies and paying over the odds for landlord margins!
We are intrepid investigators who venture the world's vineyards in search of great value wines for your enjoyment. All items we sell are carefully selected to ensure it over-delivers on value at every price point.
In addition to our unreserved commitment to Value, we will share what we have learnt from our journeys and experiences so that you too may get a feel for the wine world out there, and perhaps one day become a vigilante yourself! We are vigilant for value. We invite you to be one of us.