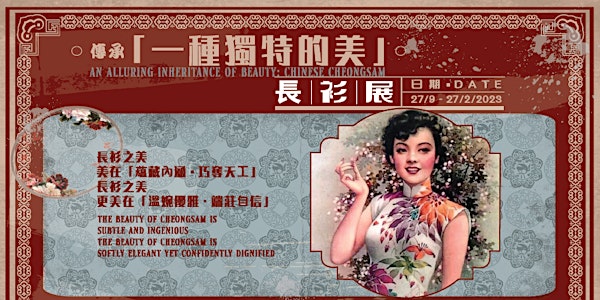 An Alluring Inheritance of Beauty: Chinese Cheongsam
Fashion Archive Exhibition #10: An Alluring Inheritance of Beauty: Chinese Cheongsam
When and where
Location
HKDI Fashion Archive Rm A707, 3 King Ling Road Hong Kong, NT Hong Kong
About this event
This Exhibition celebrates the beauty and values of traditional Chinese fashion through the exquisite works contributed by The China National Silk Museum, Cheongsam Master Tailors, contemporary fashion designers, celebrities and fashion design students. Visitors will be able to navigate through a blended physical and virtual collection that narrates decades of evolution in forty-eight cheongsam creations, captured in their intricate designs and exquisite craftmanship that were drawn from Chinese traditions and values. Furthermore, the "Hong Kong Cheongsam Making Technique" was inscribed into The National List of Intangible Cultural Heritage of China in 2021. With this in mind, we hope that future generations would be inspired by this Exhibition to take this alluring inheritance of the Chinese Cheongsam to its next exciting and significant milestone.
時裝資料館展覽#10: 傳承「⼀種獨特的美」長衫展
此次「⼀種獨特的美 」長衫展,從傳承及弘揚中國傳統服裝內涵出發,透過實體及數字⽅式展出三⼗多件分別來⾃杭州絲綢博物館,香港傳統海派長衫⼤師,當代時裝設計師,名⼈及學⽣的作品。展覽旨在以不同時期的長衫為載體, 追尋服裝各個部份及細節所蘊含的情感線索, 傳統及時尚之美, 解構挖掘智慧與精巧的⼿⼯技藝, 倡導關注中華服飾⽂化回歸傳統⼈⽂精神。最後, 「香港中式長衫製作技藝」"Hong Kong Cheongsam Making Technique " 已於去年榮登「中國國家級非物質⽂化遺產代表性項⽬名錄」,故期盼藉此展覧讓⻘年才俊承上啟下,繼往開來,為長衫這⼀個中華⽂化之瑰寶,注入新動⼒,弘揚中國風,展開新⾥程。
Exhibition period: Now to 27 Feb 2023
Enquiries :
E-mail: hkdi-fa@vtc.edu.hk 
Tel: 3928-2920 (Dr Arthur CHAN) or 3928-2900 (Mr Kiu FAN)
-------------------------------------------------------------------------------
【Precautionary Measures】
* For everyone's health and safety, capacity is limited, and an advance ticket is required for visitors. Reserve online and present your e-ticket at the entrance of the Hong Kong Design Institute (HKDI). (One Ticket purchased entitles one person entry)
* Except for exempted persons, all visitors entering the HKDI are required to use the 'LeaveHomeSafe' mobile application to scan the venue QR code and comply with the 'Vaccine Pass' arrangements as well as other requirements under Cap.599F.
* Visitors are subject to a temperature check before admission. Visitors with fever symptoms will not be admitted.
* Use our free hand sanitizer before admission, wash your hands frequently, and avoid touching your face.
* Staff and visitors will need to wear their own masks in the campus.
* The hygiene of the facilities will be strengthened. Regular disinfection of toilets, lifts, escalators, railings, buttons, and all public areas of the campus will be arranged. Sanitizing mats and alcohol hand sanitizers will be provided.
* Enjoy the exhibition and maintain social distancing throughout the campus.
* Children aged under 12 must be accompanied by an adult.
* Fashion Archive will review the situation and adjust relevant preventive measures as and when necessary.