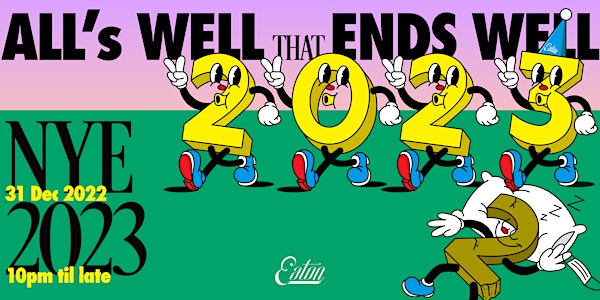 'All's Well That Ends Well' New Year's Eve Party 除夕夜派對
Wave goodbye to 2023 with a good party!
When and where
Location
Terrible Baby 4/F Eaton HK, 380 Nathan Road, Kowloon Hong Kong, KOW Hong Kong
Refund Policy
Contact the organiser to request a refund.
About this event
This New Year's, we are looking back on the past 365 days with rose tinted glasses because we made it! 𝘼𝙡𝙡'𝙨 𝙒𝙚𝙡𝙡 𝙩𝙝𝙖𝙩 𝙀𝙣𝙙𝙨 𝙒𝙚𝙡𝙡! Any uncertainty, unpleasantness or worry is going to be shelved for a night of celebration, jubilee and togetherness at Terrible Baby featuring a first-rate line up of performances, bands, DJs including 𝐌𝐞𝐫𝐫𝐲 𝐋𝐚𝐦𝐛 𝐋𝐚𝐦𝐛, 𝐃𝐉'𝐬 𝐊𝐢𝐧𝐠 𝐆𝐍𝐒 and 𝐓𝐞𝐝𝐦𝐚𝐧 𝐋𝐞𝐞.
You can enjoy free flow as you celebrate the occasion —we've got vodka, gin, rum, tequila, whiskey, red, white and sparkling wine, rosé and beer for the chillers — let us take care of the drinks, so you can focus on dancing.
RSVP early to take advantage of the limited early bird tickets!
踏入12月,是時候開始準備如何迎接新一年了!今年逸東酒店將於Terrible Baby舉行除夕夜派對 𝘼𝙡𝙡'𝙨 𝙒𝙚𝙡𝙡 𝙩𝙝𝙖𝙩 𝙀𝙣𝙙𝙨 𝙒𝙚𝙡𝙡,更邀請了樂隊和DJ助興,包括Merry Lamb Lamb、 DJ's King GNS 和 Tedman Lee。
入場可暢飲多款美酒,包括伏特加、氈酒、冧酒、龍舌蘭酒、威士忌、紅酒、白酒、氣泡酒、玫瑰酒和啤酒!
入場券數量有限,把握早鳥優惠立即購買吧!